Review
Fat Free CRM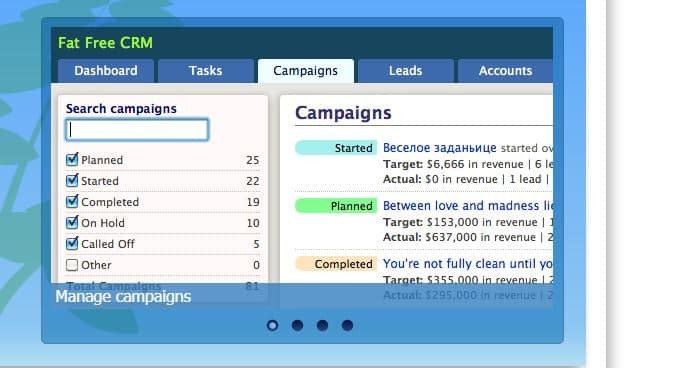 Overview
Fat Free CRM is an open source Ruby on Rails-based customer relationship management platform. Out of the box it features group collaboration, campaign and lead management, contact lists, and opportunity tracking.
•Contacts
•Accounts
•Tasks
•Opportunities
•Leads
•Campaigns
•The Permissions Tab
•Navigation Bar
•Flexible plug-in design
•Easy to use user interface
Small (<50 employees), Medium (50 to 1000 Enterprise (>1001 employees)
What is best?
•Contacts
•Accounts
•Tasks
•Opportunities
•Leads
•Campaigns
•The Permissions Tab
Fat-Free CRM is an open source customer relationship management software, whose functionality is based on Ruby on Rails. Ruby on Rails is an MVC (model-view-controller) framework, which provides default features for a database, web pages, and web services.
It facilitates the use of web standards such as JavaScript for visualization and user interface.Fat-Free CRM is simple to use, and it allows both small and big businesses organize and maintain data on their client relations.
The contact module contains any information about people that the organization connects with. It could be their name, email address, street address, as well as phone numbers. The account module also contains accounts of the clients. An account is created when a lead is converted to a customer. Lead is a contact for a prospective business.
The account module makes it easy to allocate accounts to sales associates. The task module for the Fat-Free CRM manages assignments of the firm. Deadlines can be set through this modules and assigning of duties as well. The opportunity module documents new opportunities with the available client accounts or new leads. The leads module records particular leads. To summarize, the user interface features contacts, accounts, tasks, opportunities, leads, campaigns, the permissions tab, and the navigation bar.
Various plug-ins are available to add specific features to the existing system. For instance, the ffcrm_service_hooks adds the ability to send service hooks when content changes. ffcrm_crowd adds crowd authentication to Fat-Free CRM. This flexible plugin design enables programmers to write add-ons quickly.
You may like to read: Free, Open Source and Top Customer Relationship Management (CRM) Software, How to Select the Best Customer Relationship Management Software for Your Business and Steps for a Successful Small Business CRM Implementation