Top 7 Course Authoring Software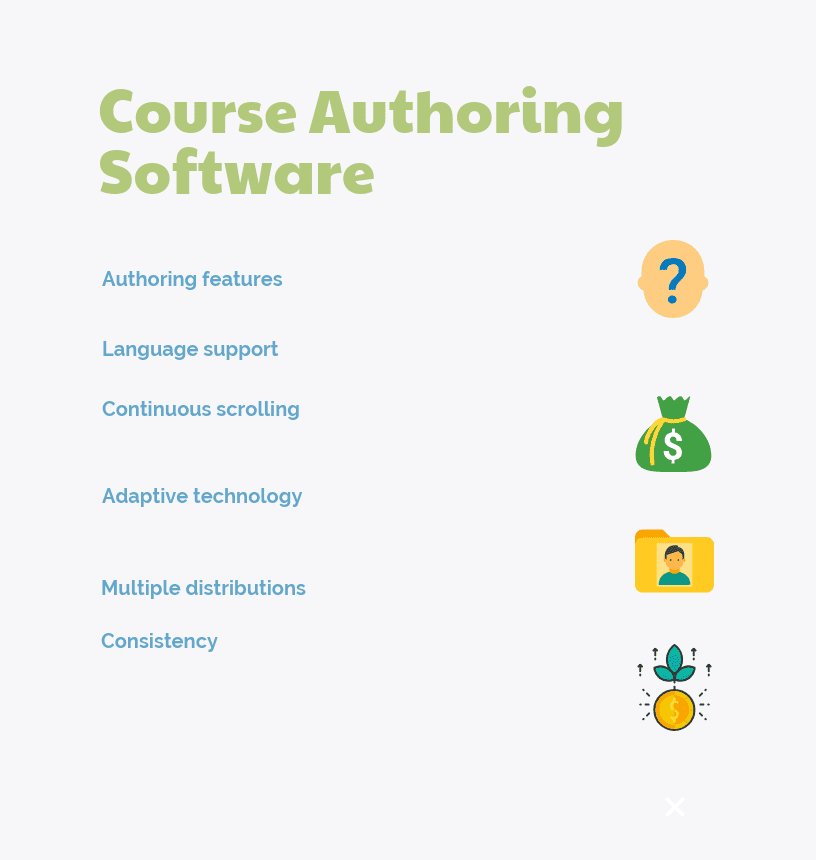 Gone are the days when learning was a preserve of a classroom set-up. Most people prefer online courses as it is convenient and cost-effective. Thus, geographical location is no longer an impediment to what you can or cannot learn. Increasingly, tutors also find online courses convenient as they can reach to as many students as possible. It also gives them the flexibility to attend to students needs at a personalized level. For your eLearning courses to be practical, you must be ready to invest in a robust course authoring software that will not disappoint.
Top Course Authoring Software : SkyPrep, Articulate Storyline, Lectora, Adobe Presenter, Lessonly, Adobe Captivate, Litmos are some of the Top Course Authoring Software.
What are Course Authoring Software?
Course Authoring Software gives you the information and instruction you need to author content to record your actions in applications and produce documents and simulations with rich interactions, audio, video, knowledge checks, and assessments. The software features also include preview and publish content for versioning, workflow, and distribution and collaborate with employees and fellow authors using features like discussions and annotations
In a nutshell, course authoring software is a tool that helps one to develop course presentation for educative purposes. The tool allows one to deliver training courses creatively whether it is meant for corporates or the traditional educational settings. The system can also be used by a group of people who are working together to integrate different media with the aim of creating an interactive learning opportunity.
Authoring features: Create course material and a collection of shared team slides that everyone can access share slides that need to be in every course.
Continuous scrolling: most people will not be willing to wait for a link to load leave alone clicking on it. Chances are if there is a link to some literature the users will be tempted to bypass without even checking the content. This is due to the exposure to smartphones and social media where one is only used to scrolling. Continuous scrolling feature has an interface that most of your students are familiar with. Besides you can also add more advanced features into your eLearning course such as scroll-activated animation.
Adaptive technology: students use different devices with diverse features. It is essential to have an authoring tool that will quickly adapt to the different functions contained in the various gadgets that your students will be using. Such a feature will save you from developing multiple versions of the same course that is compatible with each device in use.
Consistency: a good authoring tool should have a level of consistency in all your lessons. Consistency allows your students to be familiar with the content and makes it easier for them to navigate through. They can easily find the information they are looking for thus saving on time also. Consistency also gives your lessons some identity in that students can easily recognise with you whenever they access the lessons.
Instant updates: your system should make it easy for you to update your lessons, modify, or make corrections if need be. Students need not download the app again after an update on the course. Consider having a system that makes it easy to update your lessons from time to time.
Language support: eLearning targets a global audience with different languages. It is essential to have an authoring tool that can incorporate the multiple languages to ensure you have high-quality training resources. Look for a system that will enable you to globalize your eLearning course and be sure to find out if there is any extra cost involved in language add-ons.
Multiple distributions: your students should have access to the eLearning courses regardless of where they are. Your authoring system should make it possible to distribute the learning materials in different options. You can send them on emails, upload to a class website, or post on social media where they can all access. Students will have no excuse to skive their lessons.
Top Course Authoring Software
SkyPrep, Articulate Storyline, Lectora, Adobe Presenter, Lessonly, Adobe Captivate, Litmos are some of the Top Course Authoring Software.
Top Course Authoring Software
PAT Index™
1
SkyPrep
SkyPrep is a cloud-based training software designed to help businesses train employees and evaluate their knowledge and skills. With SkyPrep, users can create training courses within minutes, identify individuals who are performing well, and determine employees who require attention or further training. The platform is also loaded with other features such as automated email and detailed reports. The applications of SkyPrep go beyond the realm of business. Other potential users who can benefit from the SkyPrep platform include educators, online entrepreneurs, and even individuals who sell online courses. SkyPrep provides a platform that training administrators can use to create, manage,…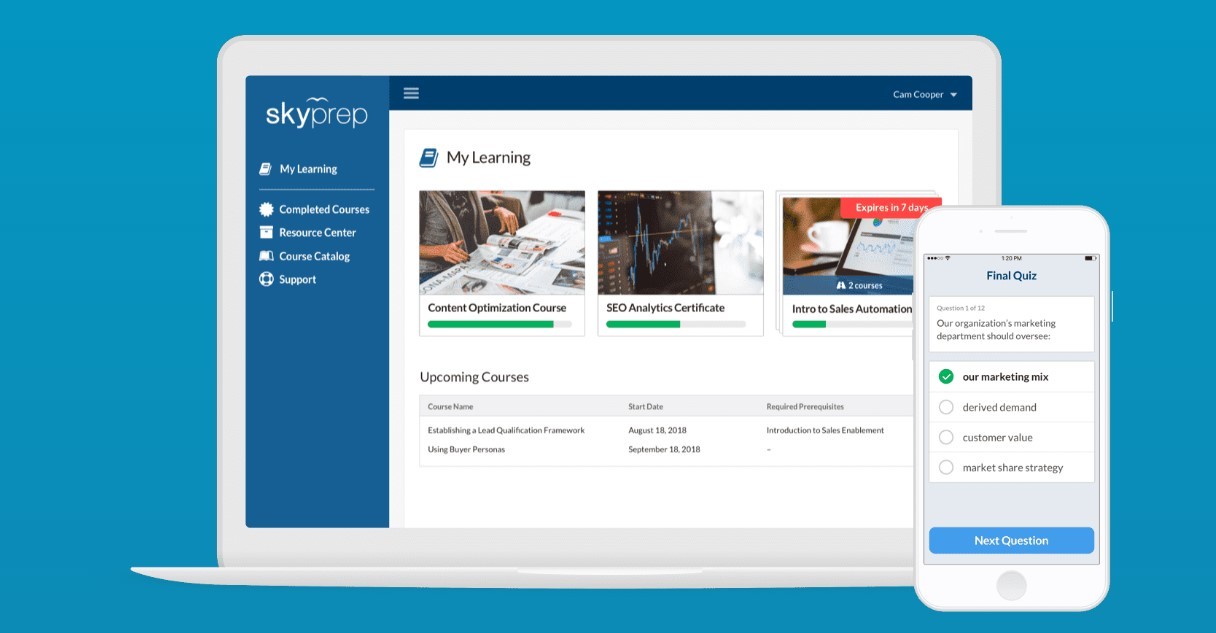 2
Articulate Storyline
Articulate Storyline is designed for people who want to easily create interactive e-learning courses and content. Only Articulate Storyline has slide layers, triggers, and states—the features that let users create any type of interactivity they can imagine without programming. Along with the ability to import content and media, as well as assessments from Excel or text files, Articulate Storyline features motion pathing, trigger events and an interactive slider to make courses more immersive. The platform also comes with what's referred to as a "what you see is what you get" text editor that provides robust options like kerning and typographic…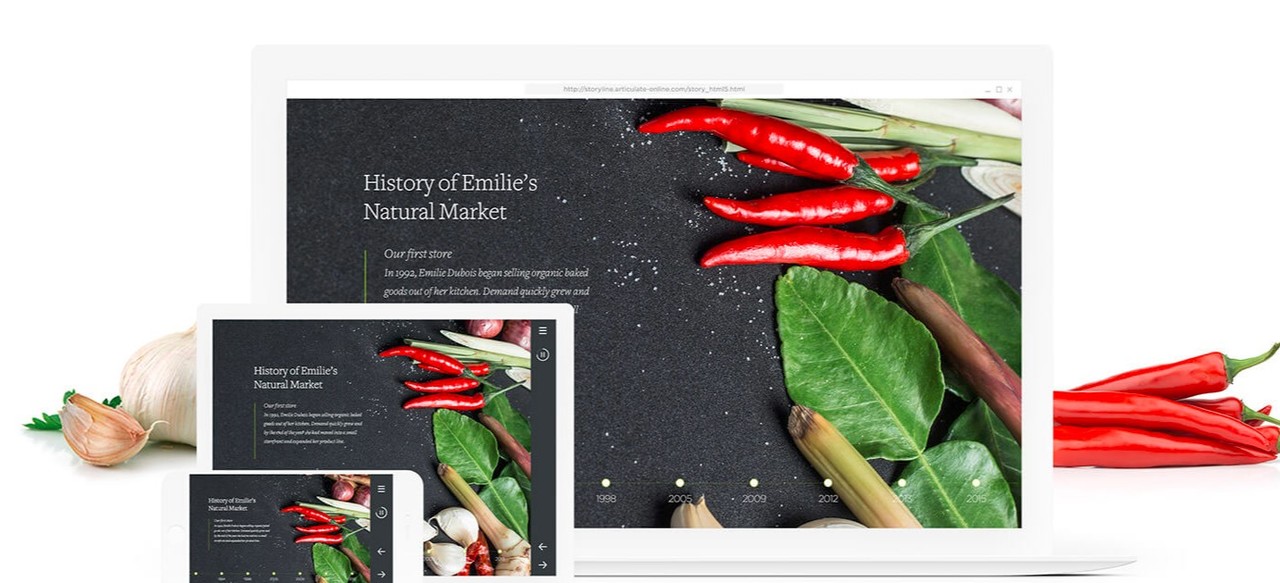 3
Lectora
Lectora is the industry's most powerful authoring solution for building fully responsive and accessible courses. Thanks to the robust and flexible authoring tools that Trivantis Lectora offers, eLearning professionals can create eLearning courses without a headache. Trivantis Lectora has a variety of pre-set templates that make it relatively easy to create eLearning materials, including pre-defined menus, online course sections, and pages. Best of all, users can access the interface via browser, which eliminates the need for an on-site demonstration or lengthy orientation process that is usually the case with installed solutions. Lectora boasts a user-friendly drag and drop interface, a…

4
Adobe Presenter
Adobe Presenter is a software tool for creating e-learning content and high-quality multimedia presentations rapidly. Presenter uses Microsoft PowerPoint, a popular application that is part of the Microsoft Office suite, as a base. Finished presentations are in Flash format (SWF file). Content created with Presenter is SCORM 1.2 and SCORM 2004 certified and AICC compliant. Presenter provides a simple interface for using a microphone to add audio narration to the presentation. In addition, users can easily synchronize PowerPoint animations with audio narration. The Presenter intuitive interface and its complete integration with PowerPoint eliminate the need for additional training or Flash…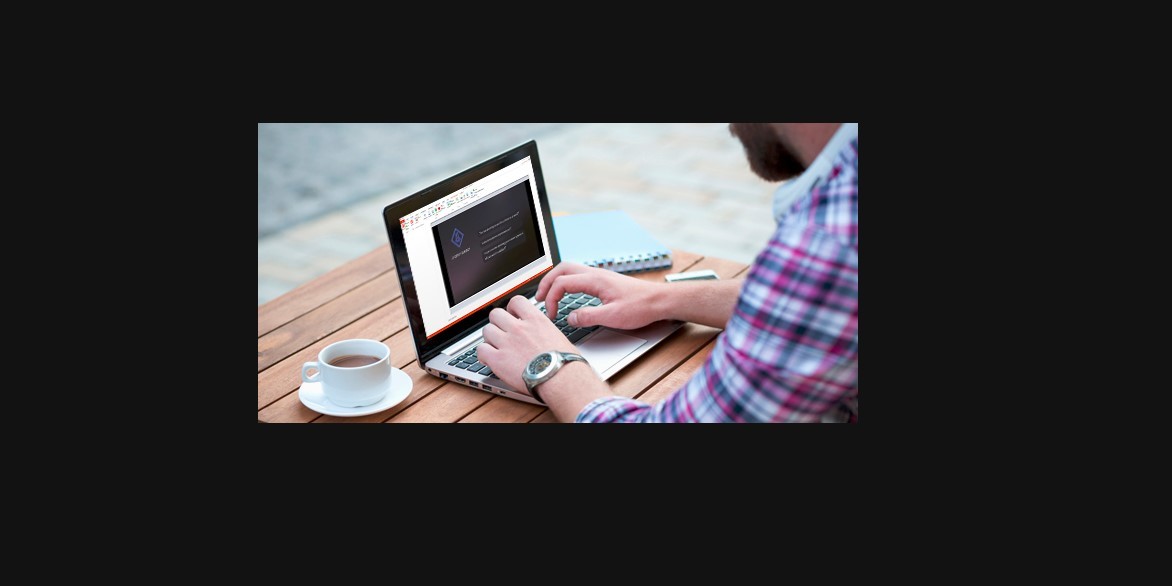 5
Lessonly
Lessonly is a cloud-based learning management system built and developed for support teams, sales teams, and human resources staff. Simple and easy to use, it is a training software used by businesses to create and distribute training materials and learning resources, empowering their employees with the knowledge and skills they need to perform work better. Team leaders and top-performing employees will be able to share their work knowledge and best practices with teams and co-workers quickly. The software lets employees develop job skills through practice, repetition, and feedback. Lessonly provides metrics aimed at measuring employee learning, productivity, and engagement. Lessonly…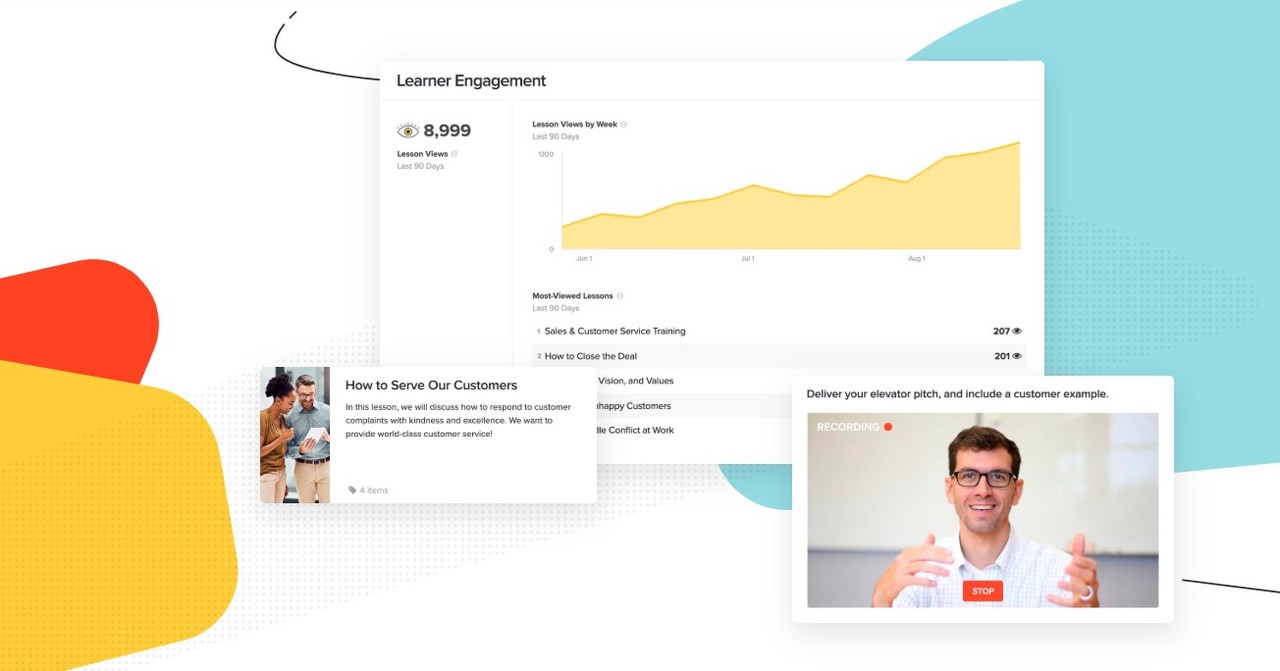 6
Adobe Captivate
Adobe Captivate is a learning management system that enables users to set up and measure students' training. Its features include auto-assigning activities, recurring certification training, reports and notifications, user management, course equivalent offerings and instructor sessions. Objects placed in Fluid Boxes get aligned automatically so that learners always get a fully responsive experience regardless of their device or browser. Use the pre-defined boxes in a responsive theme or draw your own. The Fluidic Player feature provides an e-learning experience which is compliant with video files, PDFs, DOCX, SCORM and xAPI. The Enroller feature allows users to assign roles, learning programs and courses to…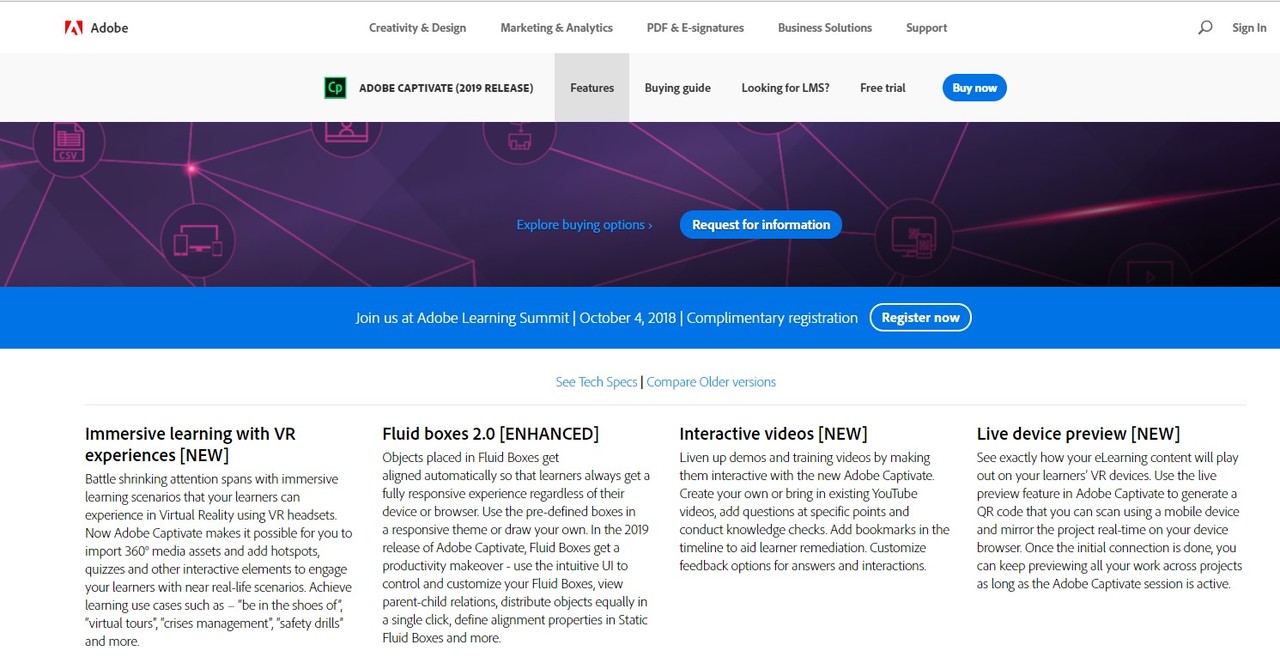 7
Litmos
Litmos LMS is one of the leading corporate learning systems on the market, and a traditional Salesforce partner for sales and service training and secure data exchange. Despite being able to automate both internal and external learning programs, Litmos LMS is still referred to as the worlds simplest and easiest to use learning management system that requires neither dedicated training nor expensive installations. Litmos LMS is often preferred to seemingly cheaper LMS tools because it doesn't require a setup fee, and doesn't limit on-point customer support to a particular plan. Next to its convenient Salesforce partnership, Litmos LMS works impeccably…