Top 7 Compliance Management Software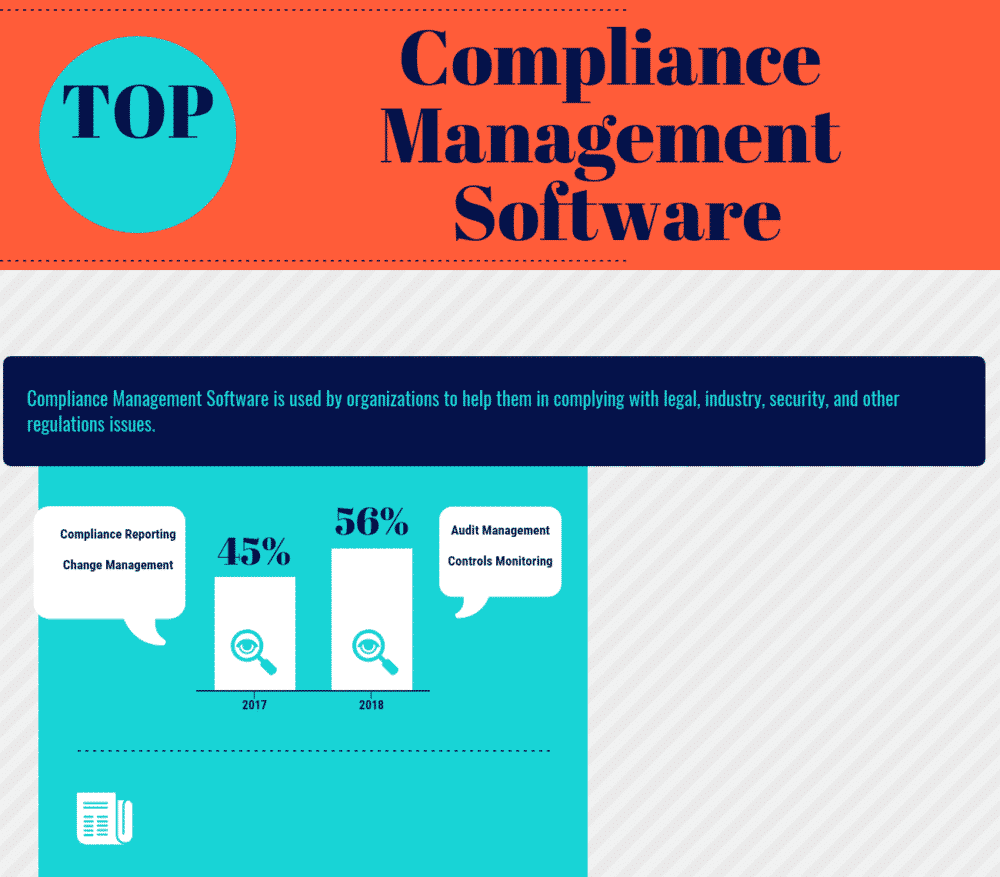 Businesses operate under some regulations which ought to be adhered to. Lack of adhering to these regulations will more often than not land you to the wrong side of the law, consequences being your business facing some closure or hefty fines that will affect your operations. That's why organizations especially those that are in the sensitive sector such as pharmaceutical manufacturing and financial sectors are incorporating compliance management software to monitor compliance in their daily operations. The software helps in automating some of the compliance issues for easy follow-up.
Example of Compliance Management Software: Bloomberg Vault, The Permissioner, MyEasyISO, Compliance Locker, Paradigm 3, CompuCal, Donesafe are some of the best examples of Compliance Management Software.
What are Compliance Management Software?
Compliance Management Software is used by organizations to help them in complying with legal, industry, security, and other regulations issues. The system supports one to collect all the knowledge under one roof and assists in regulating as well as maintaining the necessary compliances. In other words, the system helps companies, organizations, and businesses meet the regulatory requirements.  With the system, one can track regulations requirement both at the local and global level in real time.
Compliance Reporting: Offers reporting in order to comply to rules, standards, laws and regulations set by regulatory bodies and government agencies. Failure to comply means businesses are subject to regulatory penalties, including fines and imprisonment and the system support continuous monitoring of KPIs that are linked to essential business processes and ensure compliance is followed to the latter.
Audit Management: Helps simplify and well-organise the work flow and collaboration process of compiling audits. Most audit teams heavily rely on email and shared drive for sharing information between each other.
Controls Monitoring: Provides automated tools and various technologies to ensure the continuous monitoring of financial transactions and other types of transactional applications to reduce the costs involved for audits
Change Management: Provides the organizational tools that can be utilized to help individuals make successful personal transitions resulting in the adoption and realization of change. This also helps in tracking of RSS and XML feeds of regulatory information and alerts that have been published by the regulatory authorities and government bodies.
Compliance calendar: Enables one to manage all compliance tasks with ease. The software sends an alert whenever there are new regulations to be observed. You can also track your progress on compliance matters using the calendar as well as assign tasks to other users.
Task management and workflow: System can assign tasks to individual users and track the progress in real time. The system allows one to identify the functions at hand and the persons that are working on them. This creates accountability among the staff as you can easily tell who did what at what time and if there is any procedure that was overlooked.
Real-Time Alerts: Alerts can set your system in a way that it sends signals whenever a task is delayed, completed, or failed. The alert can also be configured with escalation features such that supervisors get to know whenever there is a challenge with a specific task and takes the appropriate measures to arrest the problem.
Enterprise risk management: This classifies respective functions according to the risk level that has been identified. Such classifications allow one to manage high-risk tasks without affecting the smooth operation of the business.
Policy management: Provides policy documents, portfolios, and procedures stored in a centralized place where they can be easily accessed. This ensures all members of staff are up to date with the policies and procedures of a company as they can always familiarize themselves whenever there is a need.
Top Compliance Management Software

Bloomberg Vault, The Permissioner, MyEasyISO, Compliance Locker, Paradigm 3, CompuCal, Donesafe are some of the Top Compliance Management Software.
Top Compliance Management Software
PAT Index™
1
Bloomberg Vault
Bloomberg Vault is a secure managed service for information governance, data analytics and trade reconstruction across the enterprise. It provides information governance which includes surveillance, enterprise archiving and trusted archive. In order to decrease risk to users firm Bloomberg Vault monitors communications through automatic real-time policies. Surveillance offers 40+ pre packed policies, complete audit and trail reporting and speed and flexibility. There are a few types of surveillance: MIFID II compliance surveillance and technical deep dive surveillance. Next feature is enterprise archiving which means that this service stores data in a write-once-read-many (WORM) format in multiple data centers. Enterprise Archiving…
Overview
· Monitors communications through automatic real-time policies
· Stores data in a write-once-read-many (WORM) format in multiple data centers
· Supports TLC Encryption
· Allows searching and analyzing dark data
· Offers trade reconstruction solution
2
The Permissioner
The Permissioner is one of the Salesforce AppExchange products and it's free. Permissioner allows providing individual permissions to administrators in conjunction with profiles to enable access for certain users on an ad hoc basis. It reduces the time and frustration involved with assigning and revoking permission sets assignments to multiple users. Because it offers simple interface one or more permissions can be set by administrators to assign to one or more users at a time. Users that aren't already assigned to it will display to a list once when a permission set is selected and users are searched. This function…
Overview
· Allows individual permissions to administrators to enable access for certain users
· Offers simple interface
· Can handle 1000 Permission Set Assignments
· Reduces the time and frustration involved with assigning
3
MyEasyISO
MyEasyISO is developed by Effivity Technologies and is a cloud based software product developed on software as a service model. It aims to make ISO compliance simple, easy, quick, value adding, cost effective, collaborative and time saving, and resulting in enabling an organization enhance efficiency and augment productivity. MyEasyISO software solutions are perfect options for businesses and organizations that are aiming for ISO certification that goes over and above ISO 9001, ISO 14001, and OHSAS 18001, and ISO 22000 implementation requirements. MyEasyQMS for ISO 9001:2015 lets you plan, execute, audit, control and enhance your business using 12 comprehensive modules covering…
Overview
• Document Management
• Feedback Tracking
• Incident Management
• ISO Standards Management
• Knowledge Management
• Maintenance Management
• Alerts / Notifications
• Audit Management
• Compliance Management
• Corrective Actions (CAPA)
• Defect Tracking
• Nonconformance Tracking
• Risk Management
• Supplier Quality Control
• Testing Management
• Training Management
• Growth Light plan - $24/Month
• Growth Standard plan- $64/Month
• Growth Professional plan - $129/Month
• Enterprise Small - $129/month
• Enterprise Medium - $194/month
• Enterprise Large - $259/month
4
Compliance Locker
Compliance Locker is one of the Salesforce AppExchange products and it's free. This product by Arkus, best practices for capturing Chatter for compliance purposes allowing customizing settings for tracking, storing and reporting on Chatter posts and commenting in a meaningful way for governance officers. With Compliance Locker, all Chatter posts and comments can be captured within the Chatter Compliance Custom object, Chatter Compliance records can be sent to an email box including attachments, users can set data retention policy of longevity of keeping compliance posts and comments and allows to drive compliance with users by blocking prohibited words from being…
Overview
· Allows customized settings for tracking, storing and reporting on Chatter posts
· Provides sending Chatter records to an email box
· Allows administrator determination of "blacklisted" words
5
Paradigm 3
Paradigm 3 Document and Compliance management software provides a user friendly integrated web based system to manage the user's document control and all other aspects of the user's Quality, Environmental and Safety systems such as training, audit, risk, CAPA and calibration. Paradigm 3 offers features such as Complete document control, Effectively manage & provide corrective action (CAPA, NCR, CAR), Track objective & targets, Manage Lean Six Sigma projects & programs, Manage policies, manuals, procedures & instructions, Manage incidents & risk, Escalate action items that are overdue, Track Competence & awareness training and Save time, money & frustration since Paradigm removes…
Overview
• Schedule & record equipment calibration
• Schedule internal/external audit & management reviews
• Schedule & manage meetings
• Manage customer complaints from inception through completion
• Schedule & record equipment maintenance
6
CompuCal
CompuCal is an easy to deploy calibration management software that reduces business running costs and ensures full compliance with industry regulations. CompuCal is a must have tool for calibration management. It is a flexible and easy to use management tool suited to meet the strict regulations enforced in the regulated industries. CompuCal is a scalable solution and can be tailored to suit small, medium and large enterprises. Compucal calibration management software handles all your calibration management, takes care of calibration maintenance planning with complete traceability, provides printable certificates allowing you to be audit ready at all times, multiple automated workflow…
Overview
• Handles all your calibration management
• Takes care of calibration maintenance planning with complete traceability
• Provides printable certificates allowing you to be audit ready at all times
• Multiple automated workflows features reducing labor costs
• Available as either a Cloud service OR onsite web-based installation
7
Donesafe
Donesafe is built on a highly scalable infrastructure that can support the needs of small, medium and large organizations. Donesafe makes it fast and easy to access, enter and report EHS data in real time. Donesafe is a modern & fresh platform with an end to end functionality. It works online with any device, including offline with native iOS and Android apps. Through innovative, low-cost mobile-first products, Donesafe makes it easy and accessible for everyone to manage an industry-leading safety, quality, environment, and supplier system. The Donesafe platform allows users to imagine, create and continuously improve their solution to compliance…
Overview
• Electronic signatures that work using a mouse or your fingertips
• API access: Seamlessly communicate with third-party systems and applications to send and receive data from one database to the other
• KPI monitoring: Create accountability to strategic goals by measuring and monitoring key performance indicators
• Smart forms: Remove hurdles and make data input fast and easy
• Scheduler: Create a system that automatically keeps workers accountable for the recurring task
• Donesafe's report builder is market leading - Create and save a report that interrogates any data field within the platform 
• Starter - $49 / month
• Proffesional - $299 / month
You may like to read: Why Small Businesses Need Enterprise Resource Planning Software