Why Small Businesses Need Enterprise Resource Planning Software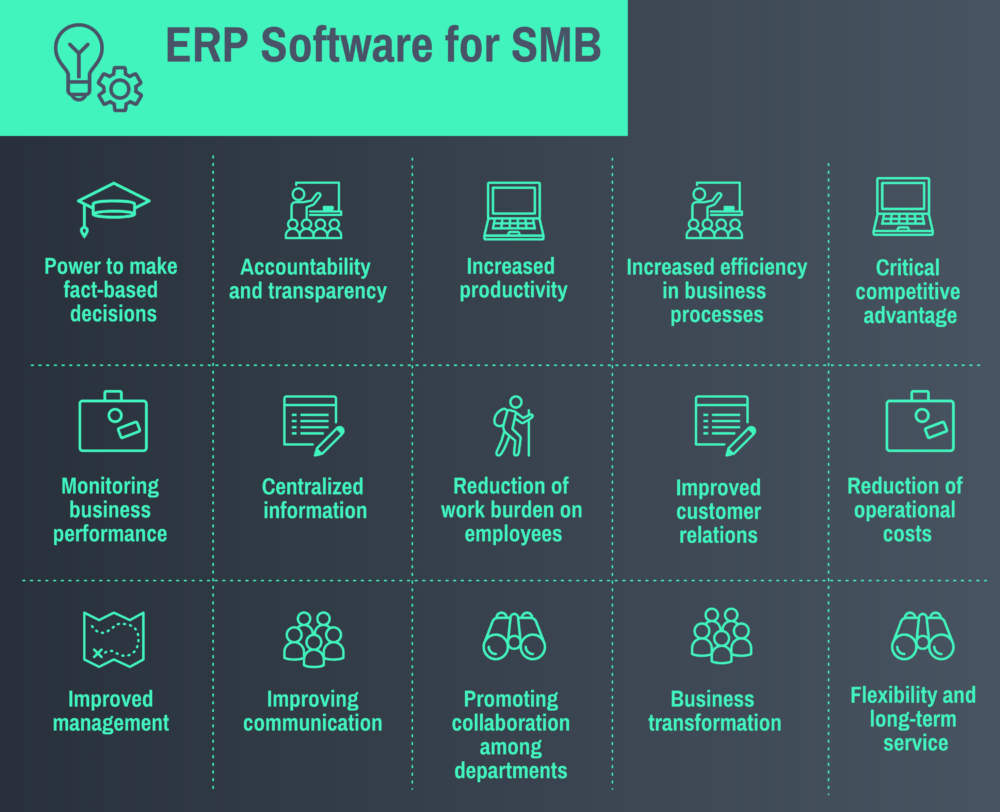 Enterprise Resource Planning (ERP) is a system that integrates the fundamental processes necessary to run a firm, such as manufacturing, human resource, finance, and supply chain, into a single system. ERP solutions offer efficiency, analytics, and visibility in all aspects of the business. Modern ERP systems leverage new technologies to facilitate the flow of information in real time across all departments. This allows the enterprises to manage performance and make informed and timely decisions.
ERP has for a long time been regarded as a necessity for corporates, but small businesses can as well reap numerous benefits from using ERP solutions. Small businesses need to be faster and sharper than the competition, which is a sufficient reason to implement ERP solutions.
There are other scenarios that necessitate small businesses to implement ERP solutions so as to improve service delivery. Examples of such scenarios are when the business is: relying on guesswork in sales forecast; struggling to monitor orders and relying heavily on spreadsheets; having trouble in determining the status of warehouse inventory, and so on.
An ERP solution features a centralized database, which ensures that all departments have access to accurate information regarding the business. It also automates the core processes of the business, helping small business owners to fast-track reporting, regulatory compliance and risk management.
There are ERP systems that are specially designed for midsize companies and small businesses. You can record all the data in the system, helping in the management of the business in terms of CRM, purchasing, accounting, and supply chain management. With an integrated platform, the company can improve visibility and cash flow while reducing inventory costs. Automation of manual processes affords staff time to concentrate on business development and sales rather than administrative duties.
However, each small business requires an ERP system that is compatible with its unique business needs, customer base, and competitive profiles. Therefore, businesses need to invest in the most effective solution – one that matches with their needs, manageable and which fits the type of industry.
There are factors to consider in order to achieve this including ease of use, customization, host platform (on-premise or cloud), support service, security measures, upgrade frequency, and the total ownership cost. The right ERP solution can provide numerous benefits to small businesses, some of which are mentioned in the following section.
You may like to read: Top ERP Software, Free, Open Source ERP Software, Top ERP Software for SMB, Top Cloud ERP Software, ERP Software for Large Business.
Why Small Businesses Need Enterprise Resource Planning Software

Power to make fact-based decisions
ERP systems contribute to the availability of consistent data, thereby improving the quality and speed of decision- making. The management team can quickly identify any potential production challenges that may affect productivity levels or delivery times.
Financial controllers can quickly evaluate orders and stock levels, and monitor budgets in order to boost financial planning. The management can make effective decisions on resource allocation and investments as well as quick responses to business opportunities.
Accountability and transparency
Instead of each department having an independent database, an ERP system provides a centralized database where all-important information from all departments can be shared and accessed by everyone. Apart from helping reduce errors and increasing accuracy and access to data, this also promotes accountability and allows information to flow transparently throughout the organization.
Increased productivity
With an ERP system, production departments can effectively manage stock levels depending on the number of orders and delivery schedules. By streamlining business processes, employees can focus their efforts on more demanding tasks, meaning more work will be accomplished, which translates to increased productivity.
Increased efficiency in business processes
ERP solutions help in automation of tedious and routine tasks, which improves efficiency in business processes. This means there will be increased clarity of tasks, which will help to reduce or eliminate employees' inefficiencies and mistakes.
Critical competitive advantage
Small businesses can obtain a competitive advantage by embracing new technologies. ERP is one of those technologies that a small business can implement to increase chances of success in a highly competitive market.
This is because an ERP solution can help businesses to: optimize all available resources of the business in line with competitive strategies; provide agility in product and service differentiation; reduce delivery times; promote customer service and customer retention. These capabilities make ERP a strategic tool and an effective source of competitive advantage.
Monitoring business performance
ERP software updates information in real time. It is therefore easy for small business owners to check the performance of different areas in the business process and identify the ones that are underperforming. Once a problem has been detected, measures can be taken to deal with it so as to improve overall business performance.
Centralized information
Multiple data centers lead to disorganization of information. ERP ensures that all the information from different departments and processes are integrated into a single database.
It makes it possible to have data from various departments, including accounting, sales, inventory and distribution, in a single database. This reduces logistical nightmares when accessing data and saves a lot of time in retrieving and utilizing the data.
Reduction of work burden on employees
ERP reduces the burden of work on employees, such as having to record information on multiple platforms, which make employees comfortable and happy. When employees are happy, they will be more willing to put in extra effort for the success of the business.
Improved customer relations
A small business without the infrastructure to handle customer-related tasks can lead to an influx of pending orders, requests, and so on, which can lead to loss of both existing and potential customers.
However, implementing an ERP system can make it easy to answer queries or complaints from customers by making information to be readily available. It will aid in the efficient handling of customer orders and requests as well, which will definitely improve customer relations. In addition, ERP systems make it possible to monitor customer behavior and in determining their recurrent needs, and areas that need improvement for better customer service.
Reduction of operational costs
An ERP system provides an opportunity to access real-time and actual data regarding daily operations helping the business to optimize business processes and strategies while targeting to reduce both administrative and operational costs.
Modern ERP ensures that the distributor has 97% probability of delivering shipment on time, making it a preferred tool for distributors. It also eliminates costs emanating from spreadsheets in which data has been erroneously entered, as well as from errors caused by delay or misinformation.
Improved management
The integrated system gives managers an overview of the business in one place enabling them to plan and make decisions. When all processes in all business departments are integrated and streamlined, managers can concentrate on planning tasks, controlling spending, and be looking for opportunities to grow the business. With the system, it is easy for management to monitor the performance of different departments and make the appropriate decisions.
Improving communication
Communication breakdown can compromise decision-making and even lead to errors that can bring enormous losses for a business. It is easy to maintain effective communication when employees are in a single locality; however, this becomes hard as the company grows and more employees are hired.
When information does not flow seamlessly between departments, key information may be missed or ignored leading to losses. ERP software ensures a smooth flow of data across all departments and, at the same time, keeps everyone informed about the business activities.
Promoting collaboration among departments
ERP software provides various departments of a small business an opportunity to access similar important information at the same time. This ensures that every department has access to the right and relevant information, boosting collaboration among departments and reducing delays caused by inter-department logistics.
Business transformation
Implementation of an ERP system can help in the transformation of the business, with growth challenges through streamlining processes like production planning and order processing and reduction of duplication of tasks. ERP equips employees with strong business tools enabling them to contribute more to the business.
Flexibility and long-term service
There are business systems which do not offer the same value within five years of implementation. The good thing with an ERP system is that once you invest in one, you do not need to purchase another system as years go by or as the business grows. Most ERP systems scale with your small business and provide the flexibility to integrate with existing and future complementary systems.
Conclusion
As highlighted above, there are many ways that a small business can benefit from implementing an ERP system. ERP solutions can provide small businesses with such benefits as improved information visibility, optimized business processes, effective communication, and productivity improvement. Once a small business has determined that these benefits are crucial for its growth, it should not delay in implementing an ERP system. Although money, time and effort will be needed in the implementation of such a solution, the cost savings and improved performance brought about by implementing the right ERP will outweigh the total of the short-term expenses.
You may like to read: Top ERP Software, Free, Open Source ERP Software, Top ERP Software for SMB, Top Cloud ERP Software, ERP Software for Large Business.
Why Small Businesses Need ERP Software?
Small Business requires an ERP system that is compatible with its unique business needs, customer base, and competitive profiles and it helps to power to make fact-based decisions, accountability and transparency, increased productivity, increased efficiency in business processes, critical competitive advantage, monitoring business performance and for centralized information.