Review
Sparx Enterprise Architect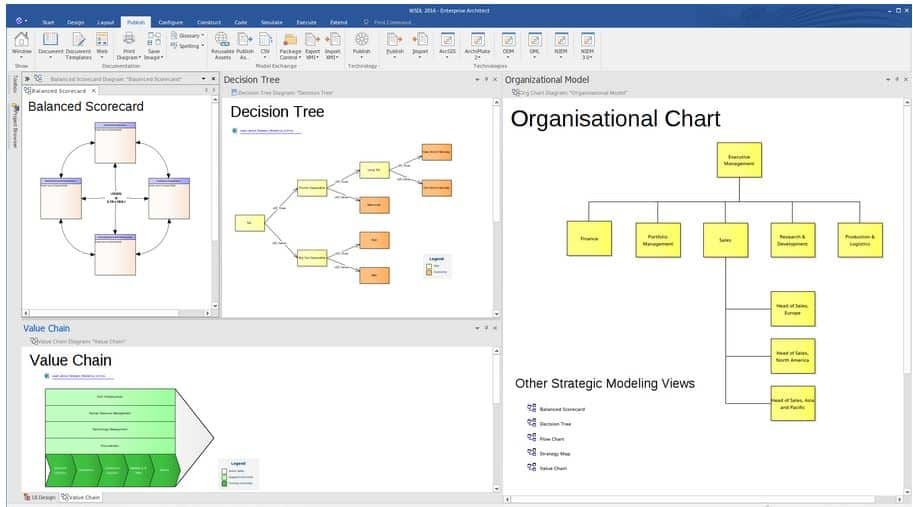 Overview
Enterprise Architect is an enterprise wide solution to visualise, analyse, model, test and maintain all of your systems, software, processes and architectures. Enterprise Architect is the ideal platform to help you to stay in control of your workspace, support your colleagues and team, enable collaboration and build confidence within your most complex projects.
Unified Modeling Language Tools
Use UML design.
Effective project management.
High value, end-to-end modeling.
High performance model repository.
End-to-end traceability.
Powerful document generation.
Use Enterprise Architect user guide.
Simple pricing. Free trial available.
Contact Sparx systems for pricing.
Small (<50 employees), Medium (50 to 1000 Enterprise (>1001 employees)
Sparx Enterprise Architect
Sparx Systems is a UML design and business analysis tool for modeling, documenting, reverse engineering, building and maintaining object-oriented features. Sparx Systems specializes in high performance and scalable visual modeling tools for the planning, design, and construction of software intensive systems. Sparx Systems is a leading vendor of innovative solutions based on the Unified Modeling Language.
Sparx Systems aims to satisfy the growing needs of business and IT users involved in software and systems development, by providing immediate delivery and ongoing support of affordable, productive and user-friendly modeling software. Sparx Systems believes that a complete modeling and design tool should be used throughout the full lifecycle of systems development. The software of this platform has decided for use by analysis, designers, architects, developers, testers, project managers and maintenance staff.
Sparx Systems Enterprise Architect is used by all types of companies actually ranging from large multinational organizations to smaller independent companies and consultants. Enterprise Architect is also deployed across a wide range of industries including aerospace, banking, web development, finance, engineering, medicine, and military. Sparx Systems has UML Modeling and Full Lifecycle Tool Suite Enterprise Architect. Enterprise Architect is a multi-user, graphical tool that is designed to help the customer's team build robust and maintainable systems. The corporate edition is a comprehensive modeling solution targeted at larger development teams.
The professional edition of Enterprise Architect is a powerful modeling and visualization tool aimed at work groups, analysts, and developers. The Desktop Edition of Enterprise Architect is a cost effective solution for UML and business process modeling, visualization and test management. It supports version control integration and profile/meta model extensibility coupled with HTML and rich text report generation. The Enterprise Architect User Guide provides tutorials, guidance and reference material to help use Enterprise Architect.
You may like to read: Open Source, Free and Top Unified Modeling Language (UML) Tools and How to Select the Best Flowchart Software for Your Business