Review
Quid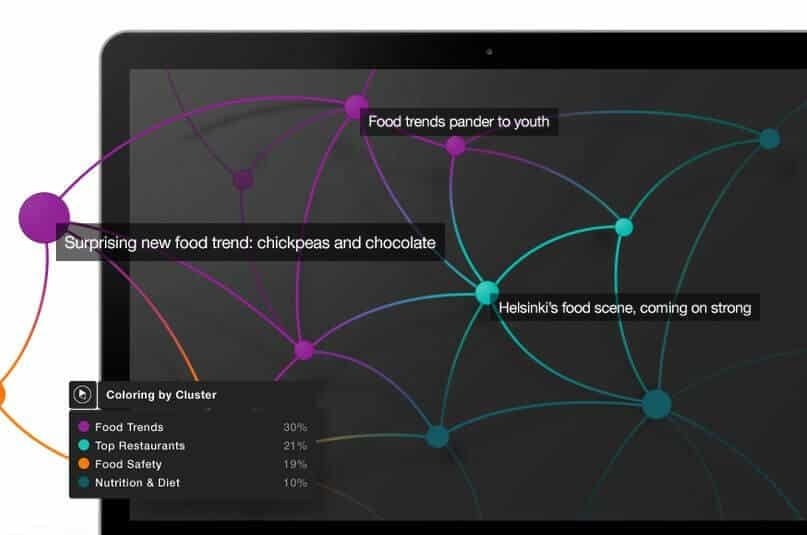 Overview
Quid puts the world's information at your fingertips. It draws connections between big ideas, giving your brain more power than you ever dreamed possible.
Business Intelligence Software
• Unlimited users
• Advanced Administration and Support
• Single Sign-On
• Customization & Branding
• API Applications
• SAP BusinessObjects
Small (<50 employees), Medium (50 to 1000 Enterprise (>1001 employees)
What is best?
• Unlimited users
• Advanced Administration and Support
• Single Sign-On
• Customization & Branding
• API Applications
What are the benefits?
• Filter, aggregate or curate nodes in a more customized way
• See how the whole ecosystem of companies in any category connects with each other
• Identify white space opportunities and uncover unique technologies
• Get up to speed on any topic in a flash
• Quid helps you to keep pace with ongoing innovation
Quid is an all in one system where in it provides users the connection between big ideas and gaining more insights and capabilities to improve business matters. Obtain the right knowledge and visualize them in one single place. this is done with speed to ensure no important data is missed which may be crucial to the business.
Know what customers are feeling about the company's products, brand and competitors through Quid. Explore conversations surrounding a specific company or market to ensure that important information are carefully considered and studied for major decision makings.Quid's Competitive Intelligence allows users to have a look on what the competitors are doing, saying, investing in and acquiring. Follow company footprints over time and gain insights on how to get ahead of them. this help the business make better and effective planning and marketing strategies to ensure full advantage on its end.
Quid's Market Landscape feature provides a better view of any market displaying size, growth, unmet needs, top investments and barriers. Map an emerging technology or IP landscape at a glance and quickly digest any industry. On the other hand, Trend Analysis helps users plan better for the future.
Discover patterns, identify what trends are rising and which are fading to ensure that the company is following the right track and that money and time are not wasted on trends that are about to get obsolete.Quid ingests the ideas and opinions expressed in written language to find patterns and commonalities across a billion documents. It also calculates, collects and stores datasets for patents, companies and over 300k news and blog sources. With Quid's visualization tool, data is easily understood and interpreted making it the best help for most businesses.
You may like to review: Top Data Visualization Software and How to Select the Best Data Visualization Software for Your Business
Quid Videos