Review
Gandi.net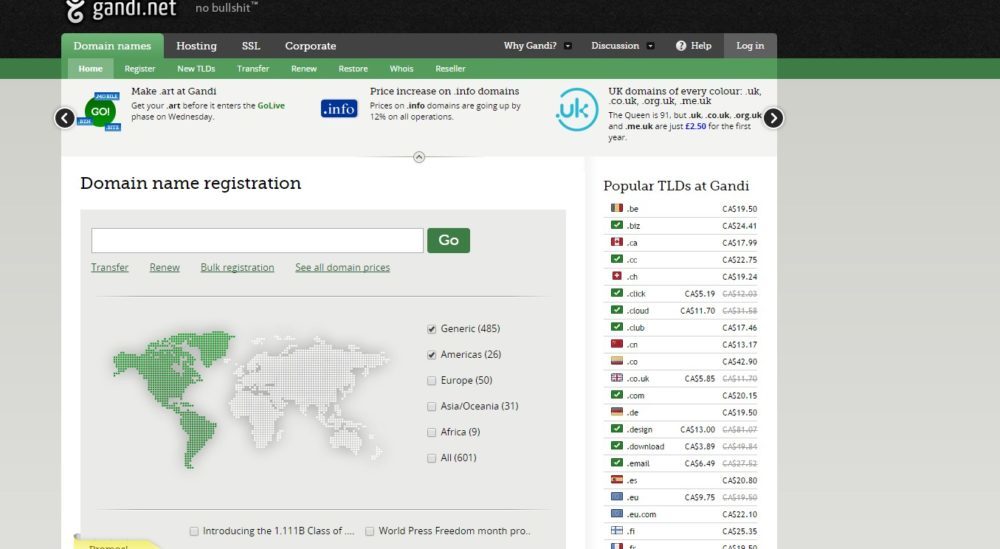 Overview
Gandi.net offers a world-class cloud hosting service, domain name registration, SSL certificates, services for corporate domain name managers and courteous, knowledgeable support
Domain Registration Providers
Full domain management
Private domain registration
1-year free SSL certificate
5 mailboxes and 1000 forwarding addresses
Domain API
Full name server management
Small (<50 employees), Medium (50 to 1000 Enterprise (>1001 employees)
Gandi.net offers a world-class cloud hosting service, domain name registration, SSL certificates, services for corporate domain name managers and courteous, knowledgeable support. It is also one of the first domain name registrars approved by ICANN for TLDs such as .COM, .NET, .ORG, .BIZ, .INFO, .NAME, .BE, .FR, .EU in France.
Today, it offers the most popular domain names that users may find as a great match for their business or even transfer their existing domain name to Gandi.net. Gandi.net offers great quality and experience to their users by providing excellent features that makes the company able to maximize their website potentials.
Gandi.net's intuitive website allows users to easily and efficiently manage their entire domain name portfolio from just a single page. This provides users a clear view of all of their domain names, the ability to sort them, attach notes to them as well as make custom searches. Users can also create tags of their choice to be attached to their domains. Its XML API is open to everyone.
This allows users to integrate Gandi.net into their own information system. Gandi.net offers the freedom to its customers to control over their DNS settings, this result to their domain functioning as the users would have wanted it. Users will be able to create and manage their own zone files (A, MX, CNAME) for their domains. Customers also get 5 e-mail addresses, sharing a total of 1GB of disk space for free with their domain, 1,000 forwarding addresses and an unlimited number of mail aliases and anti-spam and anti-virus protection.