BGZ BNP Paribas Boosts Customer Service and Interaction with Aptean Pivotal CRM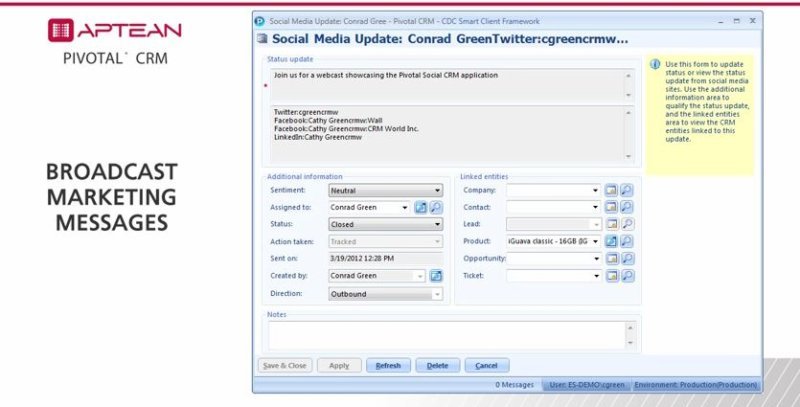 BGZ BNP Paribas Boosts Customer Service and Interaction with Aptean Pivotal CRM: Bank BGŻ BNP Paribas is a member of BNP Paribas, a leading international banking group. It is a universal bank, listed on the Warsaw Stock Exchange, that offers savings and investment products and a wide range of loans to its individual customers, while offering businesses (micro enterprises, SMEs and corporations) solutions for financing operations in both Polish and international markets. Bank BGŻ, which specializes in financing food and agricultural infrastructure, had a vision to grow to a leader in its market. A fundamental part of this journey was to modernize its infrastructure as it lacked a single, complete source of customer data:
"First we changed our culture and our processes and then we decided to implement a CRM solution. For us CRM is not just a product but it is a strategy," said Dariusz Żurakowski, director of Business Intelligence, Bank BGŻ BNP Paribas. "We selected Pivotal as our CRM after an extensive period of evaluation and I'm delighted to say that solution has made a big impact on our customers, staff and on the bank as an organization."
"Pivotal is the fundamental tool for our advisors who are interacting with customers both face to face and in our contact centers," continued Żurakowski. "It provides us with 360 degree visibility for each customer so that we completely understand their situation and history with Bank BGZ. This is essential for the team to be able to provide excellent customer service and customer experience. Pivotal also helps us to ensure that our campaigns are more effectively targeted as we have far better customer intelligence than before."
Before implementing Aptean's Pivotal CRM solution in 2011, Newsweek Polska ranked Bank BGZ as sixteenth out of twenty Polish banks for Customer Service and Customer Interaction. In 2014 Bank BGZ had moved up to the number one position in Newsweek's rankings. Pivotal CRM is used daily by the Bank BGZ staff of nearly 5,500 employees across its headquarters, branch network and business centers.
Aptean's Pivotal CRM solution addresses a wide range of business challenges across all areas of CRM, including sales force automation, marketing management and service management. Designed to fit organizations of all sizes, the solution is easily configurable to meet compliance and local requirements as well as vertical market-specific issues, especially in the financial services as well as the discrete and process manufacturing industries.
Aptean helps businesses profit, innovate and grow where the work gets done—in the call center, on the floor of the factory, at the end of the assembly line. That's where Aptean's CRM, Complaints Management, ERP and Supply Chain software applications enable nearly 5,000 customers to satisfy their customers, operate more efficiently and stay at the forefront of their industry.