Prognoz Platform to harness bigdata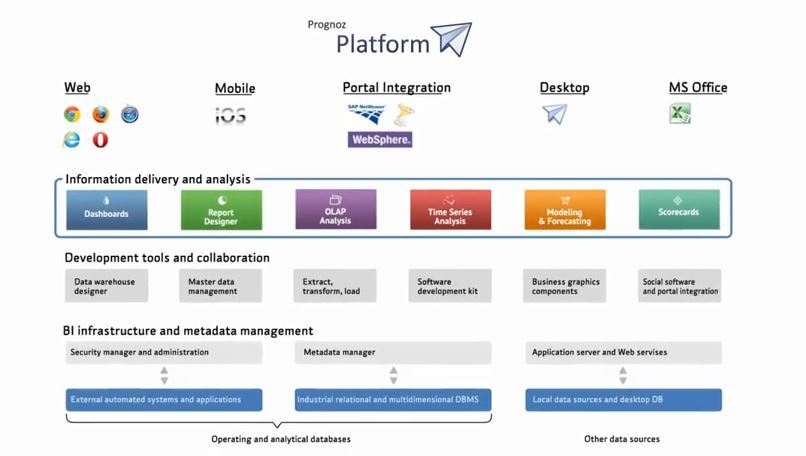 Prognoz Platform to harness bigdata : Prognoz Platform version 8.0, is designed to deliver an enhanced experience for business users. The major platform innovations include self service business intelligence (BI) and enhanced data visualization tools. The advanced users will enjoy new BI methods and components, as well as extended integration capabilities. The platform performance has also been significantly improved in terms of tools speeding and optimizing memory consumption to enable customers to harness big data. Prognoz delivers advanced analytics and visual discovery solutions for companies looking to improve business performance and drive innovation. From dashboards and reporting to time-series analysis, modeling and forecasting, Prognoz helps top managers, business analysts and other experts tackle big data and harness the information needed to make better decisions, predict future opportunities and take strategic actions.
User-friendly data import, flexible search engine, and advanced data analysis capabilities are the keystone of success of a modern BI platform. The Prognoz platform data import mechanisms are aimed for even non-experienced users: the system automatically defines the loaded data parameters. Platform 8.0 enables users to load crosstabs and multilevel file headers, and use additional settings relating to attribute dimensions and data types. This functionality together with automatic model generation capability significantly facilitates and optimizes data analysis. The platform opens up opportunities to create interactive presentations and discuss generated reports. Users can easily share their "live" report sending them by e-mail, including through mobile devices. Text search mechanism by data source content, source name and dimension has been upgraded.
Prognoz Platform 8.0 provides cross-platform visualizers compatible with Windows, iOS, and Linux. The solution comes with extended range of interactive visualizers and geospatial intelligence capabilities from map micro-charts to indicators of various territory levels concurrently displayed in step, doughnut, and other charts. The main focus was made on the advanced visualization features of mobile version. In addition, users can easily register the application data visualization components.
Prognoz Platform 8.0 provides an extended range of development methods and components and ensures their comprehensive customization. For example, users can apply not only the built-in methods, but also a variety of statistical and numerical methods available through the R programming environment.The new version of the Web application comes with the extended modeling and forecasting functionality within a user-friendly graphical interface that does not require special skills. It also enables users to perform optimal control and management by objective using a variety of models. In addition to standard what if... forecasts, the advanced functionality of Prognoz Platform Web application will help users define steps required to achieve target indicators. In previous versions, this functionality was available only in the desktop application. The module contains new methods necessary to solve the systems of linear equations with maximum accuracy.
The new Prognoz Platform supports integration with different operating systems and databases, including open source solutions. The platform back-end runs on Linux, and the platform is compatible with PostgreSQL. One of the key novelties is an extended set of big data management tools. Prognoz Platform is integrated with software and hardware solutions, including Oracle Exadata, IBM Netezza, and EMC Greenplum. Moreover, the platform supports Hadoop Hive, a framework for distributed storage and processing of large datasets. HiveQL language enables users to query platform data. The platform supports cloud operation.
The Prognoz Platform ensures concurrent analysis of heterogeneous data sources and solves various analysis tasks. Prognoz develops its own mechanisms to harness big data. One of them is an integrated Prognoz Platform mechanism for generating quick data queries and in-memory query processing without SQL or MDX. The special emphasis is placed on data quality and operation speed: several tools and components of the eighth version run twice as fast as in the previous versions.
For a review of the top business intelligence companies, click on the button below:
Top Business Intelligence companies
For a review of the top free Extract, Transform, and Load, ETL Software, click on the button below:
Top Free Extract, Transform, and Load, ETL Software
For a review of the top Cloud – SaaS – OnDemand Business Intelligence Solutions, click on the button below:
Cloud – SaaS – OnDemand Business Intelligence Solutions
For a review of the top Open Source and Free Business Intelligence Solutions, click on the button below:
Open Source and Free Business Intelligence Solutions