Review
Mindomo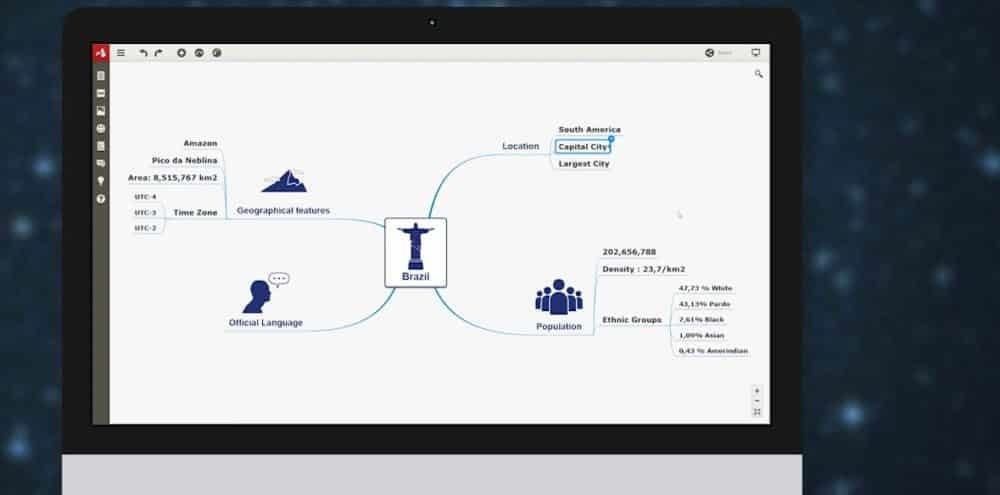 Overview
Mindomo is an all-in-one visual tool to help you make mind mapping, concept mapping, and outlining accessible for students.
• Document Upload
• Video and audio embedding
• Password protected
• Offline work and sync
• iPad and Android sync
• 11 Export formats
• 8 Import formats
• Administration interface
• Team shared folder
• Subdomain
• Give students access to Mindomo premium features
• Easy-to-create mind map assignments
• Provide students with feedback
•PREMIUM - €36/6 months - 1 User
•PROFESSIONAL - €90/6 months - 1 User/5 Guests
•TEAM - €162/6 months - 5 Users
Small (<50 employees), Medium (50 to 1000 Enterprise (>1001 employees)
What is best?
• Document Upload
• Video and audio embedding
• Password protected
• Offline work and sync
• iPad and Android sync
• 11 Export formats
Mindomo is a superior mind mapping web based software which enables the user to layout complex ideas using relevant data. The visual mapping solution features the ability to creatively generate ideas and transform them into presentations, customize maps using various themes, colors, styles and icons, use numerous layouts with the option to work in real time, whilst being able to collaborate and share with others. Mindomo can be used for various projects whether it be for business, academic or personal goals.
The platform also allows you to sync and work offline, visualize topics using notes, links or tasks, and to revise or undo a map history before publishing a seamless project. Visual Mapping is made easy with no limits on cutting and pasting materials from multiple digital resources. Create thought provoking concepts by uploading videos from YouTube and Vimeo, integrate audio content and links to web pages or use images to document ideas for each topic.
Mindomo is designed with a flexible structure to build maps bridging numerous subjects, whether brainstorming, problem solving or examining theories. The program can help you gather research materials, produce ideas rapidly and analyze the connections throughout the process of each task. Mindomo provides numerous options to work using desktop operating systems Windows, Mac, or Linux and native apps on Android and iPad, it also has Evernote integration if preferred.
Mindomo can be incorporated into the most prominent platforms such as Google Drive, Dropbox FTP as well as Learning Management Systems; Moodle, Canvas, Blackboard, Desire2Learn, itslearning, Schoology. Other resources comprise of a bookmarking tool, text formatting inside topics and adding notes to materials all available within the interface of the software. Export features allow all Mindomo users to cut and paste visual maps into a diverse range of web formats productively making it an outstanding digital method of mind mapping.
You may like to read: Top Open Source and Free BPM Tools and How to Select the Best Business Process Management (BPM) Software for Your Business