Review
Infogram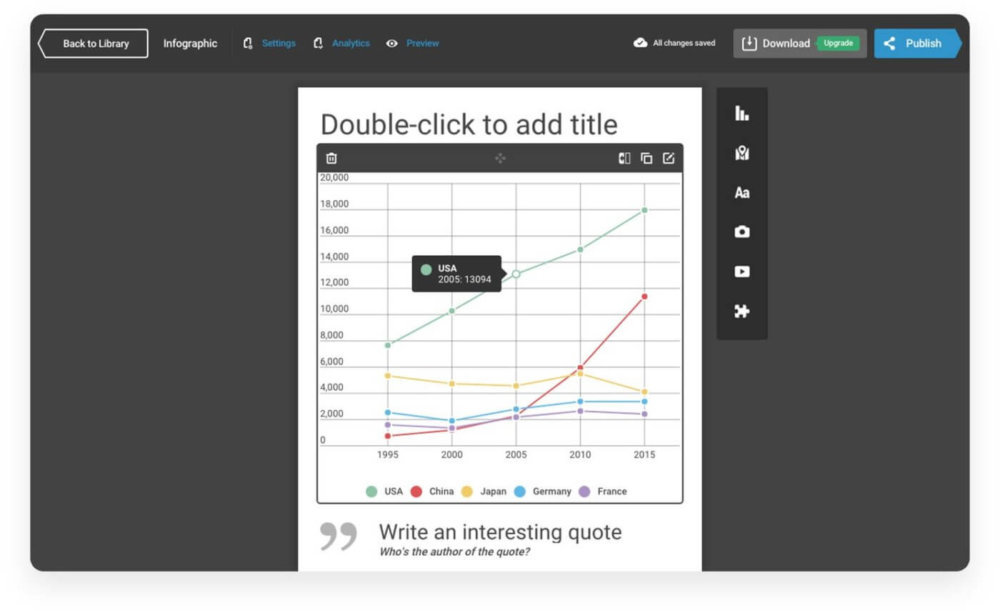 Overview
Infogram offers 35 different charts and over 200 different maps make it easy and flexible to present your data for maximum effect.
Business Intelligence Software
•Customize linking and sharing
•Commercial license
•More designs, maps & icons
•Custom-designed themes
•Animated GIF Charts
•Interactive Maps
•Pro $19 / month
•Business $67 / month
•Enterprise Contact Infogram
Small (<50 employees), Medium (50 to 1000 Enterprise (>1001 employees)
What is best?
•Customize linking and sharing
•Commercial license
•More designs, maps & icons
•Custom-designed themes
What are the benefits?
• Visualize data beautifully
• Impress your audience
• Connect to favorite cloud service
• Access all necessary data
• Drive more traffic to your site
Infogram makes it possible not only to deliver reports that are accurate but also making it as beautiful as possible which will drive the users to becoming more productive. Infogram has more than 35 different charts and more than 200 maps that is more than enough to be able to create a unique chart and have it presented. Users can create just one, or make an infographic with as many charts as needed. With over 20 readymade designs, Infogram users will never have a hard time creating from scratch.
And since there are so many to choose from, information on the reports looks definitely better and understandable. Choosing the graphs or charts is not all that Infogram can provide its business users. The ability to personalize it when it comes to colors, style, display and more are all possible with Infogram too. On the other hand, Infogram's simple and easy functions make it smoother to operate especially for users who are new to the product. Also, another great feature would be converting reports in to GIF; this makes data stories more effective, exciting, and easy to share.
Integration with Infogram makes combining all important data in just one system. Edit data directly in the editor, connect to a data source in the cloud, or upload a spreadsheet. Users can also search through millions of public World Bank, UN and other sources right from inside the product. This includes CSV files, Spreadsheet, Google Drive Spreadsheet, Dropbox, OneDrive, JSON feed, Google Analytics as well as Data search into global sources.
You may like to review: Top Data Visualization Software and How to Select the Best Data Visualization Software for Your Business