Emotion Aware Games from Affectiva AI technology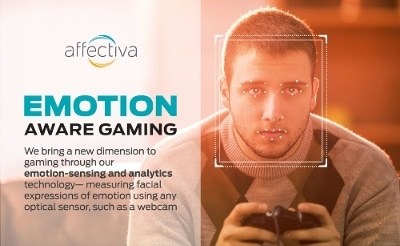 Flying Mollusk, the game studio that uses emerging technology to create entertaining and impactful games, has integrated Affectiva's emotion-sensing technology with its psychological thriller game Nevermind. Using Affectiva's Affdex SDK, Nevermind can sense a player's facial expressions for signs of emotional distress. Nevermind uses biofeedback to make the game more surreal and challenging when players feel scared or nervous. For example, if players cannot manage their stress or fear, rooms might flood, spikes might jut out from the floor, or the screen might fill with increasingly dense static. However, once the biofeedback algorithms determine that the player has calmed down, the game becomes easier and more forgiving. This indirectly teaches the player real, applied techniques that they can use to help manage feelings of stress and anxiety in their everyday lives.
"As both a gamer and a developer, I could not be more excited about Affectiva's Affdex emotion-sensing technology," said Erin Reynolds, CEO and Creative Director of Flying Mollusk. "Not only does it let players interact with games that are capable of providing incredibly personalized emotion-based experiences, but also, as a developer, working with the Affdex SDK could not have been easier. It is an incredible time to be creating emotionally responsive interactive experiences and I see nothing but limitless possibilities on the horizon."
Affectiva also announces that the US Patent Office granted Affectiva a patent that covers measuring the emotions of a game player and adapting the game accordingly. The patent for "Using Affect within a Gaming Context" is for software that collects emotional data from a person, including facial expressions and reactions, when they are playing a game. The game logic then changes based on the emotional data that was collected. This could result in the game's storyline, difficulty level, or even player avatar being altered, based upon the player's emotional reactions. This new patent adds to Affectiva's strategic patent portfolio, totaling seven patents issued and more than 30 pending applications.
"Emotion-aware artificial intelligence transforms human-machine interaction, bringing to life authentic and engaging digital experiences," said Dr. Rana el Kaliouby, co-founder and Chief Strategy and Science Officer at Affectiva. "Our emotion-sensing technology is a breakthrough in the gaming industry, giving developers the tools to create more immersive games and providing gamers the unique ability to drive gameplay with their emotions."
Modify games dynamically - While a game is running, Affectiva software can monitor the emotional state of a player using any optical sensor, such as a webcam. The emotions can be used as a trigger to alter the gameplay. Certain emotional states, or feigned states, can become control mechanisms for AI interactions. For example, a guard may be intimidated by a high anger metric, or perhaps charmed by a smile. Maybe a storyline branches based on the user's emotional state, or perhaps there is a stealth mechanic that relies on a user staying calm and not getting noticed by AI characters. The possibilities are vast. Affectiva's emotion-sensing and analytics technology can also provide accurate insight into frustration levels and provide a channel to tune dynamic difficulty, thus allowing for a smoother player experience, higher player retention and extended play sessions.
Supplement back-end data analytics - For games that use or intend to use data analytic back-ends, like Free to Play games, Affectiva's emotion-sensing and analytics software can be integrated into the current data platform. Emotional states over time can be added to the current player data being captured during the user experience. Accurate emotional state data can be attached to markers placed in the game to allow synchronization with the data already being collected. This can, for example, provide emotional data associated with the three minutes previous to a player making a purchase or quitting the game. Armed with this unbiased emotion data, publishers can achieve more accurate profiling and get the analytic edge needed to increase retention, create higher conversion rates, or identify and nurture whales.
Add emotion data to usability and market testing - Development teams can now capture players' unbiased and unfiltered emotional response during playtesting, in a highly scalable fashion, as this can be done online using just a webcam. Affectiva's emotion-sensing and analytics technology greatly increases the ability to intercept usability issues and head off major player hang-ups, especially in the first hour of gameplay. Its software shows aggregate emotional responses of potentially thousands of users at key marked moments of the game. The resulting data, along with survey results, can elevate the developer's understanding of the user experience.
Measure eSports audience emotional response - In eSports and professional video gaming, the platform providers can integrate Affectiva's software to monitor in real time the emotional state and engagement of the audience, to be displayed in a "fan reaction" meter. Also, the emotional state of the players can be exposed to the audience as well as other players, highlighting when a player is most excited, frustrated or jubilant.