Data Enrichment and User Experience with CustomerMatrix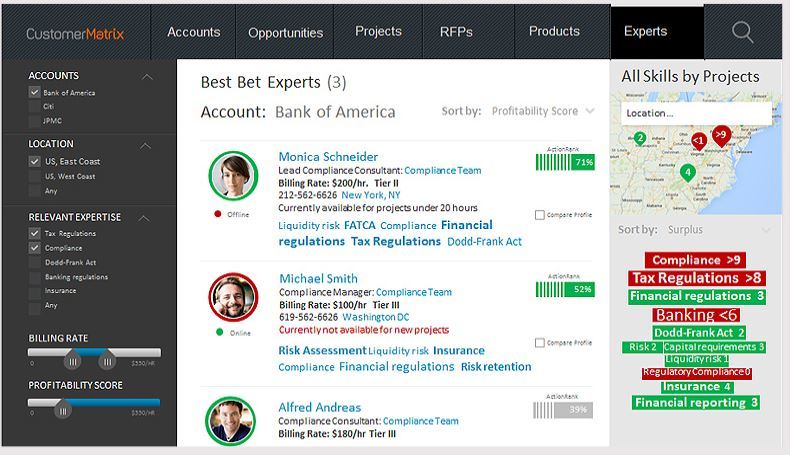 CustomerMatrix with SARA (Alerts and Recommendations API), widget library and SARA Queries Editor. enhances the Machine Learning capacity of the CustomerMatrix Cognitive Computing platform with several new features, including expanded data enrichment and the ability to trigger ActionAlert.
"V2015.1.0 introduces exciting new capabilities that follow our vision of delivering true Cognitive Computing and data enrichment, coupled with workflow-compatible user ActionAlert and tools for ease of administration," said Gilles André, CTO and Co-founder of CustomerMatrix, Inc. "We are replacing old style enterprise search functionality with Customer Knowledge Enrichment – delivered to users through continual Machine Learning, with an enhanced set of data extractors, enrichers and the dashboard tools of SARA," he continued.
The new CustomerMatrix dashboard tool SARA, coupled with the newly released configuration capabilities, allows partners and administrators to configure and create connectors easily, deliver custom dashboards, construct Data Mining queries, and enrich data, thereby creating greatly enriched Customer Knowledge and ActionAlert delivered in context into user workflows.
Fully featured Dashboard SDK and the SARA API, together with widgets that enable easy creation of custom dashboards by partners, administrators or users. Release documents include a sample dashboard that illustrates the standard widget types available in the Dashboard SDK and the usage of SARA queries. Administrators can create dashboards, provide custom resources for it and create the SARA queries that provide data to each widget.
The "SARA Queries Editor" is a new secured application allowing for administration of SARA queries. Users can now "like" a document to allow other users know that a document is good or valuable when engaging a customer. Users can also add public tags to a document, using social (user-created) or authoritative (admin-created) tags. Support of asynchronous thumbnail generation, allowing the thumbnail generation for a document when it is requested in the Search UI. Full support of the Noopsis RelationMiner, allowing the creation of facets of facts.
The CustomerMatrix Cognitive Computing platform helps companies discover hidden revenue opportunities in real-time, recommending actions for sales or customer care, and placing those recommendations into existing workflows, ranked by impact value.