How to Select the Best Robotic Process Automation Software for Your Business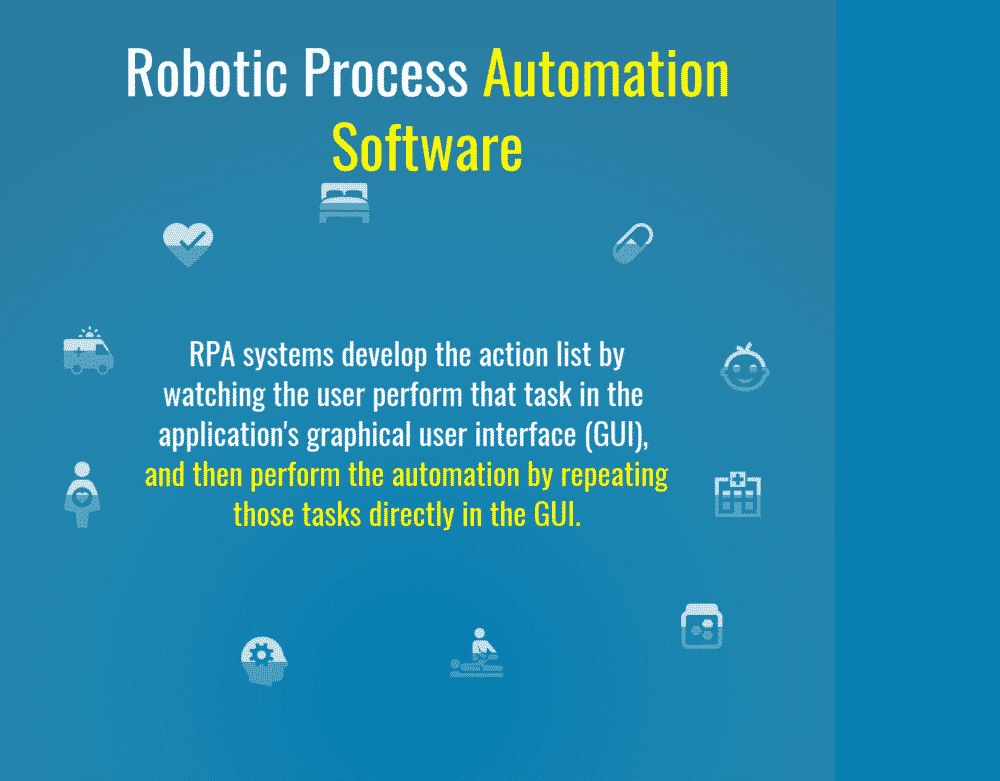 Robots are pre-programmed machines capable of carrying out designated tasks automatically, with or without human intervention. These machines can be controlled by an external controller or a control embedded within the machine and recent trends have shown that robots are here to stay. The earlier you exploit their potential, the faster you create a competitive edge for you and your business. Robotic Process Automation involves automating various business processes using Artificial Intelligence (AI) workers or software robots. It is the application of technology that enables companies to manipulate computer software or "robots" to automate several business processes. They are designed to deliver direct profitability, perform repetitive tasks and also communicate with other systems within the enterprise just like humans do. Business processes that can automated using Robotic Process Automation include transaction Processing, Data Manipulation, Record Maintenance, Complex Calculations, Communications, Capturing data and many more.
Companies that employ labor on a large scale to perform basic and complex functions need to harness this technology because Robotic Process Automation will boost performance and increase employee morale by optimizing transactional process functions whilst minimizing cost. Automating your business processes with RPA not only transforms and improve your company's workflow, it also allows for superior flexibility within the enterprise coupled with fast, tailored solutions to short and long-term problems. With the right professionals, this computer software is easy to train and can be integrated seamlessly into any business system.  The beauty of RPA systems is the ability of the software to continuously evolve and adapt to changing circumstances and new situations, unlike regularly automated systems.
What are the Features of Robotic Process Automation

What do Robotic Process Automation systems have that make them so important?  Is a question that every CEO should ask, to enable them know how this software can improve their businesses. Here are some key features of Robotic Process Automation software – User friendly, Non-disruptive, no programming knowledge required, work queues, analytics and elastic scalability:
No programming knowledge required: With Robotic Process Automation, Employees do not require any prior knowledge of programming algorithms and only need to be trained on how the system works.
User friendly: These systems are generally known to be easy to use and do not need any special technical knowledge which explains why they are generally adopted in business operations and not in IT departments.
Non-Disruptive: One of the philosophies behind adopting the RPA is to avoid the complexities and risks associated with changing the structure of an establishment as these tools fit seamlessly into the organization.
Work Queues: Robotics Process Automation systems are built with the ability to extract transaction data used for analysis, mostly this data is stored on the cloud server and accessible by all the deployed software robots
Analytics: Robotic Process Automation offers business owners the ability to collect, arrange, analyze, provide reports and store data that is of value to the company, this helps to address and correct issues and also to make accurate forecasts on sales and other necessary part of business.
Elastic Scalability: Mostly Robotic Process Automation systems have the capability to up scale and down scale lots and lots of robots in simultaneous operations and they also provide centralized with features for monitoring and controlling all the robots
What are the Types of Robotic Process Automation
Robotic Process Automation deliver fast return on investment but that's when you select the one most appropriate for your business. There are several types of robotics automation and they range from massively specialized and custom-built to screen scraping tools. The various types are classified and explained in details below;
Working Robots: When there is need to perform actual data in a firm such as data collation, project planning, transaction completion and detecting issues in a business process you need actual working robots. This type of robotic process animation software performs the tasks assigned to it rigorously and accurately and at the same saving time and money. This way company sales and productivity increases exponentially
Monitoring and Quality Assessment Robots: The other types of robots do not perform actual work such as working robots explained above. These virtual robots are deployed to continuously detect faults in systems, slowness or breakdowns in other enterprise resources. These robots enable company staff to be more proactive than reactive in their approach when tackling problems.
Screen Scraping Robots: Screen scraping is a technique in which a computer program extracts data from the display output of another program. With this type of automation, software robots are programmed to collect visual data from a computer screen. They could even be developed to scrape off data from the internet.
What are the Key Performance Indicators (KPI's) of Robotic Process Automation

There are several yardsticks with which we can measure the performance of a Robotic Process Automation system. Some of the indicators through which we measure the efficiency of these software robots are explained below;
Intelligence: The best Robotic Process Automation systems are built to perform basic tasks while taking advantage of advanced learning to adapt to new circumstances.
Dependability: When companies are looking to develop various computer software to automate multiple tasks, it is necessary to look out for RPA systems that are highly reliable and would not shut down without prior knowledge.
Speed: Robotic Process Automation systems should be designed to optimize business in few hours or less, how fast these robots perform their tasks is a measure their efficiency.
Quality Services: This has to be most important measure which companies determine how well automated tasks are executed. Robotic Process automation systems should deliver tasks with better accuracy and even provide better customer service.
Staff Morale: Automated systems reduces the time and energy that employees spend on the job concurrently improving the working condition and also increasing staff productivity.
What are the Benefits of Robotic Process Automation
Designed to perform a vast range of tasks, Robotic Process Automation can be useful to an establish in various ways. Some of them are;
Strong Analytics: A lot of companies have to deal with large volumes of data, some of which are not structured, therefore, one of the important benefits of Robotic Process Automation is that it provides you with a powerful analytics platform to deal with large volumes of data in various formats.
Large Scale Automation: Robotic Process Automation speeds up and executes tasks in the field of medicine, agriculture, Oil and Gas, Insurance, Banking and telecommunications to a high degree of accuracy also, there are no limits to the number of complex functions that can be automated.
Enterprise Scalability: Another benefit of Robotic Process Automation is that it introduces a highly flexible and virtual workforce into a business while also allowing for more software robots to be deployed quickly with minimal costs.
Reduced Costs: Several software robots can be introduced into a company's workforce at reduced costs.
Improved Efficiency: Quite a number of company processes are repetitive, agile and exhaustive thus, there is need to automate most of these tasks to improve the productivity in the workplace.
Automated Voice Assistant: Voice assistants help to minimize resources for large call centers and they also improve the way companies communicate with clients and customers.
What are the Latest trends in Robotic Process Automation
Although it is difficult to predict the future of Robot Process Automation software as they are subject to a lot of speculation due to the level of development these systems have seen in recent times. A significant advancement in artificial intelligence will enable us witness new software capabilities. Possible trends are:
Merger: Tech Enthusiasts predict that we may see a merger of Business Process Management and Robotics Process Automation tools into a single software as both tools are deployed to achieved the same objective.
Artificial Intelligence: Advanced decision making such as financial reporting, project planning, demand planning and many more are influenced by better incorporation of Robotics Process Automation tools due to advancement in artificial intelligence.
 How to choose the right Robotic Process Automation
There are quite a number of things to be researched on before you decide on which Robotic Process Automation software is most suitable to increase your company's competitive edge in a developing world. Keeping your needs abreast, here is a list of factors to consider before choosing a Robotic Process Automation tool
Tool Learning Curve: Automation tools sometimes need time to learn certain functions, therefore you need to know if the learning time is acceptable for your goals.
Interface: You need to know if the robotics automation software you are opting for provides a simple and friendly interface whilst also possessing powerful features to accomplish complex tasks.
Integration: It is also necessary to know if the new software integrates well with other tools used in the company such as project planning and test management tools.
Workload: Another big factor to look out for is the workload in the company, that way you can decide on buying a RPA system that can deploy quite a number of software robots into the system
Budget: One has to consider not only the price of purchasing the software but also the price of licenses and add-ons when choosing a robotics process automation system.
Top Robotic Process Automation Software
Automation Anywhere, Edgeverve, Blue Prism, NICE RPA, UiPath, WorkFusion, Kofax, Pegasystems, Kryon, Redwood, Contextor, Softomotive
Top Robotic Process Automation
PAT Index™
1
Automation Anywhere
Automation Anywhere Enterprise comprises of a group of experts focused on providing a complete end-to-end cognitive and flexible Robotic Process Automation tools to easily build bots to digital functioning bots, powerful enough to automate tasks of any complexity, but at the same time is user-friendly.Automation Anywhere Enterprise is the only RPA platform designed for the modern enterprise that is capable of creating software robots to automate any process end-to-end. Advance with cognitive bots with learning ability for semi-structured processes that need expert decision-making, and transforming analytics that will promote operations.Automation Anywhere Enterprise offers three types of bots, each bot working…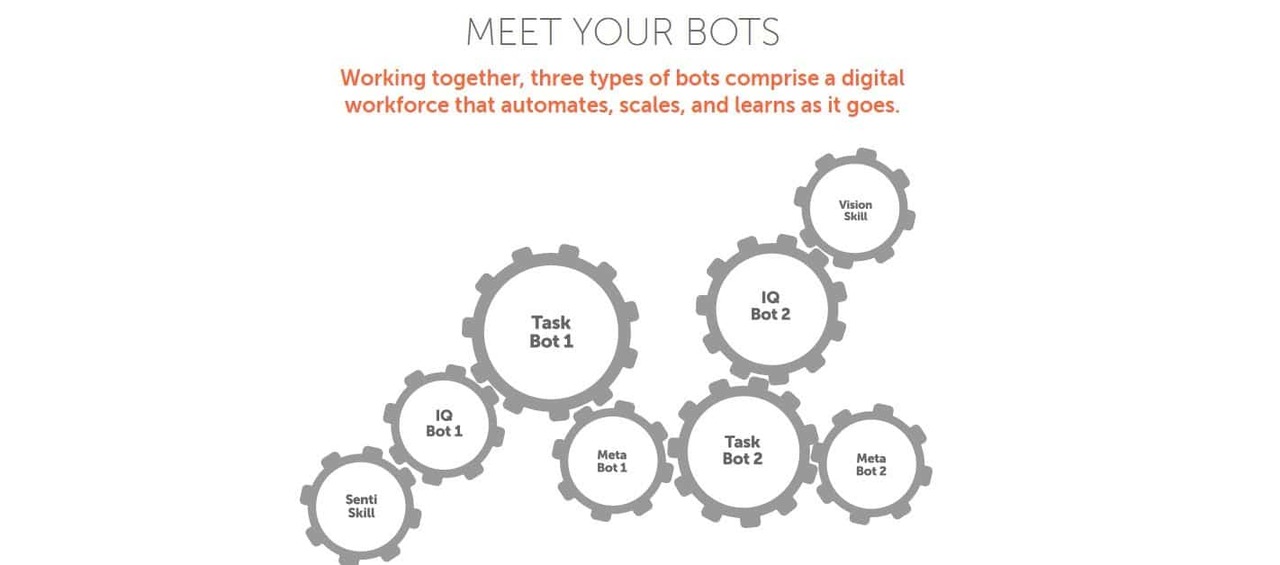 2
Edgeverve
Edgeverve develops innovative software products and offers them on-premise or as cloud-hosted business platforms. The products help businesses develop deeper connections with stakeholders, power continuous innovation and accelerate growth in the digital world. EdgeVerve Systems, a wholly-owned subsidiary of Infosys, develops innovative software products and offers customers on premise or as cloud-hosted business platforms. The products help businesses develop deeper connections with stakeholders, power continuous innovation and accelerate growth in the digital world. Edgeverse powers the clients' growth in rapidly evolving areas like banking, distributive trade, credit servicing, customer service, and enterprise buying. Today, global corporations across financial services, insurance,…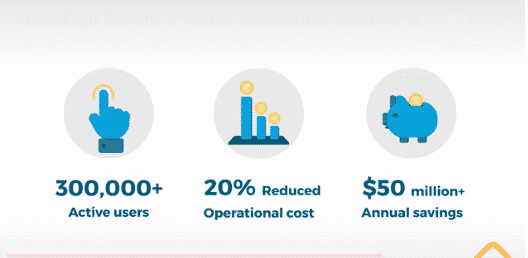 3
Blue Prism
Blue Prism provides robotic process automation software platform which enables business operations to be agile and cost effective through rapid automation of manual, rules based, back office administrative processes, reducing cost and improving accuracy by creating a "digital workforce". Blue Prism offers features such as segregated user roles, automated credential management, audit history, automation of SAP, Lotus, Office, Exchange and custom applications; work queues and technical support. Blue Prism platform has the functionality to meet the strict standards that users insist upon for security, control, data integrity, change management, scalability, robustness and scheduling. Blue Prism is built on the established…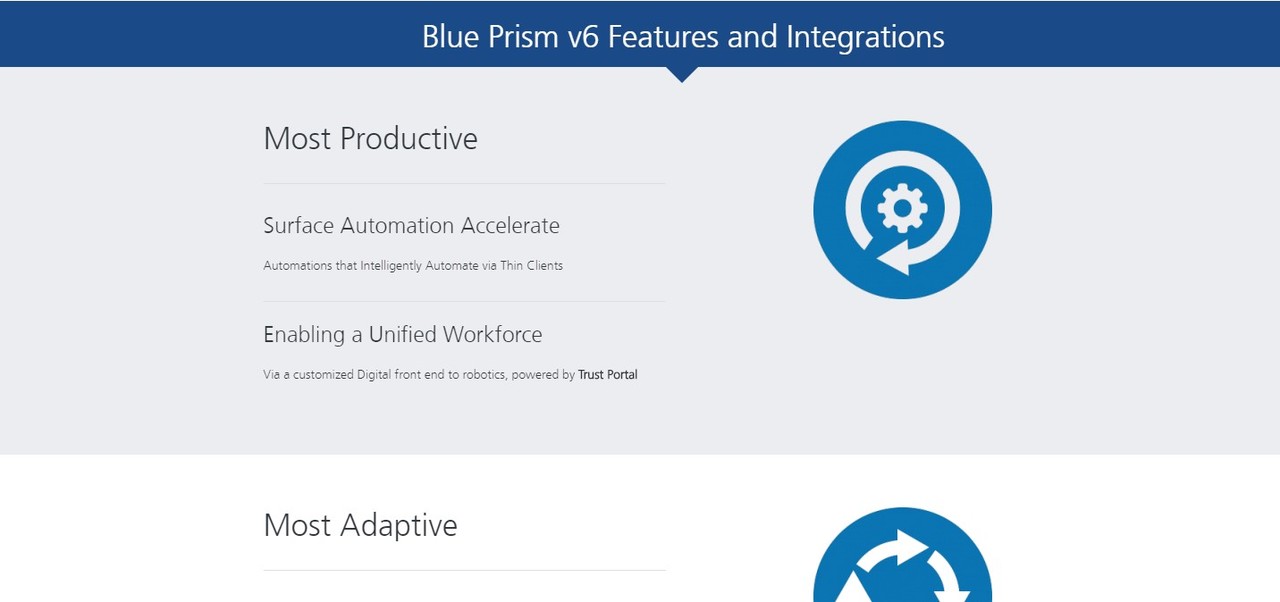 4
NICE RPA
NICE Robotic Automation lets users relieve employees of tasks that require no human intervention ("unattended") and partially automate those that do ("attended"). NICE Robotic process automation (RPA) automates manual desktop tasks that are highly structured, routine and rules- schedule- or event-driven, requiring little (if any) analysis or subjective judgement. NICE Robotic Process Automation lets customer service personnel focus on customers and service, rather than forms and tabulations so the natural result is improved customer experience and 100% success in meeting service-level agreement requirements. NICE Robotic automation's software robots complete routine tasks about 5 times faster than people and the robots…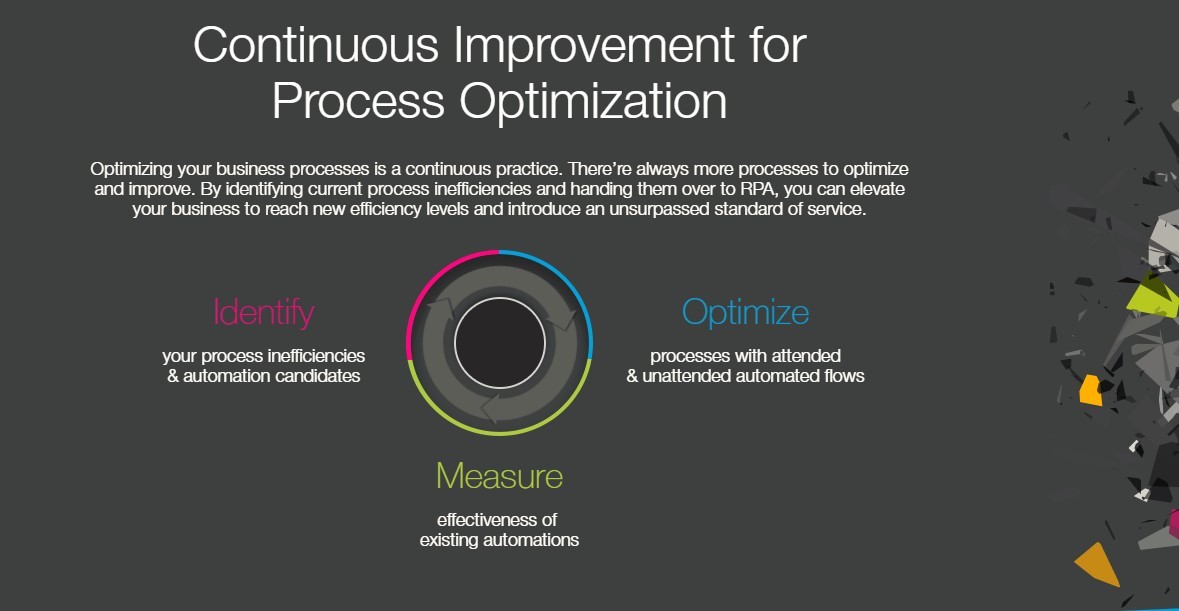 5
UiPath
UiPath Platform delivers enterprise wide automation benefits, residing within an open, extensible architecture designed for truly smart, highly scalable automation. UiPath features drag-and-drop activities, recorder, robust library, real time collaboration, computer vision, unmatched Citrix automation, customized scheduling decisions and stable execution. UiPath not only provides the industry's most intuitive and feature-rich automation development environment but UiPath's tool is also open and extensible, allowing users to automate intricate processes that otherwise could not be covered. UiPath brings the power of ElasticSearch monitoring technology and a highly customizable, out of the box solution for data visualization from Kibana where personalized visual dashboards…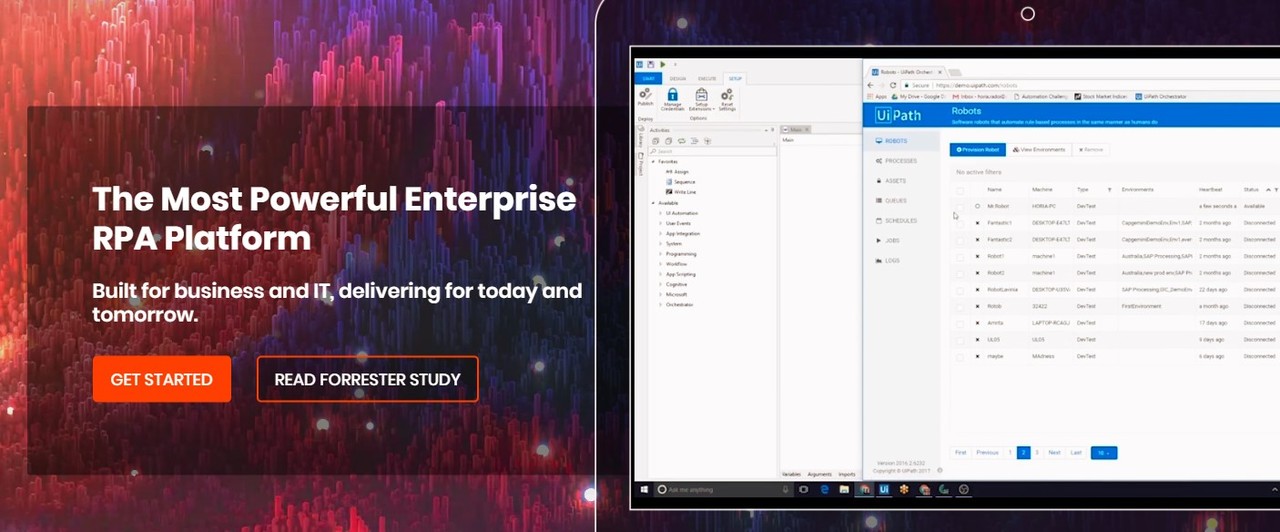 6
WorkFusion
WorkFusion offers software products that let enterprise leaders digitize their operation, exponentially increasing productivity and improving service offering with the purpose of delivering enterprise-grade, AI-powered products purposely built for operations and professionals. WorkFusion features artificial intelligence (AI) powered cognitive automation, robotic process automation (RPA), cognitive automation, crowdsourcing and digital workforce. WorkFusion SPA comes preloaded with process templates to get to automation faster, as well as pre-built robotic, cognitive, and exceptions handling components to make it easier to configure custom workflows. Business people can also configure complex processes with drag-and-drop simplicity using WorkFusion. WorkFusion's RPA not only eliminates the need for…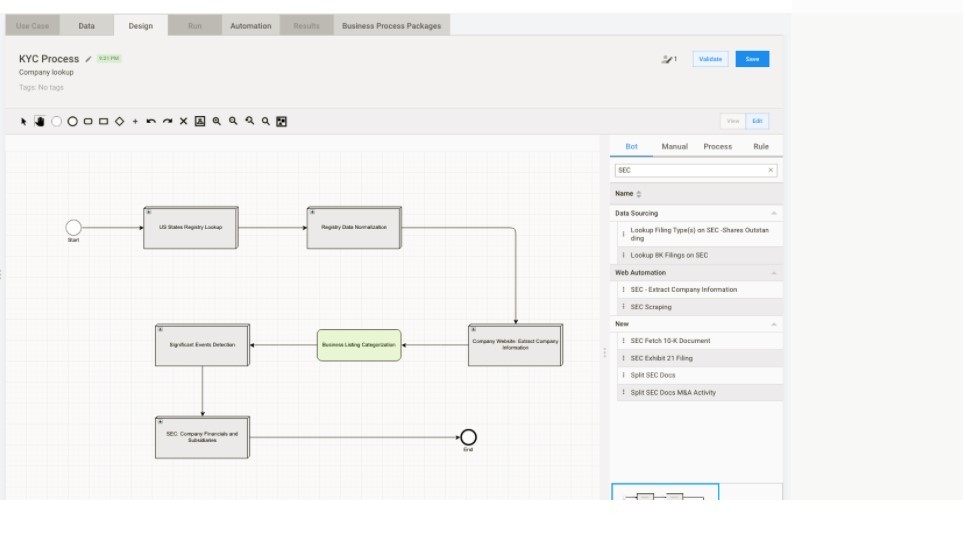 7
Kofax
Kofax captures information and automates information-intensive processes which increases operational efficiency while reducing costs and also enables organizations to digitally transform their business processes to improve customer engagement and enhance competitive advantage. Kofax features solutions such as robotic process automation, digital transformation, web data extraction, customer onboarding, dynamic case management, digital mailroom, process intelligence, regulatory compliance, financial process automation, account opening automation, consumer loan automation, mortgage processing automation, customer self-service and assisted service, financial data and equity research automation, wealth management transformation, customer due diligence automation, branch capture transformation, trade management optimization, government application automation, public assistance, public safety and…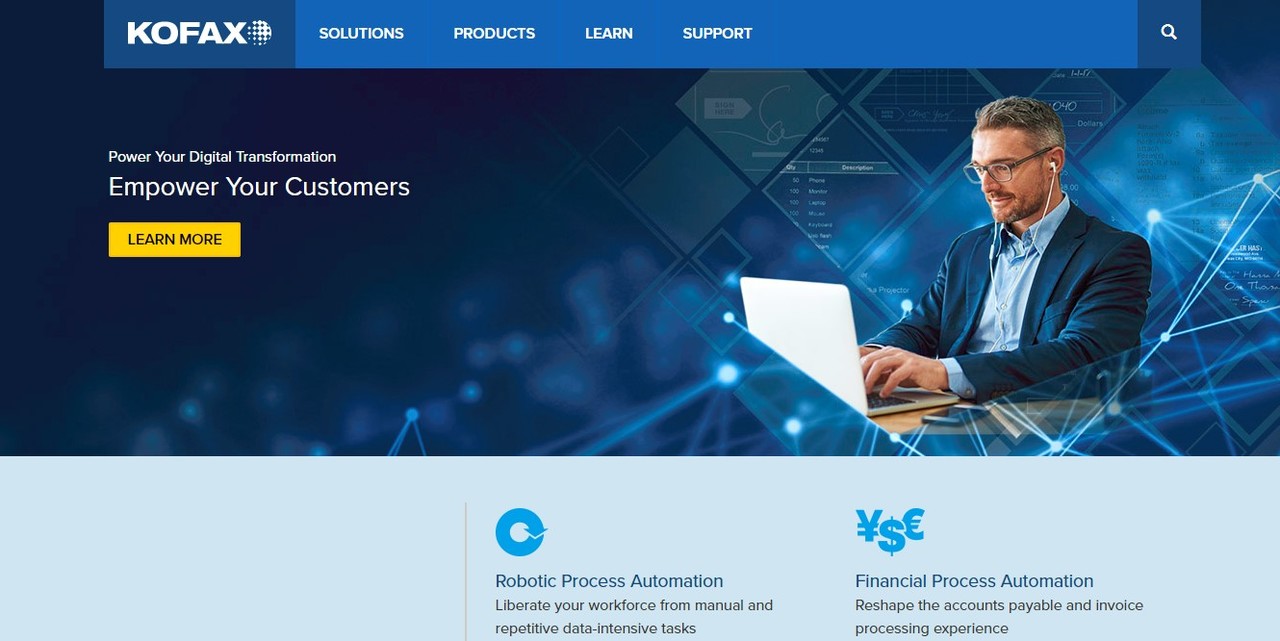 8
Pegasystems
Pegasystems is the leader in cloud software for customer engagement and operational excellence which offers adaptive, cloud-architected software that is built on the unified Pega Platform and empowers people to rapidly deploy, and easily extend applications to meet strategic business needs. Pegasystems features real-time intelligence, end-to-end automation, low-code, cloud-based visual tools, multi-dimensional scale and cloud choice. Pega's real-time AI works like a single, unified brain that scans streaming cross-channel data and finds hidden opportunities. Pega also offers a Customer Decision Hub which delivers real-time intelligence, so users will get one brain and not one per channel that will deliver timely,…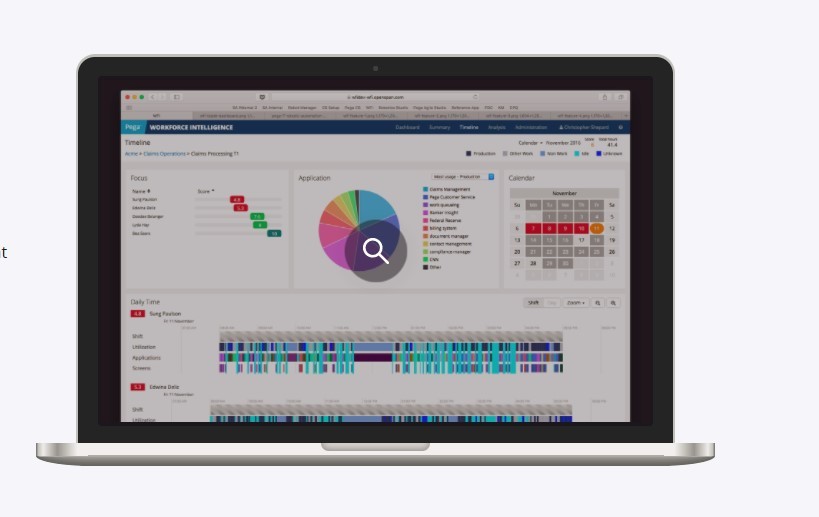 9
Kryon
Kryon Systems delivers innovative and intelligent Robotic Process Automation (RPA) solutions enabling digital transformation for enterprises. Kryon Systems' RPA offers features such as unattended automation, attended automation and hybrid automation. RPA solutions automate rules-based, routine tasks within the end-to-end business process and executed by Leo Robots with maximum efficiency and accuracy. So Kryon RPA platform delivers attended automation including application guidance and task automation to improve tasks handled by the user's human workforce. Kryon has also a unique Hybrid Automation where people can initiate processes on their desktop and then seamlessly pass tasks within the process to a robot for…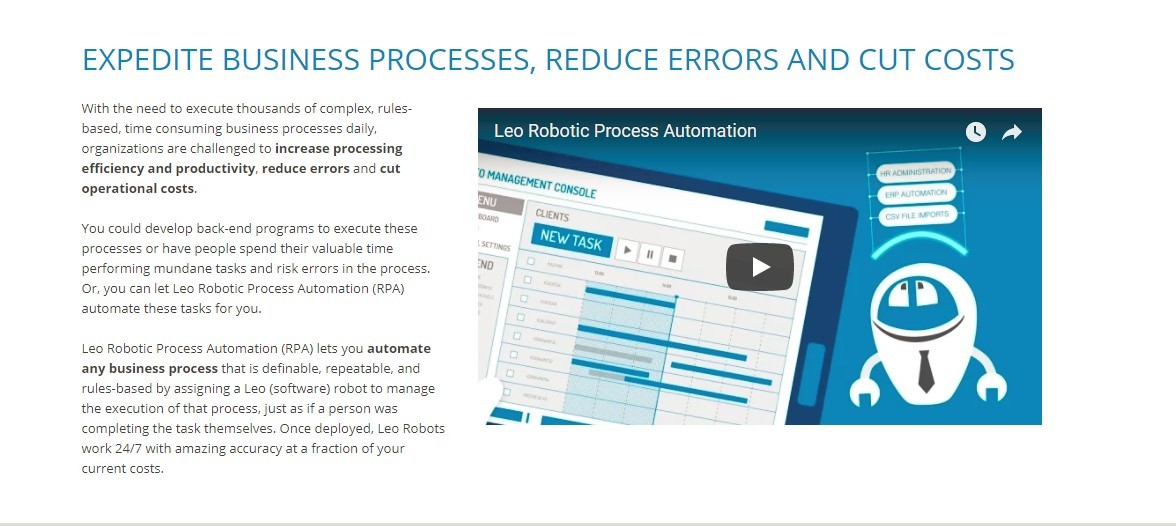 10
Redwood
Redwood Software accelerates digital process transformation, eliminates the costs of the remaining manual tasks anywhere in the organization and robotizes up to 100% of manual tasks. Redwood's robotic process automation offers features such as plug and play robots catalog, 100% automation, workflow, orchestration, analytics, business dashboards, automated SLA management, audit trail, integrated security model, 99.95% uptime, lowest total cost of ownership, zero maintenance, service oriented robotic architecture and dynamically scalable. Redwood's robots can automate processes simply and quickly with the industry's fastest time-to-value and the lowest total cost of ownership. Redwood's robots are pre-built and ready to go and Redwood's…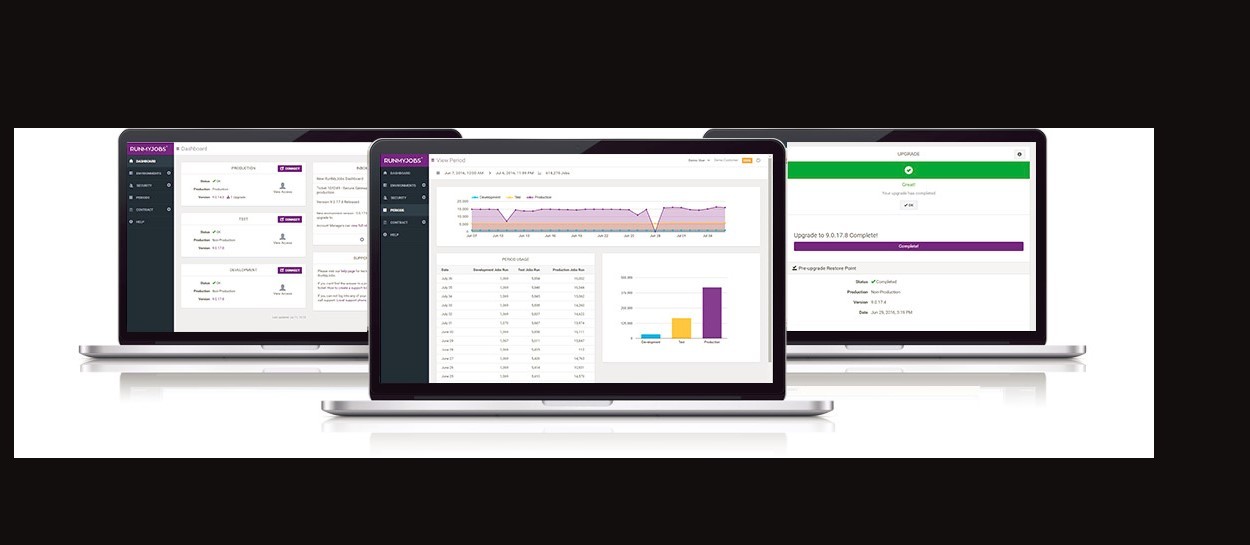 11
Contextor
Contextor is the European leader in the design and integration of innovative software solutions based on the performance of real-time increased interactions called Robotic Process Automation. Contextor offers a full range of solutions such as customer experience, agility, operational excellence, workforce enhancement, optimization, quick win, Citrix or RDP hybrid virtualization environment and full scalability and openness with JavaScript language. Contextor stores a screen's parameters just once. This means that if an application changes, the adjustments associated with the change will only need to be made once and will automatically be applied to all of the robots that interact with the…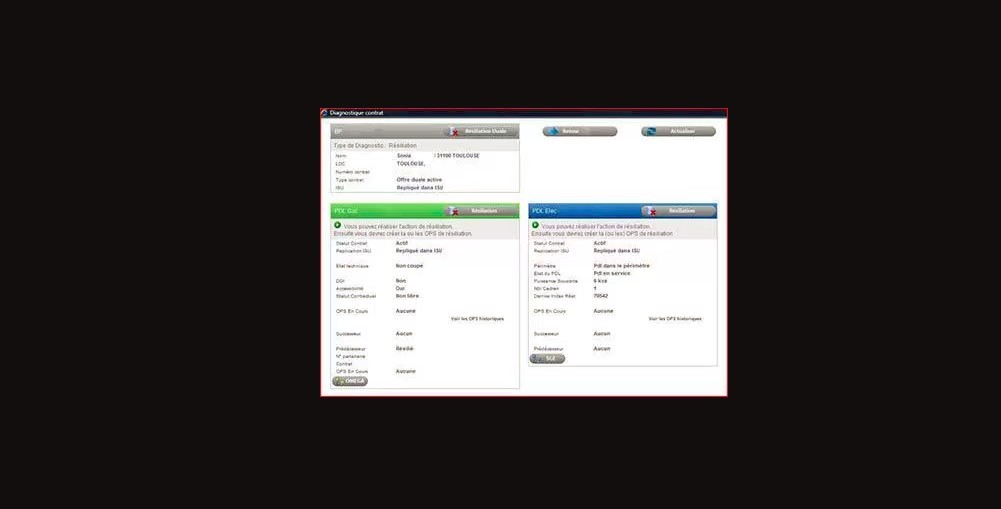 12
Softomotive
ProcessRobot Robotic Process Automation (RPA) solution, empowers enterprises to dramatically reduce operational costs, increase efficiency, improve productivity and accelerate performance. ProcessRobot RPA solution offers features such as auditing, error handling, security, complete log activity, change management, accuracy, best-of-breed technology, back office automation, real time monitoring, detailed reporting, performance analytics, custom and tracked KPIs, ROI calculator and support for compliance regulation processes such as PCI-DSS, GLBA, FISMA, joint commission and HIPAA. ProcessRobot is easy to deploy and intuitive, ensuring a quick and economical setup with effortless collaboration between all business stakeholders. ProcessRobot introduces the most reliable automation technology which is fully…