Review
bpmn.io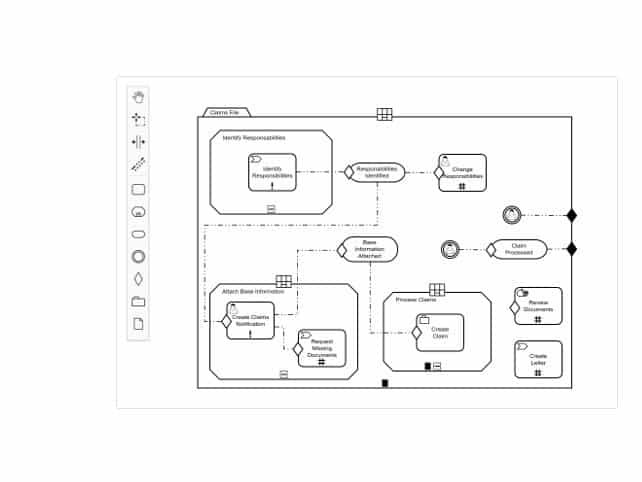 Overview
Easily create your own BPMN 2.0 diagrams using a web-based modeling component.
Business Process Management Software Free
• Global standard for process modeling
• Simplicity
• Power of expression
Small (<50 employees), Medium (50 to 1000 Enterprise (>1001 employees)
What is best?
• Can be used as standalone or integrated into app
• DMN table viewer
Business Process Model and Notation (BPMN) is the global standard for process modeling and one of the most important components of successful Business-IT-Alignment.
There are several reasons why companies and universities are using BPMN: standard - BPMN is not owned by a certain enterprise but by an institution and the standard is supported by many software products, so users are less dependent on any particular vendor's products; simplicity - the principle behind BPMN is rather simple which means that users can start working with this notation very quickly; power of expression – if needed, users can describe precisely how a process functions with BPMN; implementation - has been primarily developed to support technical implementation of processes.
BPMN viewer and editor can be used in a form of bpmn-js to display BPMN 2.0 diagrams on the user website and it represents global standard for modeling business processes, because it allows users to visualize business processes in order of making these process easier to capture, discuss and change. It defines a standardized file format that makes it possible to exchange modeled diagrams freely across compliant modeling tools.
By using it, members can create, embed and extend BPMN diagrams into the Browser. This toolkit can be used as standalone or it can be integrated into application and it is open source and free to use for everyone who changes people and organizations through BPMN. There is also a DMN table viewer and editor which can be used for displaying DMN decision tables in the browser. It can be built in as a DMN 1.1 table editor into the user application. CMMN viewer and editor can also be used for displaying CMMN 1.1 diagrams on the user website and it can be built as a CMMN 1.1 web modeler into applications, customized for user needs.
You may like to read: Top Open Source and Free BPM Tools and How to Select the Best Business Process Management (BPM) Software for Your Business