Zoomdata makes it easy to build insightful applications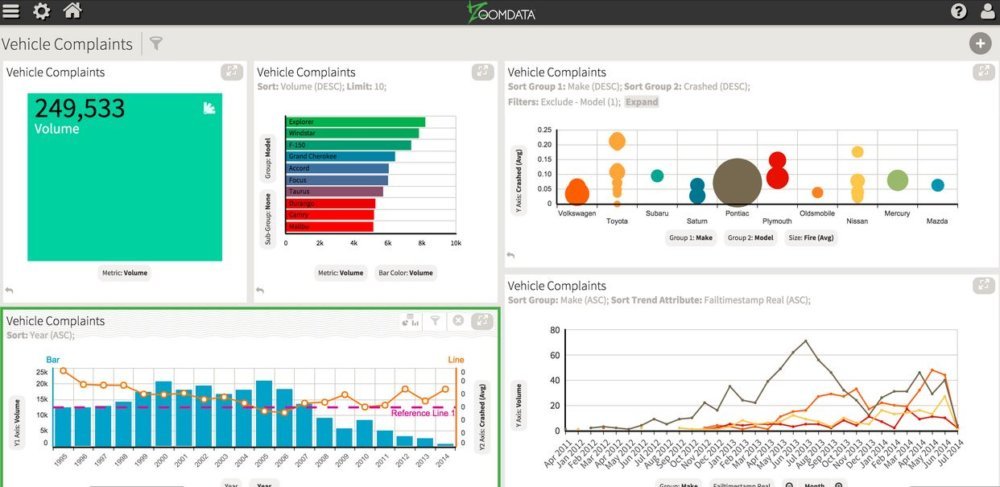 Zoomdata 2.2, enables end users to make better decisions faster. Zoomdata 2.2 also makes it easier than ever for developers to build analytic applications that exploit data across enterprise and cloud platforms and to deploy those applications at scale. "All the data in the world is useless unless developers can harness it in a way end users can interpret," said Justin Langseth, founder and CEO of Zoomdata. "Zoomdata 2.2 gives developers the SDK and APIs they need to build apps IT can easily deploy, putting the power of all that data at business users' fingertips, enabling them to make better decisions faster." Zoomdata has bolstered its modern data visualization and analytics platform capability, while strengthening its micro-services architecture for elastic cloud and hybrid deployment, true end-to-end multi-tenancy support, and key security enhancements.
Micro-services - Expanded capability enables Zoomdata deployments in today's complex and hybrid analytics ecosystems through better load balancing, data job management, and elastic scaling across all data loads.
Multi-tenancy - A true multi-tenant framework enables multiple departments to have dedicated analytics sandboxes while IT centrally manages the security and data governance protocols. Zoomdata 2.2 enables companies of all sizes to benefit from economies of scale with data and user growth without proportional increase in cost and complexity.
Security - Zoomdata's enhanced security framework enables organizations to better provision data through row and attribute-level permissions. Zoomdata supports third party data security and encryption protocols, such as Sentry, but it augments further for data that might be fused across various sources, including big data, streaming data, and legacy data.
Zoomdata's 2.2 release also brings a more modern and refined end user experience, especially for the purposes of business users as they interact with different kinds of visualizations, analytics, and metrics to see how data can help them make better decisions faster. Enhancements include:
Extensive time series analysis with real-time data (leveraging Zoomdata's patented Data DVR technology) and in guided navigation for business users.End user ability to pass time context between different dashboards in a guided fashion and share among colleagues. Users can create time filters that are based on predetermined settings or based on most frequently used time period ranges.Availability of a unified time bar that can sync multiple charts on a screen to move in unison that is particularly useful for analysis with real-time data.
Zoomdata is natively architected for both cloud and on-premises deployments, using an optimized microservices architecture that delivers visual analysis of big data sets in seconds. Zoomdata's patented Data Sharpening technology delivers the industry's fastest visual analytics for real-time streaming or historical data. Zoomdata's streaming architecture makes this possible by leveraging Apache Spark as a complementary high performance engine. Zoomdata Fusion enables users to perform analytics across disparate data sources in a single view - without the need to move or transform data. All of the above make it easier and faster for developers to build data driven applications that can be deployed anywhere using any type of data.