How to Select the Best Software for Energy and Utilities Industry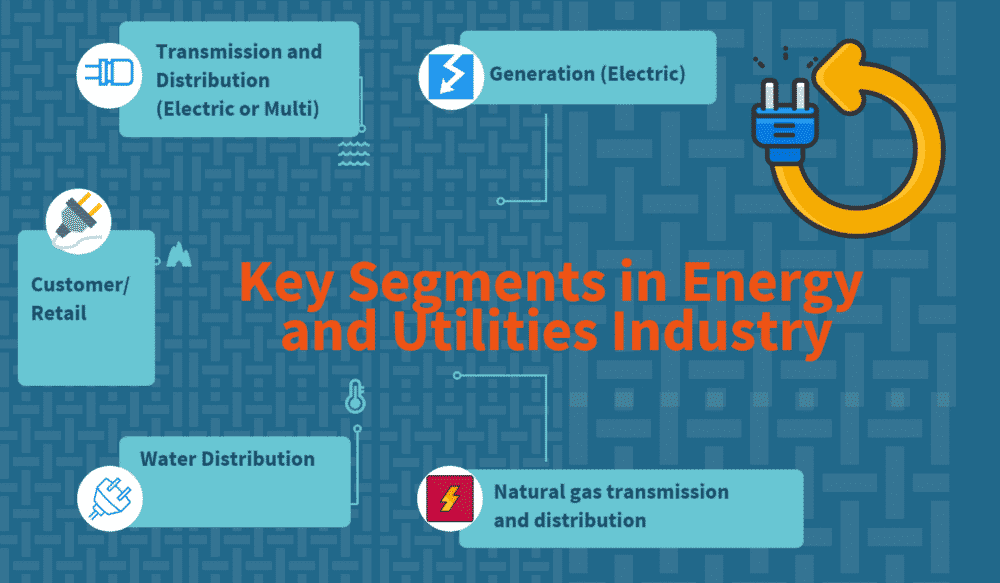 The Energy and Utilities Industry globally covers electric generation: transmission, distribution and retailing, transmission, distribution and retailing of natural gas and water services provision.
Efficiency is what is looked for by power suppliers to meet environmental regulations to increase productivity and profits. Natural gas is a nonrenewable energy resource and burns cleanly reducing carbon dioxide emissions.
It also supports the power grid and is relied upon as a reliable energy source. Renewable energy resources such as wind and solar are increasingly being exploited as energy sources as they have low operational costs and are able to meet environmental regulations.
On the contrary, renewable energy business has its perks. The renewable power generators are stress-free to turn on and off making them dependable for the power supply when needed. Even without the presence of the sun or the wind blowing, grid operators have the possibility of drawing from energy reserves like in the case of hydroelectric and natural gas energy sources.
Despite the fact that environmental regulations are causing power suppliers to turn increasingly to new sources of energy, the underlying factor of their business is efficiency. This efficiency is highly needed in natural gas and coal-fired power generators. When talking about efficiency, power suppliers should strive to increase cost savings and pass on this savings to their customers in form of reduced rates.
Furthermore, effective processes and products are capable of reducing CO2 emissions. For example, a reduction in fuel consumption aligns power plants with the environmental regulations they ought to meet.
Electricity is produced through power-generation sources such as coal, nuclear, natural gas, hydroelectric, diesel, solar or wind farms. From there, it is transmitted through long-distance high voltage transmission networks, typically 50kv or above, to local electrical substations. From here, electricity is fed to local distribution networks that are below 50kv and delivered to commercial and consumer retail customers.
This is achieved by use of transformers that reduce the voltage. Small-scale allocated generation is normally connected to low-voltage distribution networks.
The energy and utilities industry also faces several challenges including new and more stringent directives, atomic vulnerability in a few nations, and inquiries regarding the ideal routes for control networks to coordinate ordinary and inexhaustible supplies. To flourish in such conditions, organizations must re-evaluate and, as a rule, change their action plans. They should look to implement and invest in fruitful methodologies for utility change and utilize information analytics to sustain the industry.
What are the Key Segments in Energy and Utilities Industry?

Transmission and Distribution (Electric or Multi): This segment incorporates firms occupied with the generation, transmission, and appropriation of electric power. Electric plants outfit high-weight steam, streaming water, or some other power of nature to turn the blades of a turbine, attached to an electric generator. Slightly less than half of a country's electrical energy originates from coal. Most of the rest is produced by a mix of natural petrol, nuclear energy, and hydroelectric generators. Renewable sources of electric power— including geothermal, wind, and sunlight based energy—are growing quickly, yet just make up a little level of total generation.
Generation (Electric): This segment incorporates most power is created everywhere control stations associated with the national transmission arrange. Be that as it may, power can likewise be created in littler scale control stations which are associated with the provincial dispersion systems. The number and kind of energy station assembled is the choice of every individual organization in view of market signs and government strategy on issues, for example, the earth. There are numerous organizations in the power age division, from substantial multinationals to little, family-claimed organizations running a solitary site. The two major sub-sections comprise Large-scale central nuclear and fossil, and Renewable energy providers (growth).
Customer/ Retail: This way to deal with segmentation distinguishes customers that have the best motivation and capacity to act, and after that furnishes them with the fitting triggers to do as such. This fills various diverse needs. For example, retail service providers in markets either regulated or unregulated sell electric power, water gas straight to commercial, industrial or residential clients. In markets with competition, retailers compete for customers who are capable of switching retail providers.
Water Distribution: The worldwide water utilities industry contains foundations essentially occupied with water treatment, dispersion, and sewage expulsion, which incorporates collection, treatment, and disposal of waste through sewer frameworks and sewage treatment facilities. The market is exceptionally divided with a couple of real players. The business is very directed as it needs to meet stringent cleanliness benchmarks and there is no item differentiation.
Natural gas transmission and distribution: This segment owns and operates natural gas pipelines and networks for the distribution of natural gas.
What are the Energy and Utility Industry Value Chain?

Energy and utilities organizations are in charge of the safe, secure, reliable, moderate and sustainable generation, transmission and distribution of power, natural gas, and water. These organizations might be possessed by national, state, territorial or local government, in part state-owned, publicly held, or private partnerships.
The business is intensely managed, frequently with controls over power costs charged to clients and standards for quality and accessibility of electric power service. Comparable regulatory oversight applies to natural gas and water benefit.
The value chain is active from electricity production and heat, through electricity trading and distribution to resellers and customers creating economic value for the customers, employees, and society at large. The electricity is produced from hydropower, nuclear power, natural gas, wind blower, biomass (including waste), coal and solar power.
To guarantee a stable supply of energy to clients, a well-working distribution network is required. As opposed to production, energy trading and deals to end clients, which are activities presented to competition, power distribution is a cost-managed monopoly business. It is observed by national controllers and has a marginally different value chain.
Aggressive and stable energy supply is a key essential for effective industrial action, and in this way likewise for the sustainable economic advancement of society. To achieve this, enterprises strive to have a solid legacy of keeping up productive, long-term business relationships with electricity-intensive industries.
What are the Key Performance Indicators (KPIs) in the Energy and Utility Industry?
Key performance indicators (KPIs) in the energy and utility industry serve as valuable tools for comparing electrical utilities performance reliability. The authorities have criteria put in place to monitor electricity distribution in the markets.
Some countries use regulations demanding distribution network operators to pay reimbursements for customers for long interruptions in electricity distribution. Additionally, the aging network infrastructure and growing use of renewable sources of energy force utility companies to increase network's visibility. The indicators include:
System Average Interruption Duration Index (SAIDI): SAIDI is a system index of average duration of interruption in the power supply indicated in minutes per customer.
Customer Average Interruption Duration Index (CAIDI): CAIDI offers the average outage period that any given customer would encounter. CAIDI can be viewed also as the average restoration time. CAIDI is measured in units of time, often minutes or hours. It is regularly measured over the course of a year.
System Average Interruption Frequency Index (SAIFI): SAIFI is a system index of average frequency of interruptions in power supply. It is measured in units of interruptions per customer.
Asset utilization: Asset utilization is vital for operations of capital-intensive, like energy and utilities. This category can comprise of metrics such as plant availability, which is the number of hours a generation plant is in service divided by the total number of hours.
Cost per kWh:: This is the formula measuring the cost to produce one kilowatt-hour of electric energy, which includes capital cost, fuel costs and soon.
What are the Key Functions in the Energy and Utility Industry?
Transmission Operations: It comprises of management of assets and maintenance, engineering and construction design, NERC CIP compliance, compliance with risk and regulatory, outage management and grid operations.
Distribution Operations: It is mandated to take roles comprising management of asset and maintenance, engineering construction and design, smart metering, distribution management and outage management.
Customer Operations: It does the role of customer billing, customer service, customer experience and engagement, product and service marketing, credit and collections, demand-side management programs, and electric vehicle customer operations.
Enterprise/ Corporate services: It is tasked with checking on risk and regulatory compliance, rate case management; procure to payment process, and financial performance.
Supply/ Generation: It comprises of management of asset and maintenance, NERCCIP and NRC compliance, risk and regulatory compliance, nuclear condition-based maintenance, nuclear commission/decommission, distribution/generation plant portfolio profitability, distribution/generation of plant management, water resource management, water treatment, conservation of water, and gas procurement
Market Operations: This segment plies the role of load forecasting and scheduling, unit commitment optimization, network model analysis, settlements and payments, security, credit and risk analysis, settlements process optimization, pricing optimization and trade content tracking.
Top Utilities Customer Information Systems
Oracle Utilities, Fluentgrid, Cayenta CIS, Gentrack, Advanced Utility Systems, Itineris, SAP Utilities are some of the Top Utilities Customer Information Systems.
Top Utilities Customer Information Systems
PAT Index™