Review
Twyla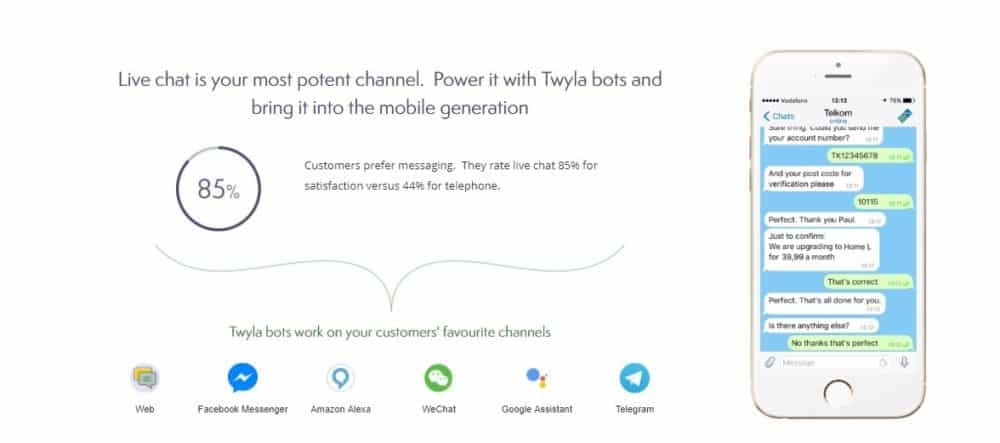 Overview
Twyla is an artificial intelligence messaging platform that puts a smart chatbot in your live chat channels, to answer questions, deflect tickets and free up your agents.Twyla helps you to automate your customer support conversations through chat bots that learn from the conversations between your agents and your customers.
• Integrate
• Assimilate
• Optimise
• Deploy
Small (<50 employees), Medium (50 to 1000 Enterprise (>1001 employees)
What is best?
• Integrate
• Assimilate
• Optimise
• Deploy
Twyla is a messaging platform that uses artificial intelligence to place smart chatbot in live chat channels. Twyla simply educates chatbot to deliver more delightful service experiences.
With Twyla, saves over 50% on phone calls by shifting support conversations from phone to call. Twyla provides the self service chat which tackles general customer queries. When using Twyla as a messaging platform for live chat you are guaranteed to get up to 30% higher customer satisfaction ratings. Beginning to use Twyla will require integrating it into your existing live chat or helpdesk platform.
Twyla will then require to be assimilated to your helpdesk or live chat platform by uploading your chat logs to Twyla system. In other cases, you can assimilate Twyla to your helpdesk by allowing Twyla listen and learn from all your agent conversations. The third step is optimizing Twyla by configuring Twyla based on your own insights to deliver the best and required answers, options and tone of voice for your chats.
The fourth and last step when introducing Twyla bot to your system is deployment. This basically means you let the Twyla bot begin having conversations and interacting with your customers. In the digital world customers prefer live chat messaging over phone calls. Live chat is the most potent channel for messaging and interacting with your customers; and when powered by Twyla bots you get the best messaging platform.
Twyla is available and Omni channel and can work on our customer's favourite channel such as Facebook messenger, web, Amazon Alexa, WeChat, Google assistant and telegram.