Review
SAP Master Data Governance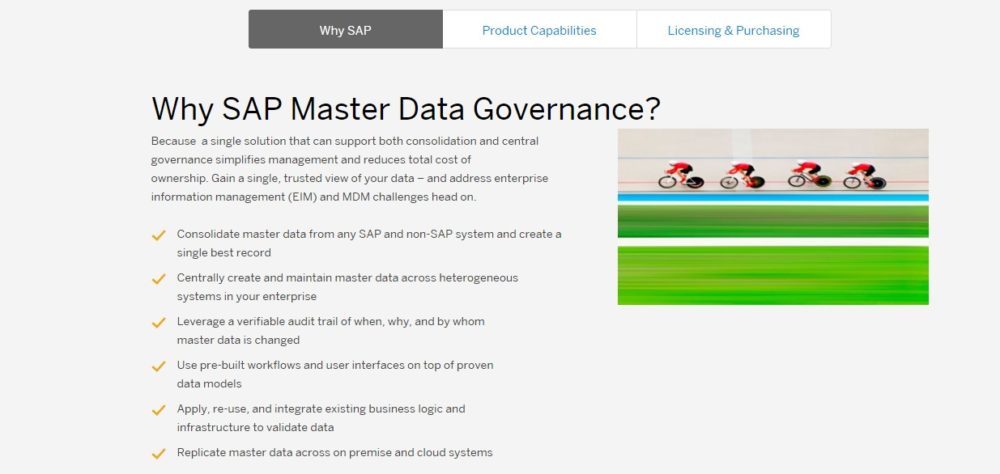 Overview
SAP Master Data Governance consolidate master data from any SAP and non-SAP system and create a single best record, centrally create and maintain master data across heterogeneous systems in your enterprise and leverage a verifiable audit trail of when, why, and by whom master data is changed
Master Data Management Software
•Broad application and systems support
•Comprehensive cleansing capabilities
•Centralized governance
•Process-embedded governance
•Built-in data governance best practices
•High performance and scalability
Small (<50 employees), Medium (50 to 1000 Enterprise (>1000 employees)
SAP Master Data Governance
What is best?
•Broad application and systems support
•Comprehensive cleansing capabilities
•Centralized governance
•Process-embedded governance
•Built-in data governance best practices
•High performance and scalability
With SAP Master Data Governance software users can consolidate and centrally govern their master data – to ensure data quality and consistency across their organization. They can consolidate master data from any SAP and non-SAP system and create a single best record. Also, they can centrally create and maintain master data across heterogeneous systems in their enterprise.
SAP Master Data Governance allows leveraging a verifiable audit trail of when, why, and by whom master data is changed. It automates workflow routing and notification, time-dependent version control, and a full audit trail of changes. Allows using pre-built workflows and user interfaces on top of proven data models, as well. Users can apply, re-use, and integrate existing business logic and infrastructure to validate data. In addition, they can replicate master data across on premise and cloud systems.
SAP Master Data Governance software allows users to: Increase efficiency and productivity by streamlining and automating master data activities and workflows, boost revenue by harmonizing customer and product data to better identify cross-sell and upsell opportunities, accelerate reporting cycles and reconciliation by consolidating, validating, and synchronizing master data across corporate and local systems and reduce procurement cost by consolidating supplier and material data across plants, divisions, and regions to capture discounts.
You may like to read: Top Master Data Management Software and How to Select the Best Master Data Management Software for Your Business