Review
Product Information Management – Product 360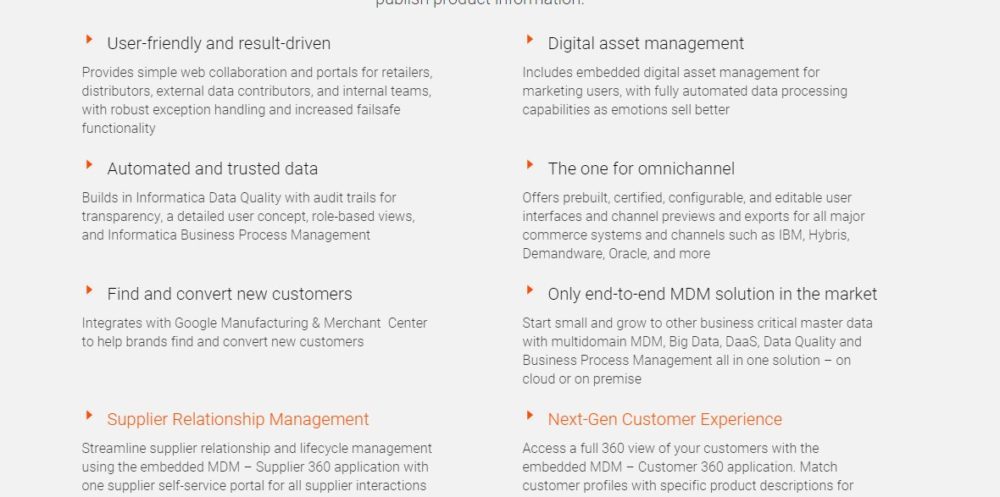 Overview
Offers prebuilt, certified, configurable, and editable user interfaces and channel previews and exports for all major commerce systems and channels such as IBM, Hybris, Demandware, Oracle, and more
Master Data Management Software
•User-friendly and result-driven
•Automated and trusted data
•Digital asset management
•The one for omnichannel
•Find and convert new customers
•Only end-to-end MDM solution in the market
Small (<50 employees), Medium (50 to 1000 Enterprise (>1000 employees)
Product Information Management - Product 360
What is best?
•User-friendly and result-driven
•Automated and trusted data
•Digital asset management
•The one for omnichannel
•Find and convert new customers
•Only end-to-end MDM solution in the market
Informatica's Product 360 (PIM) delivers rich product information that closes the sale no matter which channel the customers use. Product 360 enables business users to more efficiently acquire, author, and publish product information.Provides simple web collaboration and portals for retailers, distributors, external data contributors, and internal teams, with robust exception handling and increased failsafe functionality.
MDM - Product 360 leverages a unified user experience, built-in data quality engine, built-in Business Process Management, search and metadata, inheriting those from the MDM architecture it's built on. This allows users to start smart and grow fast, making it easy to adapt to both market changes and the competitive landscape.
Product 360 speeds product introductions across all channels: retail stores, online, mobile, catalogs, points of sale, procurement and more.Digital asset management includes embedded digital asset management for marketing users, with fully automated data processing capabilities as emotions sell better.Product Information Management offers certified, prebuilt, configurable, and editable user interfaces and channel previews and exports for all major commerce systems and channels such as Hybris, IBM, Oracle, Demandware, and more.
Product 360 integrates with Google Manufacturing & Merchant Center to help brands find and convert new customers.With Product 360, users can start small and grow to other business critical master data with multidomain MDM, DaaS, Big Data, Data Quality and Business Process Management all in one solution – on cloud or on premise.
You may like to read: Top Master Data Management Software and How to Select the Best Master Data Management Software for Your Business