Platfora Big Data Discovery with Analytics Platform and Spark Powered Data Preparation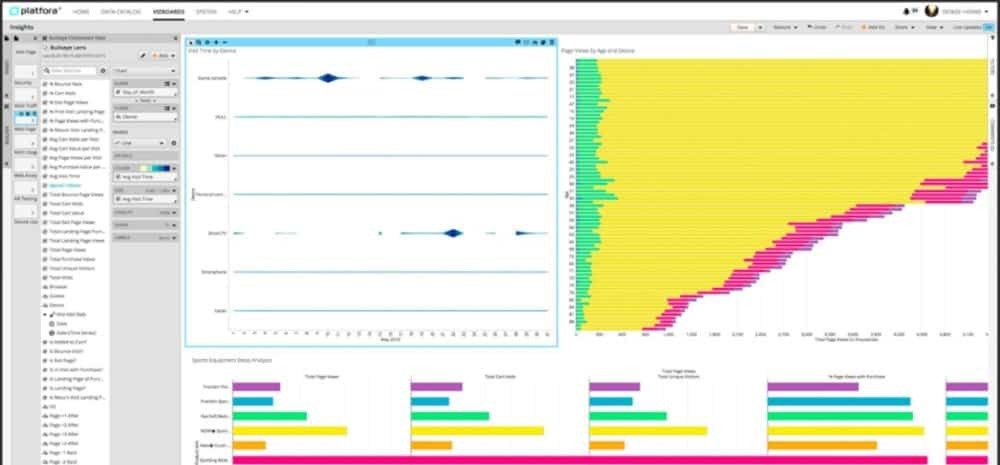 Platfora Big Data Discovery with Analytics Platform and Spark Powered Data Preparation : Platfora introduced Big Data Discovery, making it the single most powerful, flexible and complete Hadoop- and Spark-native analytics platform for data-driven organizations. Version 5.0 includes a more tightly integrated workflow with new features from Platfora and critical big data discovery technologies including Apache Spark, SQL and Excel. Platfora 5.0 includes enterprise strength, self-service data preparation as a part of its Big Data Discovery platform powered by Apache Spark. Platfora's next-generation data prep provides instant statistics and sample data to better guide users towards smart, customized data-driven decisions. Being able to make more intelligent, iterative investigations into big data delivers critical clues to analysts, saving them time and eliminating the frustration associated with traditional analyses dependent on guesswork.
"Data teams spend the majority of their time preparing data for analysis, before they are even able to ask the question they set out to answer. The iterative nature of big data analysis compounds this problem. Today's businesses deserve a modern platform that is designed with iteration as the norm," said Peter Schlampp, VP of Products, Platfora. "Platfora 5.0 was built to empower average users to become 'citizen data scientists' by making this process accessible to the masses. We are thrilled to be opening up our platform to increase user accessibility and look forward to expanding with additional functionality in the near future."
"When data-driven organizations build data lakes and begin to realize the power of Hadoop-native analytics, they start exploring analytics tools and workflows that will put big data in the hands of their workforce," said John Myers, Managing Research Director for Business Intelligence at Enterprise Management Associates. "But true integration between data sets is usually an afterthought and new silos of information are created. Platfora 5.0 makes significant strides towards empowering data-driven organizations to integrate the whole of their enterprise data inside of a single big data discovery environment."
Platfora Big Data Discovery 5.0 includes several enhancements that make big data analytics more open and accessible for all roles within an organization, including Self-service Data Preparation, Powerful Data Transforms, Microsoft Excel Support, Apache Spark at the Core, and Vizboard Embedding.
Self-service data preparation dramatically reduces the time it takes for business teams to prepare datasets for analysis, for smarter, faster results. To empower data administrators with the ability to do more complex and custom data preparation in an integrated workflow within Platfora, SQL-language data transformations are now possible. Any data transformation that can be expressed in SQL can be performed as a stage of the data preparation pipeline. Platfora Big Data Discovery is designed so that anyone in an organization can access data from any department. Business users who need their results in Excel format to distribute inside or outside the company can export any analysis on demand, or schedule periodic delivery via email. Platfora 5.0 makes Spark accessible to non-technical users and utilizes Spark at the core to provide an interactive experience. For the first time, Platfora generates and executes Spark programs in the background without adding any complexity to the end user.Available as a beta feature in Platfora 5.0, embedding allows users to share Big Data Discovery insights outside the Platfora environment so that coworkers can see data visualizations in their portal of choice.
Platfora enables business users and data scientists to visually interact with petabyte-scale data in seconds, allowing them to work with even the rawest forms of transaction, customer interaction and machine data to find new opportunities and manage risk. Platfora is transforming the way businesses unlock insights, make decisions and produce better outcomes through the use of its industry-defining Customer Analytics, Security Analytics and Internet of Things solutions.