Pentaho supports Amazon Elastic MapReduce and SAP HANA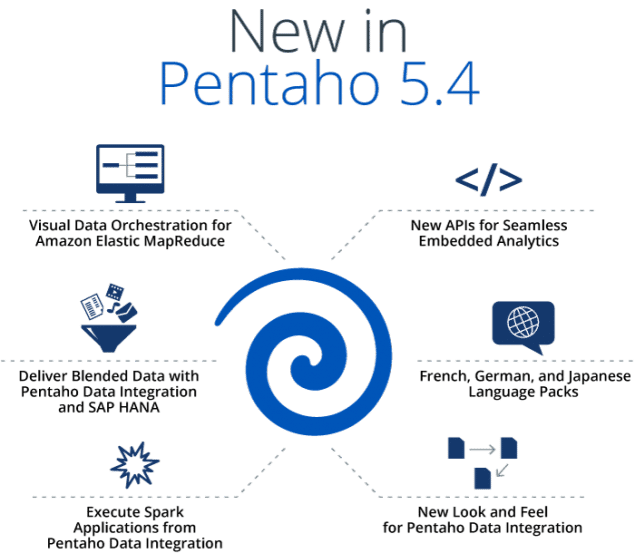 Pentaho supports Amazon Elastic MapReduce and SAP HANA : Pentaho, announced support for integration with two popular big data technologies, Amazon Elastic MapReduce (EMR) and SAP HANA. Pentaho 5.4 offers new capabilities that build on a pragmatic and future-proof platform for big data orchestration and analytics at scale, further empowering organizations to drive value with Pentaho's Big Data Blueprint use case designs.In Pentaho 5.4 customers can now use Amazon EMR to natively transform and orchestrate data as well as design and run Hadoop MapReduce in-cluster on EMR. IT organizations now have new and powerful ways to operationalize a cloud-based data refinery architecture for on-demand governed delivery of data sets.
Enterprises can also leverage SAP HANA's high-performance capabilities on a wider variety of data. Pentaho 5.4's integration with SAP HANA enables governed data delivery across multiple structured and unstructured sources. Pentaho, is a leading data integration and business analytics company with an enterprise-class, open source-based platform for diverse big data deployments. Pentaho's unified data integration and analytics platform is comprehensive, completely embeddable and delivers governed data to power any analytics in any environment. Pentaho's mission is to help organizations across multiple industries harness the value from all their data, including big data and IoT, enabling them to find new revenue streams, operate more efficiently, deliver outstanding service and minimize risk.
Enterprises running Hadoop find that data variety and volumes increase over time, making reliable performance and scalability mission-critical priorities. Pentaho recently executed a controlled study that demonstrates sustained processing performance of Pentaho MapReduce running at scale on a 129-node Hadoop cluster. The results build on the value of the Pentaho platform, delivering high performance processing at enterprise scale in big data deployments. Additional capabilities and enhancements in Pentaho 5.4 include integration of Pentaho Data Integration (PDI) with Apache Spark, enabling orchestration of Spark jobs and new APIs to simplify embedding analytics into business applications and processes.
Pentaho provides a refreshed, modern look for Pentaho Data Integration and ability to localize Pentaho in French, German and Japanese.
"We continue to deliver on our vision to help organizations get value out of any data in any environment with Pentaho 5.4," said Christopher Dziekan, Chief Product Officer, Pentaho. "Our open and adaptable approach means customers choose the best technology for their businesses today without the worry of being locked-out in the future."