Review
Past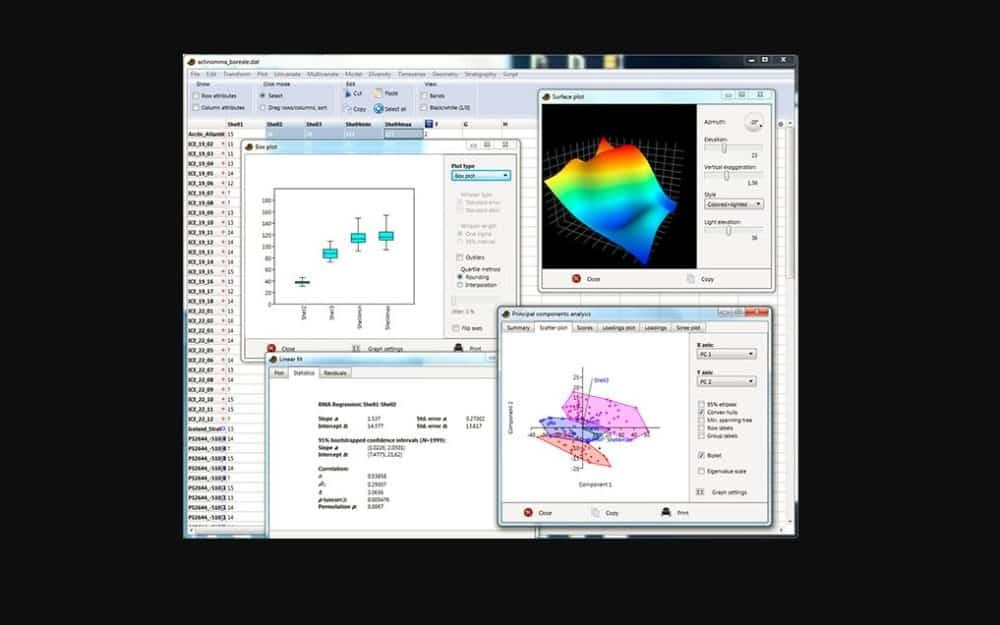 Overview
Past is free software for scientific data analysis, with functions for data manipulation, plotting, univariate and multivariate statistics, ecological analysis, time series and spatial analysis, morphometrics and stratigraphy.
Statistical Software Free
• Curve fitting
• Multivariate statistics
• Time series analysis
• Geometrical analysis
• Parsimony analysis
• Gridding
Small (<50 employees), Medium (50 to 1000 Enterprise (>1001 employees)
What is best?
• Curve fitting
• Multivariate statistics
• Time series analysis
• Geometrical analysis
Past is an open free software for data analysis and scientific with functions of plotting, data manipulation, univariate and multivariate statistics, time series, ecological analysis, morphometric, stratigraphy and spatial analysis.
Past provides a data analysis package that is easy to be used and includes statistical, plotting and modelling functions. Past enable Excel users a spreadsheet type data entry form where they can enter their data. Past is easy to use because it provides an interactive user interface and easy scripting.
Data analysts can perform curve fitting in Past. The types of curve fitting include; linear with bootstrapping and permutation, Breusch-Pagan and Durblin-Watson tests and generalized linear model that includes Logit regression, log-log, logistic, polynomial, lin-log, Von Bertanalanffy, sum of sines and many more.
Past provides a good platform to data analysts to perform multivariate statistics that include principal coordinates, principal components, non-metric multidimensional scaling, detrented correspondence and many more. Past also performs time series analysis. The time series analysis include spectral analysis, cross-correlation, autocorrelation, Walsh transform, wavelet transform, runs test, short time Fourier transform and Markov chains.
The time series analysis also offers Mantel correlogram and periodogram properties. The geometric analysis offered by Past consists of directional statistics, , angular mean with CI, kernel density estimation of point density, rose plots, alignment detection and many more.
Data analysts are also provided with a good platform to perform parsimony analysis that includes heuristic algorithms, Fitch and Dollo characters and Wagner. Past also features biostratigraphy features that comes along with the methods of unitary associations. The gridding feature consists of thin plate spline and moving average models.