Review
Moneyspire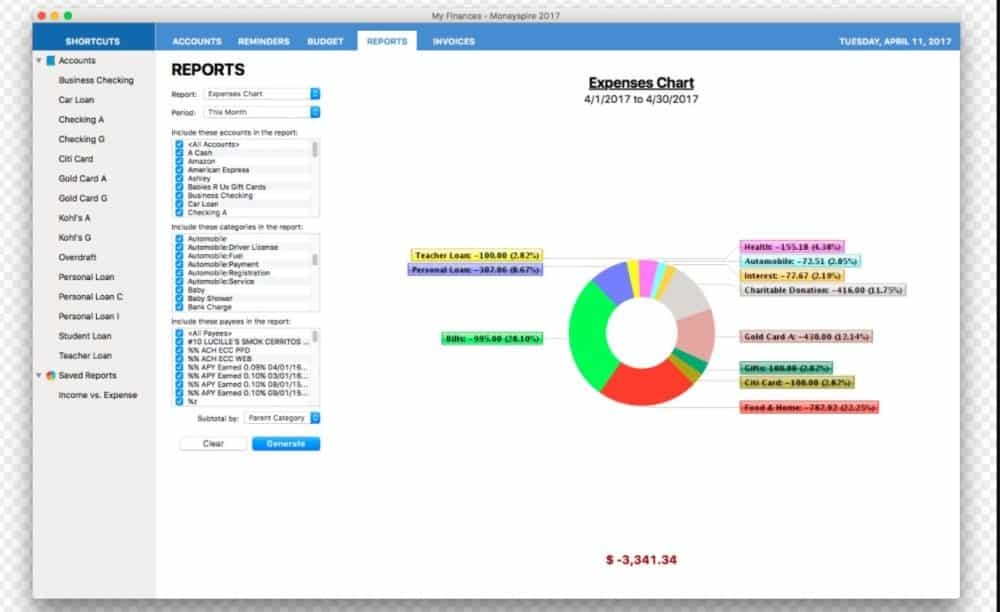 Overview
Moneyspire is easy and powerful personal finance software that brings your entire financial life together in one place. Keep track of your bank accounts, credit cards, loans, investments, etc. Balance your checkbook and organize your transaction details.
Personal Finance Software
• Track Your Accounts
• Detail of Spending
• Reports and Charts
• Bill & Deposit Reminder
• Keep a Budget
• Mobile App
• Basic Edition- US$39.99
• Plus Edition- US$74.99
• Pro Edition- US$119.99
Small (<50 employees), Medium (50 to 1000 Enterprise (>1001 employees)
What is best?
• Reconcile Statements
• Balance Forecast
• Online Banking
• Customer Invoicing (Pro Edition)
• Clean Easy to Use Interface
What are the benefits?
• Import & Export Data
• Cloud Support
• Safe & Secure
• Check Printing
• Multiple Currency Support
• Investment Account Support
Moneyspire is user-friendly and dominant personal finance software that coalesce your entire financial life in one place. Some of its features include mobile app, online banking, balance forecast, reconcile statement, reports and charts, import and export data, multiple currency support, customer invoicing, check printing, and investment account support.
With Moneyspire, you can manage your bank accounts, credit cards, loans, investments, etc; balance your checkbook and take charge of your transaction details; estimate your future balances and net worth, and know your status; and set bill notifications and ascertain all your upcoming payments so you never forget to foot a bill again.
With Moneyspire, you can set a budget for all your expenses and monitor your progress. Moneyspire helps you to generate detailed reports and charts and see precisely where your money is going, and make tax time easier. Moneyspire is the ultimate software for managing your money, and is used by nuerous individuals, institutions, and corporate bodies all over the world.
Moneyspire makes organizing and monitoring of finances easier. Moneyspire allows users to import transactions from financial institution's website, and Direct Connect and automatically download transactions and pay bills at will. Moneyspire supports OFX, QFX, QIF and CSV file format imports, and exporting to spreadsheet and QIF file format, so you don't have to enter data manually. Moneyspire enables users to be in charge of their finances anytime, anywhere through its mobile personal finance software – available on computer, tablet, and phone. Furthermore, Moneyspire offer cloud data storage which enables users to store and access their data from anywhere.