Review
MochaDocs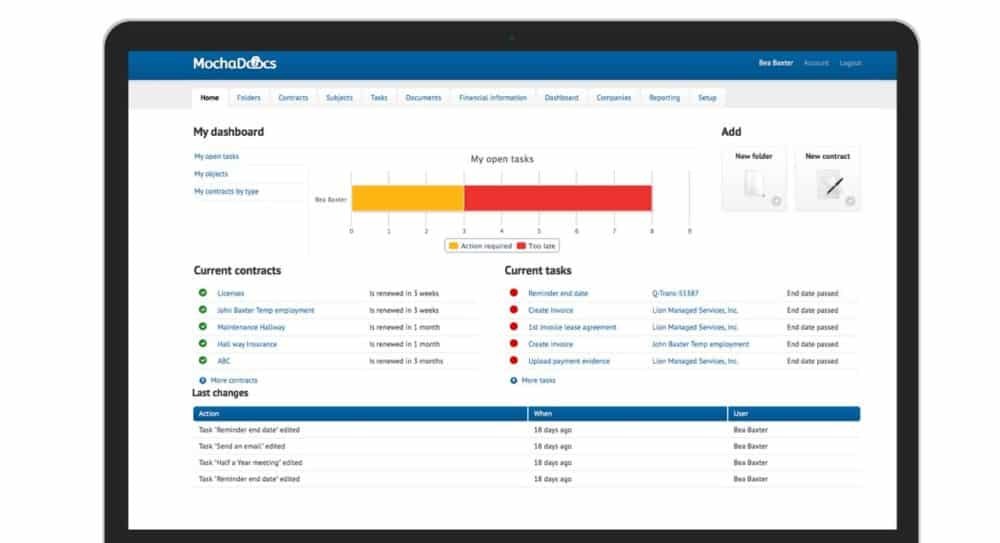 Overview
MochaDocs is completely configured within an hour, fully automatic contract templates save 90% of your time
Configurable for every desire.
Contract Lifecycle Management Software
Unlimited Contracts
Unlimited Tasks
Unlimited Attachments
1 GB Storage per manager
1 Manager - $44/ manager/month
5 Managers - $33/ manager/month
15 Managers - $22/manager/month
Small (<50 employees), Medium (50 to 1000 Enterprise (>1001 employees)
MochaDocs offers Analysis, Dashboard & Reports with a single click of all information. It provides a clear overview of every contract using visual dashboards. Make reports concerning contracts, tasks, financial data, forecasts, entities, suppliers, users, dates and so much more.
MochaDocs is completely configured within an hour; while its fully automatic contract templates save 90% of its user's time, configurable for every desire. MochaDocs is always up-to-date and never wait for updates.
MochaDocs is cloud software for Contract Management. The only necessities that users need would be internet connection as well as a browser. There are no unwanted installations. Everyone has the same version. Since MochaDocs is a 100% cloud based company, there is no need for complex implementation, installations or expensive software.
Manage contracts quick, easy and efficient and be able to access wherever the users are located. No need store user contracts on multiple different locations. Users can also get notifications for all important deadlines.
MochaDocs gives a perfect integrated contract management approach.MochaDocs runs in data centers that are optimized for security and performance. It offers the highest quality of professional security services by planning and executing uncontrolled events.
To guarantee the safety of all data in unlikely catastrophically scenario's, MochaDocs ensures that their datacenters have redundant capacity and all data is replicated multiple times. These security measures suffice with the strictest international guidelines concerning datacenters.
MochaDocs' multitenancy model (serving multiple customers with a single application) provides innovation for all customers. This model ensures that everyone profits from the highest security standards. This implies that small companies have identical security standards as stock market listed enterprises.
You may like to read: Top Contract Lifecycle Management Software, Top Free Contract Management Software and How to Select the Best Contract Lifecycle Management Software for Your Business