Review
SpringCM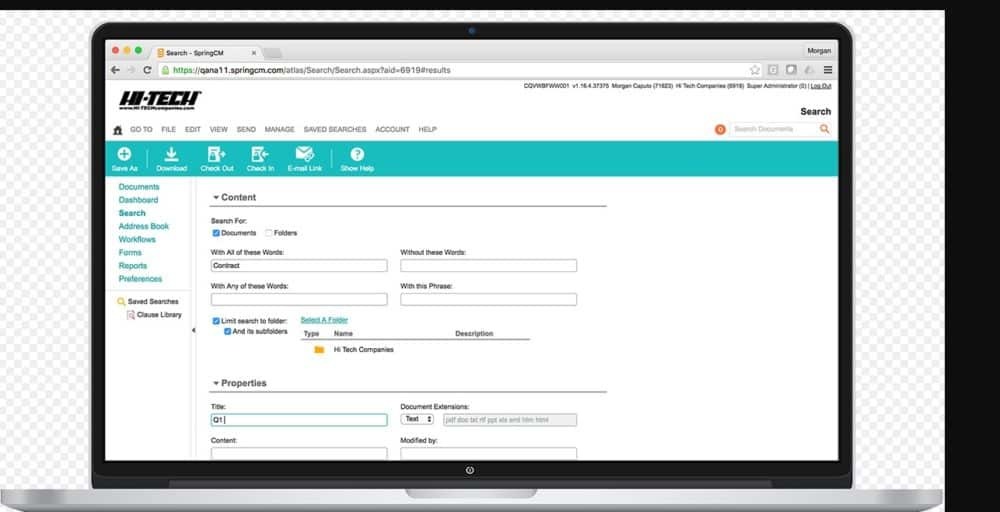 Overview
SpringCM, a Salesforce ISV Platinum Partner, manages contracts, documents and all types of content, accelerating productivity for fast-moving organizations. Our product includes powerful workflow, mobile and security features that eliminate time-consuming manual steps in critical business processes.
Contract Lifecycle Management Software
Store, share and search for the contracts quickly and easily
Generate contracts faster
Be ready for an audit
Eliminate bottlenecks
Contract Management for Salesforce
Streamline contract review and increase visibility
Keep contracts moving without stepping in
Generate agreements using approved templates
Find any document in seconds
SpringCM Contract Management Pricing
PROFESSIONAL CLM
Generate, Store, Sign
$39
/user/month
ENTERPRISE CLM
Full Automation / Workflow
$79
/user/month
Document Management Pricing:
PROFESSIONAL DOCS
Generate, Store, Sign
$29
/user/month
ENTERPRISE DOCS
Full Automation / Workflow
$79
/user/month
Small (<50 employees), Medium (50 to 1000 Enterprise (>1001 employees)
The Spring Contract management software helps your organization add order and efficiency to the contract process. It enables one to better manage contracts throughout their full lifecycle — from contract generation to renewal.
The best contract management software can free the time, reduce the organization's operating costs and accelerate revenue. Contract software isn't just for legal and sales pros, but also for everyone who deals with contracts behind the scenes, including HR, IT and finance departments.
Effective contract management begins with a cloud-based central repository and an organized, intuitive folder structure that accommodates the business workflow.Whether the teams work all day in a CRM system like Salesforce, at home, in the office, or from mobile devices somewhere in between, they'll have the ability to find every file they need to manage and contribute to the contract process.
The contract process involves many steps, which include sending the contract to internal and external parties for reviews, approvals and signatures. Regulating and tracking these steps is critical to managing the contract process successfully. Without an efficient method, one might be missing insights into bottlenecks, thereby limiting the ability to mitigate errors.
Automating the contract process ensures contract cycles are efficiently directed — both internally and externally — so all changes are saved for prompt review and approval. SpringCM seamlessly integrates with Salesforce, saving everyone time during document generation or document searches. By using approved templates, one will gain confidence that their documents and contracts are always accurate. Carry that confidence to the approval process as one set documents in motion — on the right path — using advanced workflow capabilities.
You may like to read: Top Contract Lifecycle Management Software, Top Free Contract Management Software and How to Select the Best Contract Lifecycle Management Software for Your Business