Review
SAP Ariba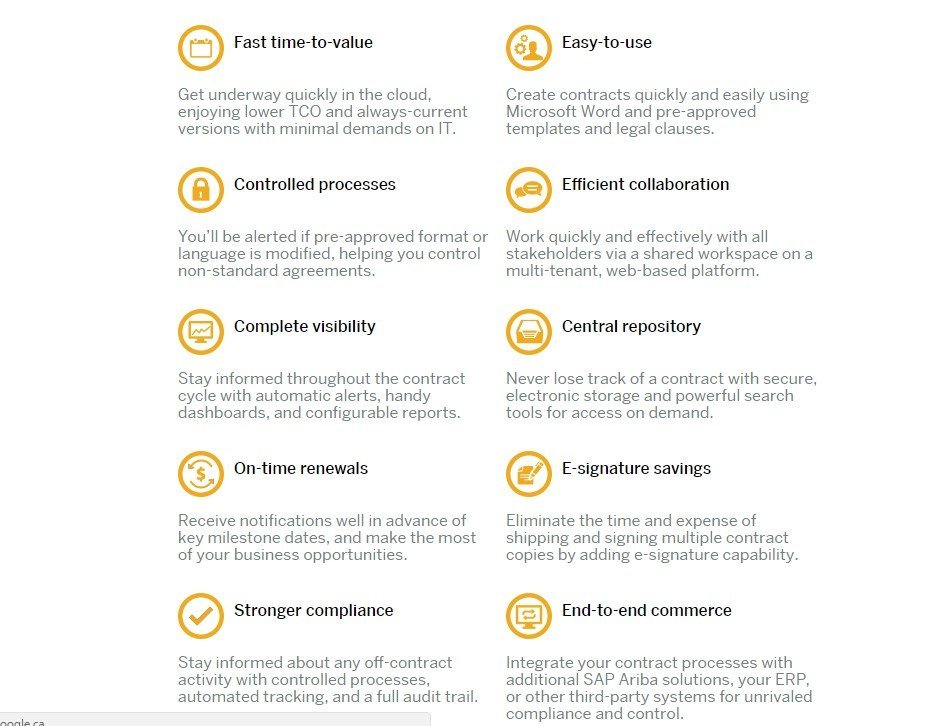 Overview
SAP Ariba combines industry-leading cloud-based applications with the world's largest Internet-based trading community to help companies discover and collaborate with a global network of partners.
Contract Lifecycle Management Software
Spend & Supplier Management
Financial Supply Chain Management
E-Commerce & Account Management
Contact for pricing information.
Small (<50 employees), Medium (50 to 1000 Enterprise (>1001 employees)
Ariba is how companies connect to get business done, using the marketing leading solutions for collaborative commerce and Ariba Network. Ariba help buyers and suppliers from more than 2 million businesses and 190 countries discover new opportunities, collaborate on transactions, and grow their relationships.As a buyer, one can manage the entire purchasing process, while controlling spending, finding new sources of savings, and building a healthy supply chain.
As a supplier, one can connect with profitable customers and efficiently scale existing relationships—simplifying sales cycles and improving cash control along the way.The result is a dynamic, digital marketplace, where more than $2.5 billion in collaborative commerce gets done every day.Ariba is open to all systems and all types of goods and services, giving the innovative ways to connect to the world's largest network of buyers and suppliers, collaborate with the right business partners, and enhance the solution with targeted apps and extensions.
Ariba offers an end-to-end automated system that removes complexity and allows buyers and suppliers to manage everything from contracts to payments all in one place. Ariba delivers the insight one needs to create and manage lasting, trusted connections with partners who fit with the business, while ensuring the policies and preferences automatically guide efficient, error-free transactions.
You may like to read: Top Contract Lifecycle Management Software, Top Free Contract Management Software and How to Select the Best Contract Lifecycle Management Software for Your Business