Advanced Data Visualization, Discovery, and Dashboarding Capabilities in Information Builders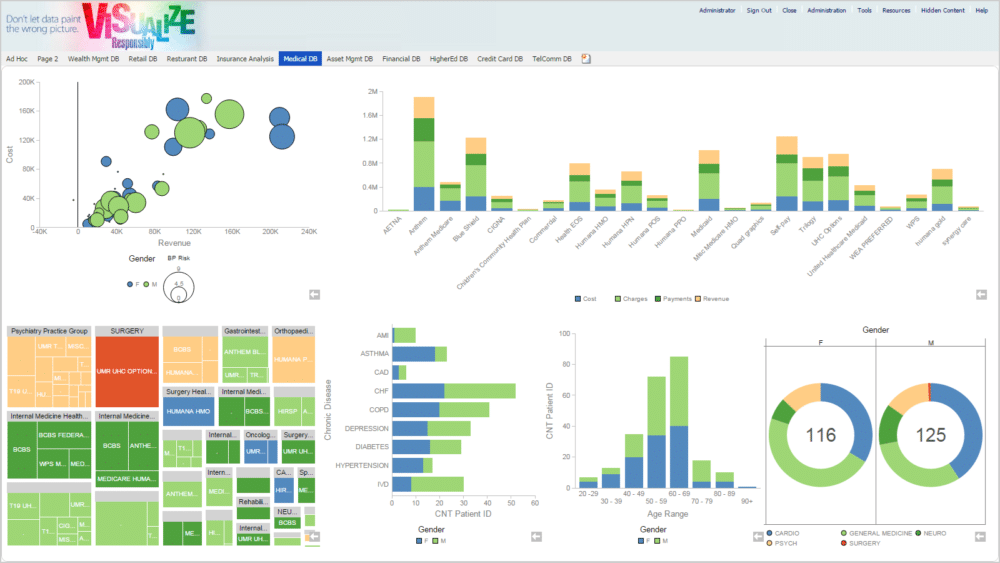 Advanced Data Visualization, Discovery, and Dashboarding Capabilities in Information Builders : Information Builders, has combined its WebFOCUS InfoDiscovery and InfoAssist products into a single, unified solution for analysts and business users. The new InfoAssist offering will enable organizations to visually analyze complex data sets, generate sophisticated data visualizations, dashboards and reports, and enhance data-driven decision-making enterprise wide. InfoDiscovery is a discovery tool that aggregates and visualizes large volumes of data, enabling users to identify insights that might go undetected in traditional reports and dashboards. InfoAssist is a self-service tool used to create interactive dashboards, reports, and Information Builders' innovative patented analytical documents for fully interactive statements and financial content. By incorporating InfoDiscovery into InfoAssist, Information Builders is offering the most comprehensive visualization and discovery capabilities for self-service, coupled with the ability to easily share resulting insights with a wide array of stakeholders. The new solution is the industry's first comprehensive tool for generating dashboards, visualizations, reports and published documents, and significantly strengthens self-service capabilities for business users. InfoAssist's self-service differentiator is further enhanced by its ability to enable authoring of self-service content in a thin-client architecture. This drives enterprise data governance and significantly eliminates inconsistencies in information throughout the organization.
In addition to the business user benefits, the new InfoAssist solution lays the framework for disseminating BI and analytics to non-technical stakeholders. Business users can use InfoAssist to author InfoApps, Information Builders' customizable, intuitive technology that delivers data insights via an "app store-like" experience. Once created, InfoApps allow mainstream users to quickly get answers from relevant data without necessitating the involvement of IT. Backed up by Information Builders' highly scalable WebFOCUS platform, InfoApps can be shared with numerous enterprise departments and external stakeholders. In addition, the platform's inherent data quality capabilities ensure the consistency, accuracy, and completeness of information analyzed via InfoAssist and InfoApps.
"Self-service capabilities have never been more important, nor the demands for information more varied. With our new combined offering, we're providing business users with a single toolset, supported by a metadata layer for governed self-service, that enables them to conduct their own data discovery and analysis," said Gerald Cohen, president and CEO of Information Builders. "Unlike other solutions, which lack the ability to scale sufficiently for wide-spread usage, insights generated via InfoAssist can easily be shared company-wide, and circulated to external groups as well. Our combined offering empowers business users with greater self-service capabilities, and also ensures that non-technical stakeholders benefit from enterprise information. We believe this unique product offers customers the best of both worlds, and we look forward to helping more organizations benefit from its potential."