Review
Loom Systems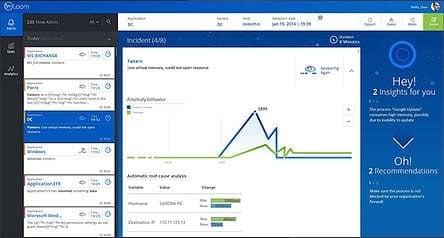 Overview
Loom Systems automatically ingests and analyzes all types of logs and metrics, learns their unique behavior over time, detects anomalies and trends, and reports these along with the root cause
Anomaly Detection Software
•Zero-configuration Log Parsing
•Real-time Detection of Issues
•Automated Root-cause Analysis
•Built-in Insights and Recommendations
•End-to-End Root Cause Analysis
Small (<50 employees), Medium (50 to 1000 Enterprise (>1001 employees)
What is best?
•Zero-configuration Log Parsing
•Real-time Detection of Issues
•Automated Root-cause Analysis
•Built-in Insights and Recommendations
•End-to-End Root Cause Analysis
•Recommended Resolutions
What are the benefits?
•AI-powered log analysis & monitoring solution
•Bundled with an artificially intelligent data analyst
•Automates manual tasks
Loom Systems automatically ingests and analyzes all types of logs and metrics, learns their unique behavior over time, detects anomalies and trends, and reports these along with the root cause. The entire cycle is fully automatic, requiring no data pre-processing or manual setting of parameters and thresholds. Incidents are accompanied by recommended resolutions from a proprietary resolutions database, which also includes internal resolutions filled in by the platform users. This seamless process of knowledge retention means every recurring incident can be solved immediately. Built for low-touch operational simplicity and usability, the solution empowers IT, DevOps, System Admins, NOC teams and Security specialists by transforming reactive users into proactive power-users.
Loom Systems takes digitized information in structured, unstructured, non-standard or uncommonly structured text format and structures it automatically.By mathematically modeling how humans analyze such structures, Loom Systems fuses analytical skills with computational speed to simulate and enhance the entire data analysis cycle.