Review
Landbot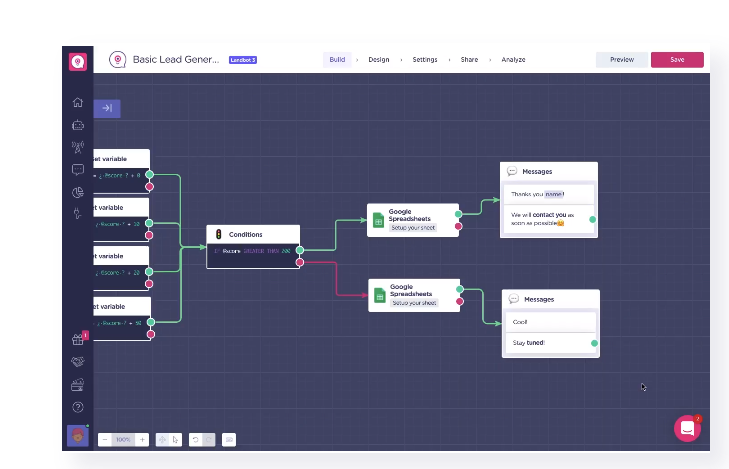 Overview
Landbot is a no-code user-friendly software solution for creating conversational apps which are a natural evolution of chatbots.
• Conversational Experience Builder
• Lead Generation Capturing Chatbot
• Customizable Designs That Reflect Your Brand Image
• Intuitive Drag-And-Drop Interface for Your Conversations
• Seamless Rich Media Integration
• Optimize CX with Multi-Questions
• SANDBOX - FREE
• STARTER - 30€ / month
• PROFESSIONAL – 80€ / month
• BUSINESS - Custom
• WhatsApp PRO Add-on - +70€ / mo
• WhatsApp Business - Custom
Small (<50 employees), Medium (50 to 1000 Enterprise (>1001 employees)
What is best?
• Multi-Channel Experience
• Human Takeover and Chat Manager
• Fast Response: Increase Conversion Rate from Minute One by reducing response times
• Superb bot-to-human Hand-off: Allows your team takeover the conversation without a hitch
What are the benefits?
• Convert More: Engage your audience naturally with Automated Conversations and get higher conversion rates
• Design Conversations without Coding by Using Landbot drag-and-drop creator
• Deploy Chatbots Anywhere, instantly as pop-ups, widgets, landing pages, or website embeds -with a click.
Landbot is a no-code user-friendly software solution for creating conversational apps which are a natural evolution of chatbots. Conversational apps combine benefits of an interactive conversational interface with rich UI elements while automating advanced data workflows like business applications.
Hence, they address business needs on both the communication and process automation level. It allows you to build a chatbot for a website as well as social media and messaging apps without coding using a drag and drop visual interface. To make things even simpler, the tool comes with a versatile template library that lets you to deploy bots in minutes.
All templates provided by Landbot are fully customizable from the conversational structure to the visual design your user will experience. You can either take advantage of one of the design templates or use the advanced settings to give the bot your brand identity. Even if you set out to make bigger changes to the template or even start from scratch, coding will not be necessary. In a nutshell, Landbot helps users optimize every stage of the customer journey from lead generation to customer support on the web.
Landbot also enables you to build WhatsApp bots, Facebook Messenger Bots, or bots for any other channel with an API. You can take advantage of Landbot as it allows you to create personalized communication via several channels on the internet and can be shared in the form of; Stand-alone conversational landing page, Website widget, Pop-up, and Website embed.