Review
Keen IO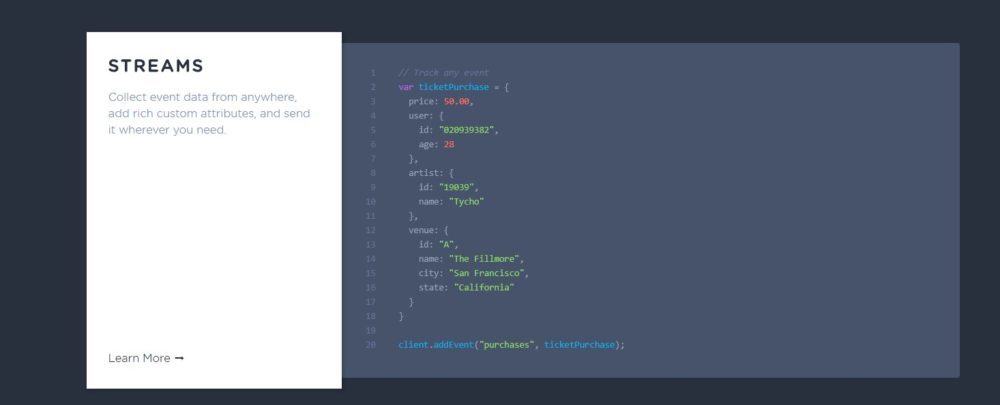 Overview
Keen's APIs to power real-time dashboards, generate alerts, implement dynamic pricing and advertising, track complex attribution, and more.
• Streams
• Compute
• Access
Free; on site contact form
Small (<50 employees), Medium (50 to 1000 Enterprise (>1001 employees)
What is best?
• Streams
• Compute
• Access
Keen was designed to give developers the flexibility and extensibility of a custom analytics stack, without the hassle and risk of managing big data infrastructure. Start building now. With production-ready, highly available APIs, users can bring robust analytics to the applications in a fraction of the time.
Users may control costs and scale easily as the business grows. Customers in every industry use Keen IO to query trillions of data points every day. Capture and enhance user data. Keen IO is fully customizable and highly available data. Users can start immediately and get value faster. Users can also build exactly what users need with a fully customizable stack and have total control over what data is collected and how it's described.
Users also decrease the operational and delivery risk or avoid the inevitable headaches that come with maintaining a fault-tolerant data pipeline. peline at a lower total cost of ownership. Keen IO offers power embedded analytics for teams & customers.
Keen IO automates reporting and workflows; enhances lead scoring & customer data views with behavioral analytics data; use data for programmatic decision-making ;collect event data from anywhere, add rich attributes, and send it wherever users need it; compute; build powerful analytics features directly into users tools and products; design and programmatically provision role-based data access for all users and customers; safely and securely share analytics; and define several layers of access for users.
Keen's Access Keys offer fine-grained control over who sees users data. It reduces risk and maintain compliance; securely power white label embedded analytics products; present data in arbitrary ways without having to re-architect user security or data model; and create value differentiation in offering by selling varying levels of data access.