JDA's Optimization Summit Focus on Turning Big Data Analytics into Action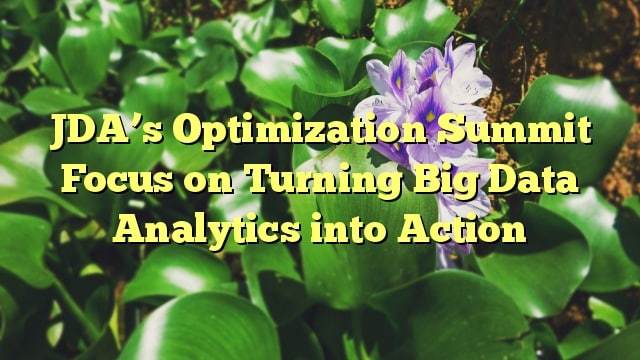 JDA's Optimization Summit 2015 Will Focus on Turning Big Data Analytics into Action : Since the mid-20th century, companies have been applying analytics to help them make better strategic decisions — for example, creating an optimal global supply chain network design, calculating inventory levels and determining profitable pricing policies.
In today's volatile business environment, fact-based decision making is more critical than ever, as companies strive to understand, in real time, what's happening on both the supply and demand side. At the same time, significant advancements in IT and software — combined with lower overall technology costs — have created an era of Big Data in which most companies have an incredible wealth of information about their customers, end consumers, suppliers and other trading partners. The sources and volumes of data have increased exponentially including online, social media, sales and market insights data.
However, most companies struggle to turn this plethora of data into successful action in the marketplace. While organizations have deep insights into every part of their global supply chains today, seldom are these insights used as the basis for everyday decision making.
OptSum 2015 will bring together key decision makers, influencers and thought leaders in big data analytics and optimization to focus on the theme "Bridging Planning and Execution." There are no fees for attending this fast-paced, informative event sponsored by JDA Software India. However, attendees must register in advance by visiting .
"Innovations in big data analytics, machine learning and optimization science are opening up new possibilities to transform the supply chain discipline," said Razat Gaurav, executive vice president of industries and solution strategy at JDA Software. "The Optimization Summit is an opportunity for leading minds from around the world to gather, exchange ideas and advance the state-of-the-art of these pursuits. We look forward to facilitating these discussions and seeing the ideas and innovations take shape."
OptSum 2015 attendees will enjoy a platform to network with some of the best minds from around the world; review submitted papers and posters; and meet with data, analytics and product development experts at JDA.