11 Key capabilities of Business Intelligence Software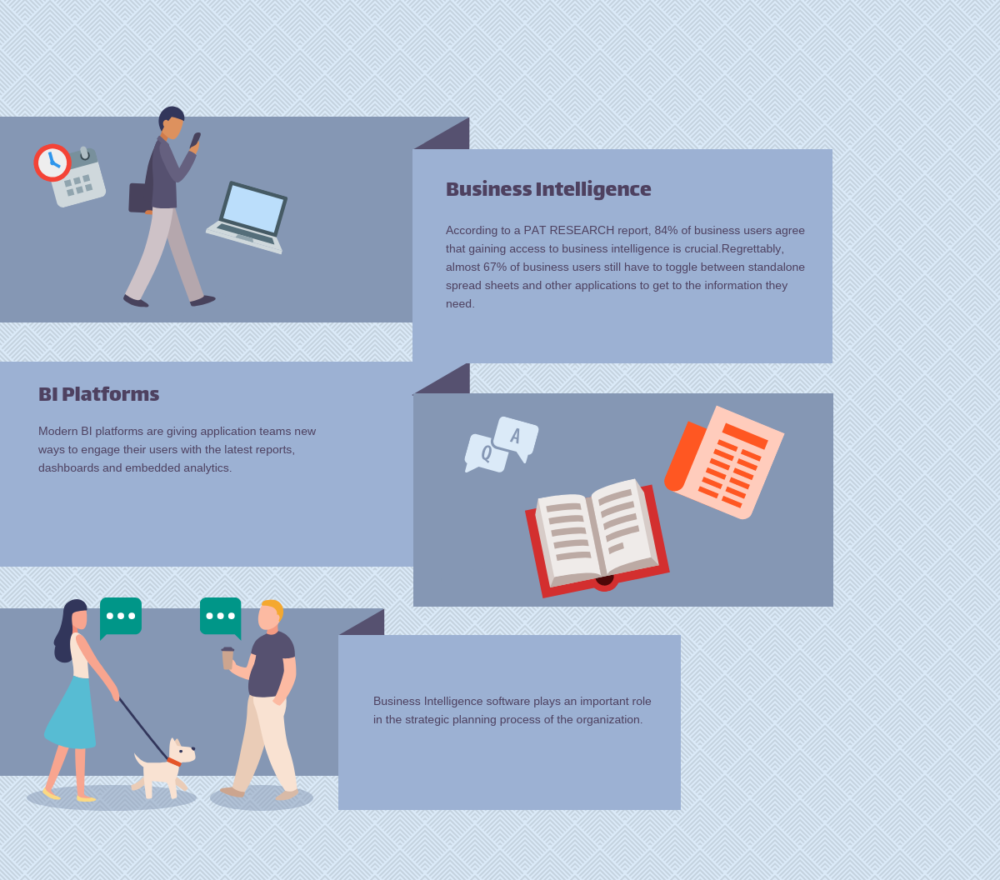 For the past decade, data has turned out to be the most valued commodity for many businesses. Data informs both small and major decision-making, eventually setting the course of an organization's entire strategy. Each day, about 2.5 quintillion of data is created and it would be bad business if all this data is ignored.
Organizations that adopt BI tools profit from understandable and actionable data that they can use to optimize business performance. Business Intelligence streamlines operations, reduces workload and improves productivity. This is all possible through critical BI capabilities.
For users, perhaps the most important aspect of modern reporting tools is that they are available inside the apps that they use to conduct their daily work routines.
According to a PAT RESEARCH report, 84% of business users agree that gaining access to business intelligence is crucial. Regrettably, almost 67% of business users still have to toggle between standalone spread sheets and other applications to get to the information they need.
Luckily, modern BI platforms are giving application teams new ways to engage their users with the latest reports, dashboards and embedded analytics. And companies are reporting increased in revenue as result of business intelligence.
You may like to read: Cloud BI – SaaS BI– OnDemand BI Top Business Intelligence Software
What is Business Intelligence Software?
Business Intelligence (BI) software is a type of application that helps organizations gather, store, access, analyze, and visualize data to inform better decision making. It provides stakeholders with insights and information based on data analysis, enabling them to make more informed and data-driven decisions.
BI software typically integrates various data sources, such as databases, spreadsheets, and cloud applications, to provide a centralized platform for data analysis and reporting. The main components of BI software include data warehousing, data mining, data visualization, reporting, and alerting. The use of BI software has become increasingly common in various industries, including healthcare, finance, retail, and manufacturing, among others, as it helps businesses improve decision making, increase efficiency, and drive revenue growth.
Business Intelligence (BI) software are tools which are designed to retrieve, analyze, transform and report data. These help to analyze all the business data through automated processes to provide a better understanding of an organizations strengths and weaknesses. The BI software allows management to better see the relationship between different data for better decision-making and distribution of resources. Business Intelligence software plays an important role in the strategic planning process of the organization.
BI software is often referred to as BI tools to represent several software applications that provide the means to analyze, report and present data. BI software is also designed to use data that is stored by the business in any type of data warehouse or storage system.
You may like to read: Top Extract, Transform, and Load, ETL Software
The BI tools includes operational dashboards, spreadsheets, data mining, search, reporting, analytic processing, corporate performance management, predictive and prescriptive analytics.
Business intelligence software tools can be distributed in a number of ways including:
Cloud Computing implementation: public cloud, hybrid cloud or private cloud which are SaaS: hosted
On-premise install: installed in-house using either a leased or owned equipment.
You may like to read: Freemium Cloud Business Intelligence Solutions
Key capabilities of Business Intelligence Software
Business Intelligence (BI) software offers various capabilities that help organizations make data-driven decisions. These capabilities include data integration, data warehousing, data mining, data visualization, reporting, and alerting. Data integration enables the integration of data from multiple sources into a centralized platform. Data warehousing helps to store and manage large amounts of data in a centralized location.
Data mining involves the analysis of data to identify patterns and trends. Data visualization provides interactive and easy-to-understand visual representations of data, such as charts and graphs. Reporting and alerting enable organizations to create and automate reports on key metrics and to receive alerts when certain conditions are met. These capabilities allow organizations to access, analyze, and visualize data to gain insights, track key performance metrics, monitor trends, identify opportunities and threats, and measure the success of business strategies.
1. Filtering and transforming data
Data filtering involves reorganizing, transforming, summarizing, aggregating, and dis-aggregating data. Transformation creates, modifies or passes data to target structures such as tables, and files. Business Intelligence software provides the ability to filter and transform data.
2. Preparing reports & dashboards
Reports allow you to place large amounts of data into multi-dimensional tables, charts, and dashboards. Dashboard is a graphical user interface that provides at-a-glance views of key performance indicators (KPIs).
The dashboard provides a pictorial representation of data generated by reports and visualization of data in pictorial format helps us to understand the stats in a quick manner.
3. Preparing and Cleaning Data
All Business intelligence capabilities, functionalities and features focus on data. However, that data must first be collected. Data collection is done from multiple sources such as legacy systems, operational erp, crm and other MIS
Business Intelligence tools do this by sorting unstructured data, deleting matching entries and mistakes as it goes. Once the raw unstructured data has been turned into structured data, it then can be analyzed.
You may like to read: Top Best Practices for Business Intelligence Software Implementation
After collection and organization, the business intelligence software creates and runs probes against data sets so as to draw actionable insights from the disarray of unstructured data. These insights can then be presented in data visualizations like charts, infographics, graphs¸ animations and dashboards. The visualizations make the analytical results easy for the human mind to process and understand, which helps administrations make data-driven decisions.
4. Cloud BI
Cloud Business Intelligence (BI) apps are hosted on a virtual network such as the internet. Cloud BI apps are used to provide businesses access to BI-related data such as KPIs, dashboards and other business analytics. Organizations are increasingly turning to cloud-based tools. This trend includes business intelligence apps embracing the ability and accessibility of the Cloud.
Basically, while Bi is about delivering the right information to the right people at the right time, cloud computing provides an easy and fast way to access BI applications. The good thing about Cloud Bi apps is that they are accessible on several devices and web browsers.
You may like to read: Top Worst Practices in Business Intelligence Implementation
5. Visualizing Data
Data visualization is the core of business intelligence capabilities. Both business analytics and business intelligence offers a variety of data visualization capabilities to convert the muddled sets of unstructured data into energetic images that convey meaning. The visuals can vary from pie and bar charts to scatter plots to attractive interactive animations. Transforming data into visual is quite important to making sense of it. The human mind processes visual data 60,000 times faster than text data. This means that a simple bar graph can make a huge difference in passing information.
Making data visualization interactive increases the superiority of your data presentation considerably. Interactive graphics uses elements of gamification, learning, and exploration to transfer data in a memorable way.
6. Analytic Dashboards

An analytical dashboard is used to analyze massive amounts of data to allow users to inspect trends, envisage outcomes and discover insights. Organizations can use this information to understand their current strategy, and determine what future adjustments must be made. These types of dashboards are more common within business intelligence tools as they are primarily developed and designed by data analysts.
Understanding the trends and events in your data is a crucial part of building and executing a strong tactic. Analytical dashboards can compare the current data against the historic and predictive data, as well as multiple variables. This allows you to understand your data more strategically. With analytical dashboards, it is possible to get in-depth analysis in real time, recognize patterns and opportunities in your data, and align calculated goals with performance initiatives.
You may like to read: Open Source, Free and Top Dashboard Software
7. Self-Service Data Preparation
Self-Service Data Preparation is the next generation of Business Intelligence and Business Analytics. Self-Serve Data Preparation makes advanced data discovery accessible to team members and users regardless of the technical knowledge or skills. Users are given the capabilities to explore¸ manipulate and combine new data sources with the help of IT experts.
Self-Service Data Preparation solutions allows business users to access data combined from many sources and to organize the data using drag and drop features and a simple, instinctual interface. Users can perform Data Preparation¸ analyze changes in customer buying behavior, test hypotheses and theories, expect changes in the competitive landscape and influence data for investigative purpose.
8. Using Predictive models
Predictive modeling involves creating, testing and validating a model to best predict the probability of an outcome. One or more classifiers can be used in predictive Modelling to assess the possibility of a data set fitting in another set.
Predictive modelling is one of the most valuable features of BI software. This capability allows businesses to predict market trends, sales, staffing needs, profits and losses among other things.
You may like to read: Top Extract, Transform, and Load, ETL Software
9. Embed Analytic Content
Embedded analytics is a set of capabilities that are tightly incorporated into existing systems like ERP, CRM, financial systems, and marketing automation. It involves the incorporation of business intelligence tools and capabilities into business software including enterprise planning (ERP), Customer relationship management (CRM), financial systems and marketing automation.
Integration enables business users to have easy access to Business Intelligence tools while executing everyday tasks. Having real-time accesses enables more conversant and effective decision-making. Analytics functionality embedded within business software includes data visualization, dashboards¸ self-service analytics, benchmarking, visual workflows, interactive and static reports as well as mobile reports.
10. Adaptive Security
In today's threat landscape, it is impossible to talk about data without discussing data security. Whether the goal is to limit access inside an agency or protect data from outside threat¸ information and application security are top of mind for many firms especially in verticals like finance and healthcare.
For any application crews adding or improving the embedded analytics in their app, one of the issue with security is that it often means reproducing their current security efforts, taking up a large amount of time and resources. The majority of BI tools force developers to recreate the same validation and authorization models they have included in other systems inside a new BI application. This is why adaptive security is one of the business intelligence capabilities that is transforming the BI market. With adaptive security, product teams can incorporate existing security measures into new applications, which will significantly reduce the burden on security personnel as well as developers.
You may like to read: Top Guidelines for a Successful Business Intelligence Strategy
11. Data Lineage Tracking
Understanding how data is created, how it is shared and what becomes of it is crucial to properly using it. Data lineage is a process that tracks data from its source to where it moves over its lifetime. Tracking data lineage generates a complete, continuous record of system activity as it goes through various procedures. It can be represented visually to follow its movement from source of destination in order to help businesses understand how and why different data points changed. This Business Intelligence capability is especially important when handling Big Data.
Conclusion
BI professional spend much of their time building and maintaining ETL. Most BI tools were developed decades ago for a much simpler data setting and have not kept up with the quickly developing business data landscape. Instead of undertaking intricate transformations and incorporating data sources inside expensive and complex ETL software, modern Business Intelligence software enable businesses to create links between data sources faster within their BI environment. Users can define their own key metrics, allowing BI teams to focus on more strategic analytics and more complex data sources.
You may like to read: Free, Cloud and Open Source Business Intelligence Software
What is Business Intelligence Software?
Business Intelligence (BI) software are tools which are designed to retrieve, analyze, transform and report data. These help to analyze all the business data through automated processes to provide a better understanding of an organizations strengths and weaknesses.
What are the capabilities of Business Intelligence Software?
The capabilities of BI tools include filtering and transforming data, preparing reports & dashboards, preparing and cleaning data, cloud BI, visualizing data, analytic dashboards, self-service data preparation and many more.