Hewlett Packard Enterprise New Class of System to Power Next Era in Hybrid Infrastructure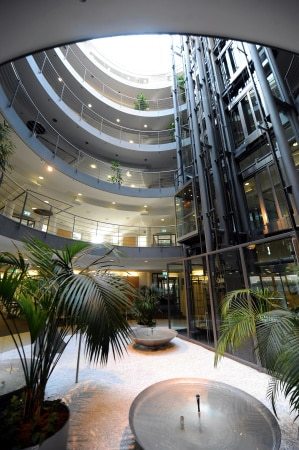 Hewlett Packard Enterprise New Class of System to Power Next Era in Hybrid Infrastructure : Hewlett Packard Enterprise (HPE) announced HPE Synergy, the first platform designed to run both traditional and cloud native applications for organizations seeking the benefits of running a hybrid infrastructure. Based on groundbreaking new architecture developed by Hewlett Packard Enterprise, HPE Synergy leverages fluid resource pools, software defined intelligence and a unified API to provide the foundation for organizations to continually optimize the right mix of traditional IT and private cloud resources.
Organizations today have more opportunities than ever before to quickly deliver new applications and services, embrace new business models and enter new markets. Much of the pressure to deliver on these ambitions falls on the IT department, which must simultaneously extract more efficiencies and cost savings out of the traditional systems and applications that run their business, as well as provide a foundation for the rapid creation and delivery of new services through the use of mobile, big data and cloud native technologies.
Supporting these two very different operating models requires rethinking the way IT infrastructure is built. HPE Synergy addresses this challenge by leveraging a new architecture called Composable Infrastructure which consists of three key design principles:
1. Fluid Resource Pools
a. Compute, storage and fabric networking that can be composed and recomposed to the exact need of the application
b. Boots up ready to deploy workloads
c. Supports all workloads - Physical, Virtual and Containerized.
2. Software Defined Intelligence
a. Self-discovers and self-assembles the infrastructure you need
b. Repeatable, frictionless updates
3. A Unified API
a. Single line of code to abstract every element of infrastructure
b. 100% infrastructure programmability
c. Bare-metal interface for Infrastructure as a Service
HPE Synergy physically brings together compute, storage and networking fabric, and through a single interface powered by HPE OneView, composes physical and virtual resources into any configuration for any application. As an extensible platform, it easily enables a broad range of applications and is ideal for customers looking to deploy a scalable hybrid cloud environment and enable continuous DevOps.
"Market data clearly shows that a hybrid combination of traditional IT and private clouds will dominate the market over the next five years," said Antonio Neri, Executive Vice President and General Manager of the Enterprise Group at Hewlett Packard Enterprise. "Organizations are looking to capitalize on the speed and agility of the cloud but want the reliability and security of running business critical applications in their own datacenters. With HPE Synergy, IT can deliver infrastructure as code and give businesses a cloud experience in their datacenter." HPE is bringing to market unique innovations to offer customers an experience that empowers IT to create and deliver new value instantly and continuously.
Lines of business (LOBs) are demanding that their IT departments deliver the infrastructure needed to develop and deploy new applications faster. HPE Synergy provides software defined templates and bootable images so IT can deliver infrastructure that is ready for any workload at cloud-like speed.Traditional infrastructure can take an average of six weeks3 to stand-up a new mobile application or service. Burdened by complex processes that require many layers of tools, as well as collaboration across multiple teams, building the right infrastructure is challenging and time-consuming. Pulling from a fluid pool of infrastructure, HPE Synergy quickly provisions compute, storage and networking using application specific templates, allowing infrastructure to be deployed and consistently updated. In addition, HPE Synergy will provide customers with a library of operating environment images where one person can deploy composable infrastructure, streamlining the delivery of IT services and enabling IT to better respond to LOBs' quickly changing needs.
To simplify the delivery of infrastructure to developers, only HPE Synergy has a powerful unified API and a growing ecosystem of partners like Arista, Capgemini, Chef, Docker, Microsoft, NVIDIA and VMware. The unified API provides a single interface to discover, search, provision, update and diagnose the composable infrastructure required to test, develop and run code. With a single line of code, HPE's innovative Composable API can fully describe and provision the infrastructure that is required for applications, eliminating weeks of time-consuming scripting.
Services available for HPE Synergy also break new ground, offering one-stop support for the composable ecosystem, pay-as-you-grow capacity and assistance with automating and optimizing infrastructure as code. HPE's experts are available to provide infrastructure strategy and technology training, as well as system startup and 24/7 operations to help customers quickly adopt and deliver the benefits composable infrastructure.
To help customers invest in breakthrough technology with ease, HPE Financial Services has announced HPE Flexible Asset Return for Servers.4 The program can help customers harness unpredictability with an elevated degree of investment management for new technology deployments. Customers can proactively adapt to changing demands for speed, ease of use and time commitment, with the option to return a percentage of unneeded servers within 12 months.