Review
Deskera CRM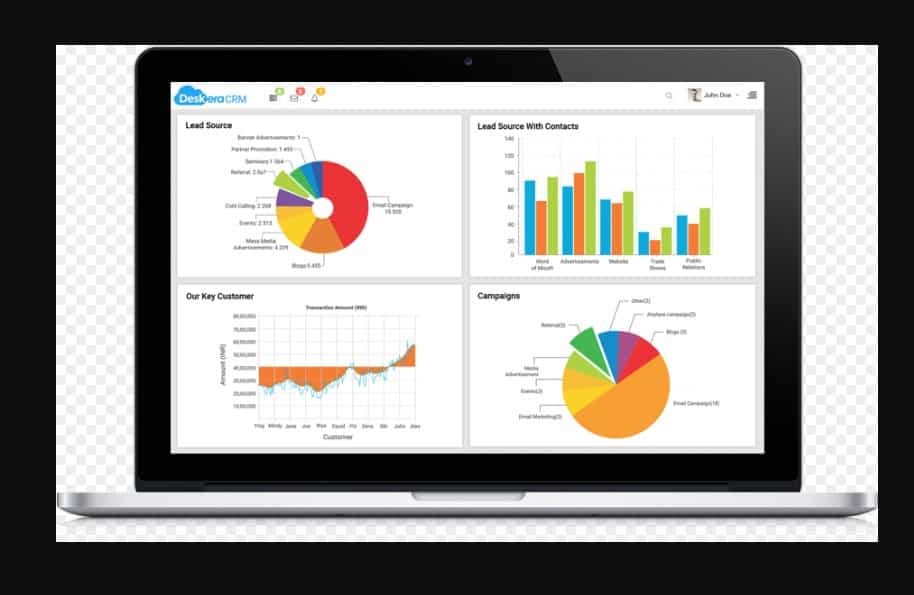 Overview
Deskera Customer Relationship Management Software provides an organization with a single view of its customers; helps automate critical sales processes – from leads qualification to promotional campaigns, and enables decision makers to easily implement customer-centric strategies and ensure effective sales management
•Campaign Management
•Lead management
• Account Management
•Case Management
•Product Management
•Contact Management
•Opportunity Management
•Deskera Email
Small (<50 employees), Medium (50 to 1000 Enterprise (>1001 employees)
What is best?
•Campaign Management
•Lead management
• Account Management
•Case Management
•Product Management
•Contact Management
•Opportunity Management
Like any other CRM software, Deskera CRM software is designed to meet entire goals of customer relationship management.
What makes Deskera stand out from other CRM's applications, is its holistic arrangement that takes care of the needs of the clients as well as the businesses. Key features of Deskera includes; campaign management, Lead management, Account management, Case management, Product management, Contact management and opportunity management.The campaign management module helps in identification of potential business targets, running campaigns, communicating with the right people and finally closing deals with firms with a prospective future.
Campaign management deals with the creation of marketing strategies to maximize business profits. The campaign has to a lot with marketing programs. The Lead management feature structures in systematic ways that may increase the number of leads or creation of new leads.
How is this possible? Through the comprehensive Lead Details segment under the lead management module, the user can record and keep track of all lead details.
The leads can be converted to opportunities through the powerful converting tool. Lead in business means a potential business or customer.The account management module ensures that the business is customer-centric and that the customer outcomes are successful. This module records and tracks complete account details such as contacts, revenues as well as support and customer service.
The contact management module allows the firm get in touch with clients anytime. This module is contact import/export enabled, documents and activities/tasks can be added. The purpose of this is to retain customers and get new customers. The contact management coupled with the Deskera Email ensures easier communication within and beyond the organization.
You may like to read: Free, Open Source and Top Customer Relationship Management (CRM) Software, How to Select the Best Customer Relationship Management Software for Your Business and Steps for a Successful Small Business CRM Implementation