Review
Cornell University, M.Eng. concentration in Data Analytics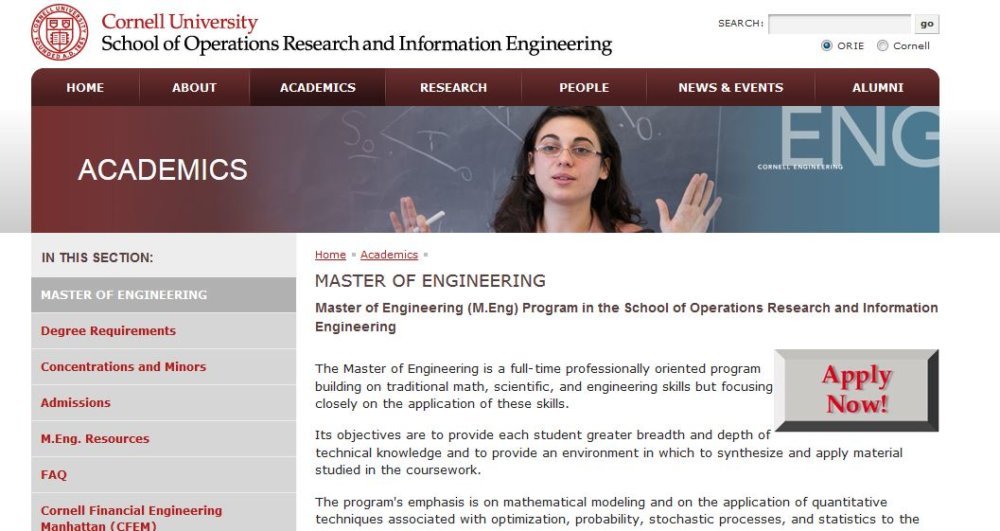 Overview
Master of Engineering, concentration in Data analysis from the University of Cornell, is a gift to the modern day data-driven professions. Wrapped around it is a curriculum which inculcates both theory and practicum so as to give its students a wholesome study. The proficient faculty engages the students in data analysis techniques to help them make informed, calculated, precise and accurate decisions.
•7 Areas of Concentration
•Wide Range of Electives
•Projects Sponsored by Industrial, Financial or Government Organizations.
Master of Engineering Concentration in Data Analytics
Cornell University, M.Eng. concentration in Data Analytics
What is best?
•7 Areas of Concentration
•Wide Range of Electives
•Projects Sponsored by Industrial, Financial or Government Organizations.
What are the benefits?
• Team-based data analysis project
• Work closely with practicing analysts
• Learn tools needed to make data-driven decisions
• Learn how to use data to optimize positive results
• Practical application of theory learnt in class
• Small class size for effective learning
The Master of Engineering is a full-time professionally oriented program building on traditional math, scientific, and engineering skills but focusing closely on the application of these skills. Its objectives are to provide each student greater breadth and depth of technical knowledge and to provide an environment in which to synthesize and apply material studied in the coursework. The program's emphasis is on mathematical modeling and on the application of quantitative techniques associated with optimization, probability, stochastic processes, and statistics to the design and operation of systems. For many students, the program can be completed in two semesters. A third semester is possible and is recommended for some students depending on their undergraduate degree and Master of Engineering specialty (notably for the Financial Engineering option). Some program options include activities during the winter intersession. Master of Engineering students pursue focused and specialized interests in one of seven areas of concentration which are Applied Operations Research (AOR), Data Analytics (DA), Financial Engineering (FE), Information Technology (IT), Manufacturing and Industrial Engineering (MIE), Strategic Operations (SO) and Systems Engineering. Six concentrations and one minor are offered through the Master of Engineering program in ORIE. From the basic Applied OR concentration to a variety of other specializations, the program provides ample scope and permits students to pursue a wide range of electives. The Data Analytics Concentration focuses on the theory and tools needed to make fact-based, data-driven decisions associated with the development, pricing, promotion, and distribution of ideas, goods, and services. The required course work for this concentration consists of three complementary areas that are collectively essential for effective data analysis.