Review
University of Tennessee, Masters Business Analytics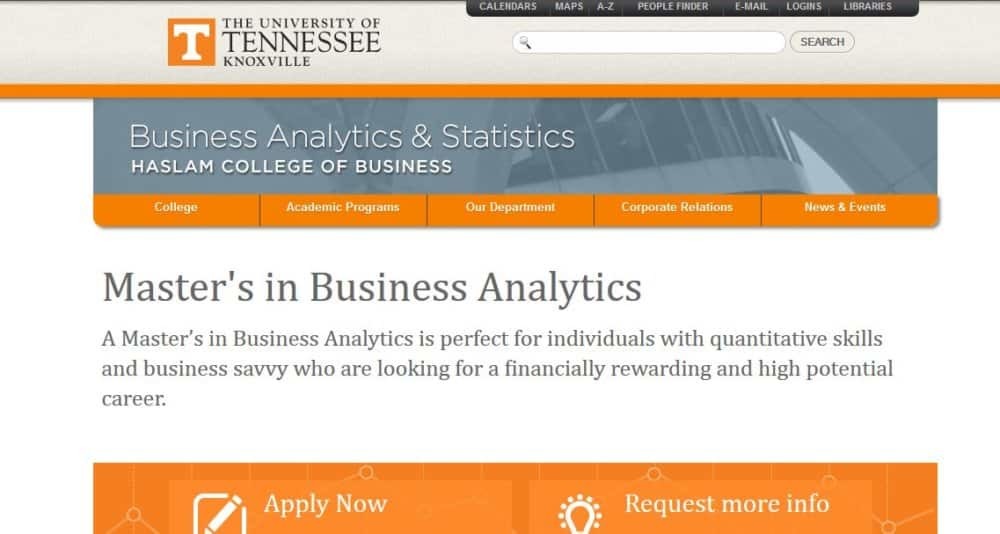 Overview
Master's in Business Analytics is perfect for individuals with quantitative skills and business savvy who are looking for a financially rewarding and high potential career.
•Capstone Class
•Summer Internship
•Business Analytics Job Fairs
Master's in Business Analytics
University of Tennessee, Masters Business Analytics
Per semester
In-state: $5,801
Out-of-state: $15,025
What is best?
•Capstone Class
•Summer Internship
•Business Analytics Job Fairs
What are the benefits?
• Nearly 100% possibility of job placement prior to graduation
• Learn to use software related to data analysis
• Summer internships
• Business analytics job fair
• Internship placement by the institution
• Capstone project
• Exposure to different corporate cultures
With educational backgrounds in Statistics, Applied Math or Operations Research, Haslam College of Business' faculty and staff offer a diverse range of expertise. Their applied research focus has shaped the Business Analytics and Statistics programs. Students are given a foundation of rigorous quantitative methods and then taught how to effectively apply that knowledge in ever-changing business contexts. What differentiates the students of this program from the other programs' students is their ability to effectively communicate analytics-enabled insights and help implement meaningful solutions. Because of this, recruiters eagerly seek out our business analytics graduates to study Business Analytics and Statistics at the University of Tennessee, students are given different options such as Bachelor's Degree in Business Analytics where in Business Analytics can be studied as a major, dual concentration or collateral and Bachelor's Degree in Statistics since the College of Arts & Sciences also offers Statistics as a major or minor. The Master's Degree in Business Analytics is also offered as one of their full-time program, student's progress through their coursework in a cohort where in a new cohort starts each fall. Qualified MBA students can earn a dual degree in Business Administration and Business Analytics in 2 years. The Master's Degree in Statistics offers Students to obtain a graduate degree in another department which can be obtained in either a minor or an M.S. in Statistics through the Intercollegiate Graduate Statistics Program (IGSP); and lastly, the Ph.D. Degree in Analytics. The school also helps their students land a job while some students have summer internship offers before the end of the fall term. Some of the ways to help facilitate internship includes Résumé critiques, Mock interviews, Business Analytics job fairs and On-campus networking opportunities and interviews with companies that regularly hire students from the school.