Review
Brandeis University, MS in Strategic Analytics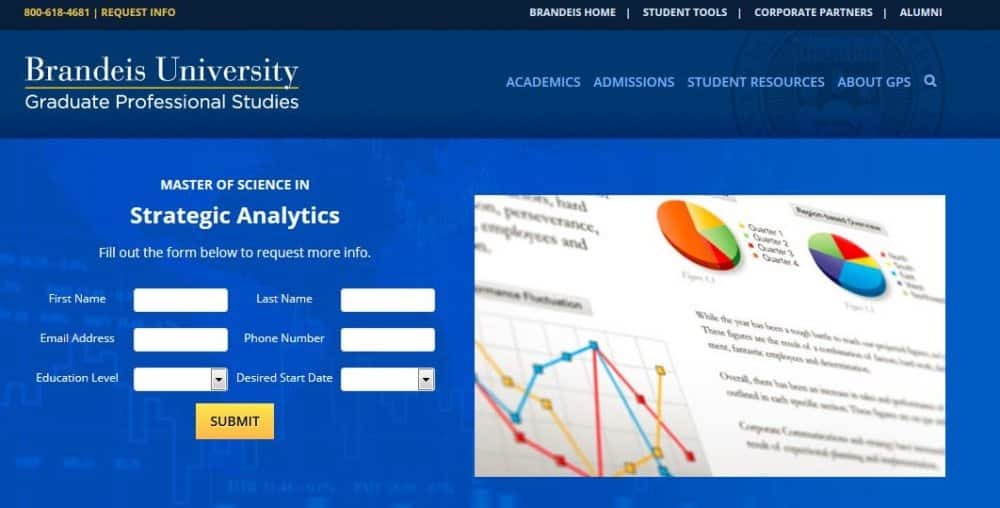 Overview
Brandeis University, Master of Science in strategic analysis is a program that guides prospects into unleashing their potential to influence strategic, operational and tactical decisions leading to increased innovation and productivity. Tactics for big data interpretation and evaluation as well making this information pertinent is learnt both in theory and in practical.
•30-credit Hour Program
•3 Electives
•Online Course Available
Master of Science in Strategic Analytics
Brandeis University, MS in Strategic Analytics
What is best?
•30-credit Hour Program
•3 Electives
•Online Course Available
What are the benefits?
• Learn how to use leverage data o inform strategic decisions
• Study alongside working professionals
• Small class size for effective learning
• Convenient support resources
• Advising team available
Organizations that recognize big data's potential to influence strategic, operational, and tactical decisions are at the forefront of innovation and productivity. While big data is more readily available than ever before, the world faces a shortage of analysts capable of designing and executing complex analyses of these ever-growing data sets. Professionals who understand the strategic potential of big-data analytics and who can translate analysis into effective organizational decision-making are poised to lead today's organizations to new standards of efficiency and competitiveness. Designed for working professionals looking to advance their careers along with their educational goals, our online MS in Strategic Analytics stands apart because it equips students to Identify patterns and trends within big data, Interpret and communicate results to stakeholders of various levels and Leverage data to inform strategic decisions. The 30-credit Strategic Analytics program has seven required courses and three electives. Required courses provide students with a focused education surrounding fundamental topics in the field, while electives build upon specific professional skillsets and allow students to enrich and round out their studies.Students of Master of Science in Strategic Analytics will be able to Identify and assess the opportunities, needs and constraints for data collection, measurement, tracking, analysis, reporting and overall management within a strategic organizational context. They will learn how to communicate the value of strategic analytics as it relates to an organization's bottom line through both revenue increase and expense reduction. Able to Identify ways in which data can be analyzed, interpreted, reported and applied to solve or prevent existing or new business problems and bridge the gap between data and business by effectively communicating analysis results to drive strategic decisions and direction.