Review
Apttus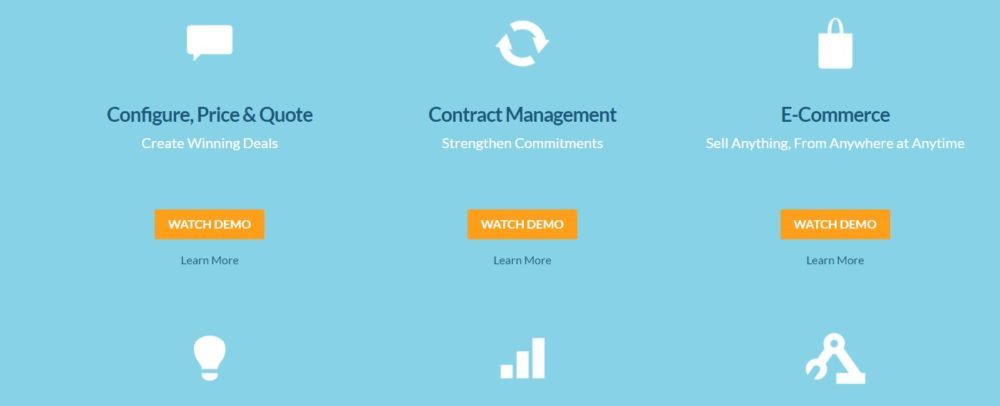 Overview
Apttus' offerings are fueled by the Apttus Intelligent Cloud, which maximizes the entire revenue operation by driving behavior and providing prescriptive data to company decision-makers.
Contract Lifecycle Management Software
Revenue Management
Incentives
X-Author
CPQ
Intelligent Workflow Approvals
Configure, Price & Quote
Contract Management
E-Commerce
Quote-to-Cash with Machine Learning
Contact for pricing information.
Small (<50 employees), Medium (50 to 1000 Enterprise (>1001 employees)
The Apttus Intelligent Cloud is a flexible and scalable end-to-end Software as a Service (SaaS), solution that maximizes the entire revenue operation by streamlining and improving business processes, aligning and driving revenue winning behaviors and recommending relevant, intelligent actions.Apttus combines modern process-based applications such as Configure Price Quote, Contract Management, E-Commerce and Billing & Order Management with innovative behavioral applications including Rebates, Promotions and Compensation, to align and drive revenue winning behaviors across all the sales channels.
Apttus' X-Author solution increases adoption of these tools across the organization by allowing Microsoft Word and Excel to function as user interfaces dramatically increasing the speed and efficiency of data input, manipulation and reporting, and X-Author can be also be used to improve the adoption of CRM systems such as Salesforce and Microsoft Dynamics 365.
All Apttus Quote-to-Cash applications can be further enhanced with machine learning to recommend relevant, intelligent actions making the sales channels more effective, and conversational and intuitive user interfaces making it easy to learn and use Apttus applications.
Apttus Intelligent Cloud run on the worlds' most trusted and comprehensive cloud platforms, including Salesforce and Microsoft Azure making it easy and quick to implement, customize, support, maintain, scale, and grow. And, the Apttus Intelligent Cloud is fully integrated with the worlds' most popular CRM systems including Salesforce and Microsoft Dynamics 365.
You may like to read: Top Contract Lifecycle Management Software, Top Free Contract Management Software and How to Select the Best Contract Lifecycle Management Software for Your Business