University of Michigan Power its Race Car During World Solar Challenge using Cognitive Technologies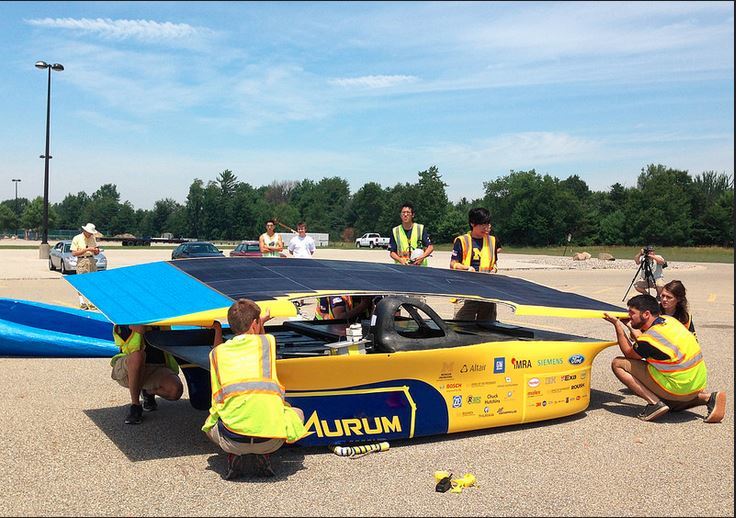 University of Michigan Power its Race Car During World Solar Challenge using Cognitive Technologies : IBM Research is providing advanced solar forecasting technology to help the University of Michigan (UM) team power its solar car in the Bridgestone World Solar Challenge, an 1,800-mile (3,000-kilometer) race across the Australian Outback.The UM student team will leverage IBM Research's cognitive computing expertise to gain real-time insights into conditions such as cloud cover and wind patterns as well as determine how much solar power will be available to fuel their car along the course race. As the car is solely powered by solar energy, more accurate forecasts can help the UM students decide how to drive their car more efficiently and improve their chances for winning.
IBM researchers are using machine learning to blend data from sensor networks and local weather stations, cloud motion physics derived from sky cameras and satellite observations, and multiple weather prediction models. In contrast, most current forecasting techniques rely on individual weather models that offer a less comprehensive view of the variables that affect the availability of renewable energy such as solar.
IBM developed the technology through a program supported by the U.S. Department of Energy's SunShot Initiative to find new ways to improve the accuracy of solar forecasts that can then be used to optimize solar resources as they're increasingly integrated into the nation's energy grid. By using state-of-art machine learning and other cognitive computing technologies, IBM scientists can generate solar and wind forecasts that are up to 30 percent more accurate than ones created using conventional approaches, whether minutes or days in advance.
"Our goal is to design, engineer, and race the best solar-powered vehicle in the world," said Leda Daehler, chief strategist on the UM Solar Car Team. "Predicting solar radiation plays a huge part in designing a strategy for solar car racing. IBM's forecasting technology will help our team adapt and optimize our approach in real-time, and we expect it to provide a true advantage over the course of the race."
The UM Solar Car Team is one of the world's most successful solar car race teams, holding numerous international and national championships. This year the team is confident that IBM's solar forecasting technology will help them make better decisions in their racing strategy when their car, Aurum, competes over four days in the World Solar Challenge. The team will leverage two kinds of forecasts provided by IBM's solar forecasting technology.
One technique enables the students to obtain more accurate forecasts on the race route two or three days ahead. The technology continuously monitors weather conditions and analyzes the data to forecast how much solar energy will be available at different locations and times. It incorporates a large number of weather and solar prediction models, which it blends through machine learning to produce a supermodel. The system learns from a large amount of historical data as well as data gathered along the race course.
The second forecasting technique applies to near real-time conditions. In the World Solar Challenge, the UM Solar Car Team will have a sky camera mounted on the hood of two scout cars that run a few minutes to one hour ahead of their car Aurum. The system developed by IBM plots the location and the transparency of clouds, so the team can decide the speed the car should go to get maximum solar energy. Simulations have shown that this technique could gain the team up to 15 minutes per day.
"The University of Michigan has been competing in solar car races for 25 years. In the past, we have not been able to capture and analyze the variety and amount of cloud data needed to confidently impact our race strategy," said Pavan Naik, program manager for the UM Solar Car Team. "This year, IBM's solar forecasting technology will allow us to know where the clouds are, where they are going, and where we should go faster in order to chase the sun."
The collaboration with the UM Solar Car Team provides IBM scientists a unique environment to continue to develop their solar forecasting technology and to learn new techniques that can help improve forecasting accuracy. These advances are important to the future of alternative energy and every industry that is susceptible to the impact of weather on operations and how they conduct their business.
"We are excited to explore how cognitive computing can augment the capabilities of this extraordinary group of students at the University of Michigan to compete in the World Solar Challenge," said Dario Gil, vice president of Science and Technology, IBM Research. "We are using physical analytics to combine our understanding of the physical world with two of the most exciting fields in computer science – data analytics and machine learning -- which will lead to new innovations that can transform industries."