Top 23 SAP Ariba Implementation Partners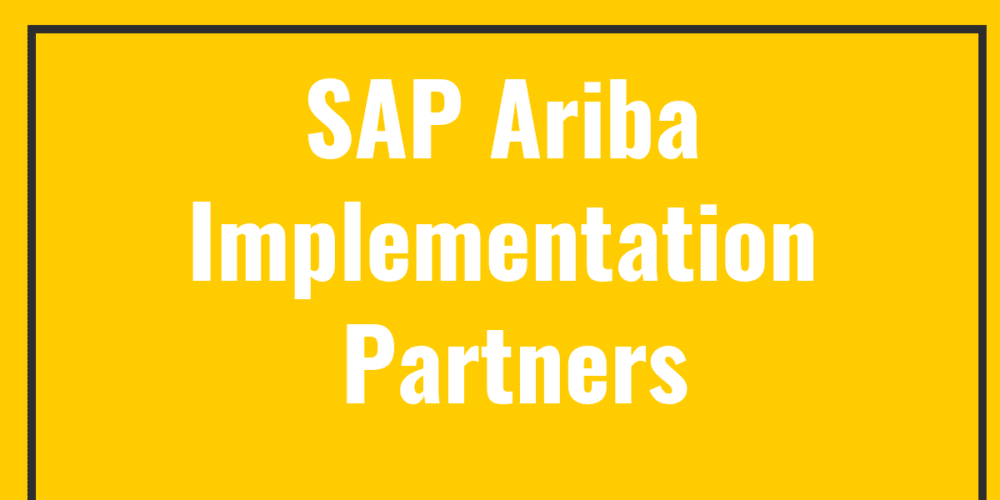 SAP Ariba provides solutions in Supplier Management, Strategic Sourcing, Solutions for Direct Spend, Procurement and Financial Supply Chain.
SAP Ariba provides the solution portfolio that lets you manage supplier information, lifecycle, performance, and risk all in one place. The Strategic Sourcing solutions create the most competitive, best-value agreements for sustainable savings with all your sourcing needs. The Direct Spend solutions connect the people, partners, processes, and information needed to manage all design-to-deliver activities in a simple, smart, and open way.
SAP Ariba Implementation partners help on implementing Ariba in your organisation by sharing best practices, exchanging detailed documentation, helping to utilize the features included in your subscription and functional tips on how to optimize all of your account's features such as user setup and advanced reporting tools.
Example of SAP Ariba Implementation Partners: IBM Ariba, LeverX Ariba, Accenture Ariba, DXC Technology Ariba, Deloitte Ariba, E&Y Ariba, HCL Ariba, Yash Ariba, Savantis Ariba, KPIT Ariba, ExceleratedS2P Ariba, Intrigo Ariba, Capgemini Ariba, Beyond Technologies Ariba, NTTDATA Ariba, B4 Consulting Ariba, Kellton Tech Ariba, Createch Group Ariba, Cloudway Consulting Ariba, Illumiti Ariba, itelligence Ariba, Atos Ariba, Crescense Ariba are some of the Top SAP Ariba Implementation Partners.
You may like to read: How to Select the Best Ariba Implementation Partner
Top SAP Ariba Implementation Partners
IBM Ariba, LeverX Ariba, Accenture Ariba, DXC Technology Ariba, Deloitte Ariba, E&Y Ariba, HCL Ariba, Yash Ariba, Savantis Ariba, KPIT Ariba, ExceleratedS2P Ariba, Intrigo Ariba, Capgemini Ariba, Beyond Technologies Ariba, NTTDATA Ariba, B4 Consulting Ariba, Kellton Tech Ariba, Createch Group Ariba, Cloudway Consulting Ariba, Illumiti Ariba, itelligence Ariba, Atos Ariba, Crescense Aribaare some of the Top SAP Ariba Implementation Partners.
Top SAP Ariba Implementation Partners
PAT Index™
1
IBM Ariba
In joining forces, SAP Ariba and IBM will use data insights to empower procurement professionals to make smarter, faster decisions across their supply chains. The new applications can impact the entire procurement process from improving spend visibility to assisting buyers and enriching content management. For example, a digital assistant combined with IBM Watson services, will transform sourcing events by helping with tasks such as defining the correct Request for Proposal type, identifying appropriate suppliers to participate based on commodity category, region or industry and delivering intelligence on market signals and pricing pressures to optimize results. With SAP Leonardo and IBM…
Overview
• Flexible, scalable solution
•Transform customers into e-business on demand enterprises
•Increase visibility and control of spend across their enterprise
•Deliver sustainable, enterprise-wide savings
•Improve implementation times and reduce risk.
2
LeverX Ariba
LeverX SAP consultants will help develop an adoption strategy that establishes clear deadlines, project success criteria, business requirements and goals. leverX ensures that the contractor properly executes every stage of the project, without taking shortcuts of compromising quality. LeverX team will define the current business challenges and outline areas of improvement. leverX develops project success criteria and expertly performs project assessment after the implementation - no need to depend solely on the judgement of your system integrator. These results will paint the whole picture of the implementation and clearly show what was done well and what areas may need improvement.…
Overview
•Creating a SAP implementation and adoption strategy
•Evaluating business challenges and benefits
• Engaging shareholders and key employees
•Guiding organizational change in the company
3
Accenture Ariba
As a leading SAP partner with over 40 years of experience across the entire SAP solutions portfolio, the sourcing and procurement capabilities for SAP cover the end-to-end source-to-pay cycle for all spend categories, to help enable the digitally-powered procurement organization. Accenture have more than 46,000 SAP practitioners and have been awarded 32 SAP Pinnacle Awards (more than any other partner). The accumulated experience comprises the experience from more than 2,000 SAP sourcing and procurement and SAP Ariba practitioners and more than 75 SAP Ariba projects to date. Accenture bring together the knowledge and experience of Accenture Consulting, Strategy, Digital, Technology…
Overview
•An accelerated and industrialized approach to implementing SAP Ariba with predictable results
•Quick portability to your environment to quickly stand up a working solution and begin gap analysis for your requirements
•All the necessary standardization to rapidly and efficiently implement core SAP Ariba modules
•Fully configured, leading-practice business processes and content built in the SAP Ariba suite
4
DXC Technology Ariba
DXC Technology is the world's leading independent, comprehensive IT services company, helping clients harness the power of innovation to thrive on change. DXC Technology helps clients harness the power of innovation to thrive on change. For more than 60 years, DXC has successfully guided the world's largest enterprises and government agencies through successful change cycles. DXC Technology takes pride in our technology independence and our role as a trusted advisor. Our deep experience gives us a clear and confident vision to help clients navigate the future. As the world's leading independent, end-to- end IT services company, DXC Technology has uniquely…
Overview
• Industry Transformation
• Faster, more secure and less costly than traditional approaches
• Proven services and solutions that revolutionize the way you consume SAP
5
Deloitte Ariba
Effective leaders understand that managing a business today is about more than managing the enterprise. It's about managing the entire chain of goods, services, and activities that extend from the supplier all the way to the customer and the customer's experience. The traditional supply chain has transformed into a value chain, in which each step of the business process—from sourcing to sale—represents an opportunity to realize efficiencies, to innovate, and to deliver value. Increasingly, solutions from Deloitte Ariba provide organizations with new ways to develop that value. Deloitte Ariba offers an extensive suite of feature-rich solutions—covering sourcing, contract management, supplier…
Overview
• Award-winning Global SAP Services Partner
• More than 16,300 practitioners dedicated to SAP solutions in our network
• Armed with decades of sourcing and procurement consulting know-how and IT experience
6
E&Y Ariba
E&Y helps clients by bringing new insight to their business, challenge the status quo and help improve the steering capabilities of the organization. EY helps CFOs, controllers and other accounting and finance executives increase enterprise value. The company collaborates with the organization, to help improve finance and accounting processes through enabling technology. Supply chains are a source of strategic competitive advantage. EY tackles this opportunity through a combination of strategic, operational and financial insights as well as operational leading practices to deliver better outcomes. EY helps companies address and improve human capital processes, talent management solutions, service delivery, and risk…
Overview
•help improve finance and accounting processes through enabling technology.
•Agile business finance
•Engaging GRC user experience
7
HCL Ariba
Enterprises that are evolving to stay relevant in their industries are making the necessary efforts to digitally transform their SAP run operations to be more competitive. HCL and SAP share a great history as innovation partners in digital transformation. The two companies provide solutions that drive transformational results for all types of global enterprises (results that make all the difference).HCL is well experienced in SAP landscape transformation, system conversion, and new implementations of on-premises and cloud platform solutions. HCL is uniquely positioned to offer a broad array of digital technologies that represent the next wave in integrated approaches to transform…
Overview
•Ideapreneurship - makes the license to ideate a distinctive organizational capability
•Relationship beyond the contract
• HCL's mode 1-2-3 technology
•Infrastructure management and engineering services
8
Yash Ariba
YASH partners with SAP to help organizations operate with greater agility, make faster profitable decisions, and collaborate with increased mobility around the world. As a long-time trusted SAP Global Partner, YASH offers a complete range of tailored, future-proof SAP services to help customers simplify, innovate, and grow. We deliver the SAP expertise and experience that our clients need to enhance their SAP platforms and to enable leaner adnd smarter businesses. With specialized SAP resources world-wide, we are positioned to design, implement, and maintain complex SAP engagements, as well as evolve SAP landscapes to achieve the greatest business value. SAP Ariba…
Overview
• Improve service delivery quality: Take full advantage of standardization, automation, and global integration to deliver consistent, reliable IT services that support business objectives.
• Leverage YASH's global industry and technology expertise: Gain access to skills you could not develop in-house or afford to recruit.
• Become more adaptable and flexible: Scale technology infrastructure up or down to meet changing business needs. Pursue transformation projects that can deliver continual, iterative returns on investment. Access greater levels of efficiency faster through cloud-based delivery models.
• Manage risk: Reduce the chances of data loss and system outages that can damage your business reputation.
9
Savantis Ariba
Savantis employs over 500 people and serve 230 customers in 40 US states and multiple countries across five continents. Savantis is backed by Sowell & Co., a Dallas, Texas-based private investment firm. Savantis solves real business challenges for the customers through innovation and deep industry knowledge. The company has a suite of enterprise solutions and services that ensures long term customer success. Over the past couple of decades, Savantis has crafted comprehensive solutions for various industries, which subsequently led to building strong capabilities that are guaranteed to deliver value. These industries include: Hospitality, Retail, Manufacturing, Wholesale and Distribution. Savantis has…
Overview
•Expertise across various industries
•Deep technical expertise
•A team that delivers results
•Vendor management
10
KPIT Ariba
KPIT is the SAP partner of choice to businesses across 25 countries. KPIT Ariba deep heritage and pedigree of expertise in SAP based solutions help organizations adapt to the digital economy and create market differentiation. Consistently ranked as a leader in SAP services by industry analysts, KPIT provides full lifecycle solutions for SAP licensing, consulting, implementation and support with an industry focused approach. Their multi-certified, global SAP workforce maintains deep technical and functional understanding of the entire SAP technology landscape with dedicated practices for ERP, Cloud HCM, Customer Engagement, Digital Commerce and Platform Solutions (S/4HANA) that empower our customers to…
Overview
• Rapid Pre-packaged Solution
• Cost-effective and rapid implementation advantage
• Project accelerator tools,
11
ExceleratedS2P Ariba
ExceleratedS2P helps organization to become best-in-class procurement and accounts payable functions by combining industry SAP and SAP Ariba solutions with experts. The services and solution enable organizations to increase control, visibility and compliance across the end to end process to reduce cost and improve measurable and sustainable performance. The innovative solutions are based on best practices and a wealth of experience that allows organizations to advance on the maturity curve to become best-in-class in source to pay functions. ExceleratedS2P consultants have the industry experience and the software expertise to help organizations get maximum value from the source to pay solutions…
Overview
•Best practices in source to pay
•End-to-end Ariba implementation
•Cross-industry templates
•Adoption and integration expertise
12
Intrigo Ariba
Intrigo helps enterprises enable their partner ecosystem with trusted information networks that allows digital operation. This reduces the bullwhip effect and simultaneously increases the predictability of the movement of goods, as well as the velocity of product demand. Digital supply chains enable real-time data analysis for smarter, quicker decision making, allowing for proactive risk mitigation—be they internal or external. Intrigo helps companies scale to become digital enterprises in the planning and execution phase. Intrigo provides Procurement and Sourcing solutions that deliver lean and targeted services to assist in sourcing and procurement initiatives—from Catalog Management to Invoices and Payments. Intrigo is…
Overview
•Increased opportunities for continuous process improvement
•Competitive advantage by enabling the sourcing of innovative goods and services
• Greater visibility into company spending and streamlined sourcing
• Scheduling and sequencing
13
Capgemini Ariba
Capgemini's global network of experts collaborates with you on your SAP journey whatever your industry. Capgemini drive value and results through SAP licensing, implementation, infrastructure, and application management for companies across the globe leveraging our SAP delivery and solution design centres, IP, and pre-configured solutions across the entire lifecycle of services. As a global SAP partner, Capgemini is one of the world's largest and most experienced SAP systems integrators, with 17,500 practitioners and over 40 years of experience and more than 1300 clients worldwide in 2017 and growing by the month. Capgemini is the first, and often only, implementation partner for…
Overview
• Data analysis from connected devices
• Flexible and mobile workforces
• Increasing pressure on costs and headcounts
• Expectation to make faster decisions
14
Beyond Technologies Ariba
Beyond Technologies not only focuses on the revenue growth of an organization but recognizes that controlled expenditures can substantially increase profits. SAP Ariba solutions help manage strategic sourcing and procurement. Ariba covers everything from e-procurement to spend analysis – and can help you deliver repeatable cost savings while improving quality and compliance. xSuite Procure-to-Pay combines xSuite P2P and xFlow Invoice to provide organizations with full control and visibility throughout the entire lifecycle of a transaction. This preconfigured solution includes Procure-to-Pay best practices for purchasing and invoicing. Fully integrated within SAP, xSuite Procure-to-Pay allows for complete transparency, clarity and streamlined operations.…
Overview
• Optimizing sourcing and procurement processes for cost savings
• Supplier contract centralization and management
• Seamless integration of purchasing and accounts payable
• Drive transparency and auditability for SOX compliance
15
NTTDATA Ariba
NTTDATA has a global team of more than 12,000 SAP specialists, 25+ years of SAP delivery experience and growing assortment of proprietary SAP lifecycle-based tools and accelerators that ensures higher efficiencies and faster return on investment with lower risk and reduced total cost of ownership. As a global SAP Platinum partner, NTTDATA generates more than $1.6 billion in revenue each year from hosting, implementation and support of SAP solutions. Thus the team is experienced to handle organization's toughest challenges . NTTDATA close collaboration and joint innovations with SAP, along with the business-process know-how and unmatched commitment to customer service ensures…
Overview
•Dedicated CoE to build point-based and industry-focused solutions
•SAP Global Platinum partner, Cloud Partner, AMS partner, and Hosting partner
•SAP-certified SAP HANA Rapid Deployment Solutions
•60 S/4 HANA rapid deployment solutions and more than 500 process-specific add-ons
16
B4 Consulting Ariba
From e-procurement to spend analysis, B4 Consulting offers SAP solutions that help you deliver repeatable cost savings while improving quality and compliance. Achieve sustainable cost savings throughout your procurement process with strategic Ariba sourcing software. Ariba solutions can help you implement a closed-loop, automated process – for fast, flexible sourcing and significant bottom line savings. With B4 Consulting Ariba Contract Management your legal and procurement departments are empowered to reduce risk and enhance compliance with standardized contract management processes. You can simplify and accelerate contract authoring and support negotiations with fast access to relevant information. In turn, the procurement function…
Overview
• Facilitate repeatability by automating the RFX process
•Capture best practice processes to ensure consistency and knowledge transfer
•Get the best bid for 3rdparty goods and services with electronic auctions
17
Kellton Tech Ariba
Kellton Tech will help you digitally transform your business processes using SAP suite of next-generation enterprise technology solutions as your digital core. Execute a safe, effective, and smooth migration to the next generation ERP with Kellton Tech, a proven trail-blazer in S/4HANA implementations. Kellton dedicated Center of Excellence (CoE) for SAP Hybris promotes research around the Hybris technology platform. They develop tailored e-commerce and digital marketing solutions to help clients reduce operational cost, tap into global markets, and improve customer experience. Explore Kellton Tech's in-depth cloud capabilities with SAP cloud solutions, from Success Factors, to S/4HANA Public Cloud. Their Cloud…
Overview
• Customer Centricity: Delivering to customer's need.
• Innovation: Continuous Improvement and out of box thinking.
• Agility with Quality: Flexible & adaptable, delivering quality to customers.
• Integrity: Delivering on their commitments.
18
Createch Group Ariba
As a Canadian leader in business transformation, Createch Group Ariba mission is to significantly improve the profitability of their clients through the optimization of their processes and the implementation of world-class software solutions. Their services range from operational performance improvement, enterprise resource planning (ERP) and customer relationship management (CRM) to asset management solution implementation. For over 20 years, The Createch Group has delivered substantial performance improvements to more than 1,200 companies across Canada.When an organization implements an ERP solution, optimizing business processes, increasing productivity and reducing operating costs are top priorities. The Createch Group Ariba consultants, partner with their clients…
Overview
• Enables Analytics Solutions
• Enterprise Applications
• Mobile Applications
• Cloud Solutions
19
Cloudway Consulting Ariba
Cloudway Consulting has talented professionals with extensive experience in several multinationals. The testimonial to their technical proficiency is the patents they hold in technology and enterprise application development. With their ability to understand and convert business requirements to smart solutions which lowers TCO, they make a strategic difference to your business. Ariba Sourcing module is an enterprise-wide strategic sourcing application designed for all spend categories. It assists professional buyers throughout the sourcing process, from defining spending baselines and category requirements, to finding suppliers and negotiating agreements. Ariba Sourcing helps speed up and streamline the RFX process, dynamic events, auctions, and…
Overview
• Strategic buying online using Ariba sourcing
• To enhance operational visibility and transparency with expansion plans
• Integration with the existing sap ERP system
• Secured, automated procurement management
20
Illumiti Ariba
Illumiti's comprehensive assessment capabilities and superior knowledge of SAP technology ensure that our clients receive the best solutions for their business needs. Illumiti Ariba helps you optimize your operations by implementing SAP® software solutions faster, at a lower cost, and with less risk. From initial project scoping to ongoing development and training, Illumiti Ariba build strong relationships with their client teams to develop a clear understanding of their objectives and help deliver exceptional results. Illumiti's teams are guided by our commitment to delivering superior quality and consistent governance of our projects. Coupled with that, is their ability to successfully leverage…
Overview
• Experience implementing a wide range of SAP software
• Spanning core ERP solutions like SAP S/4HANA
• Establish clear objectives and ensure your organization is on track to be successful with your SAP implementation.
21
itelligence Ariba
As a result of digitization, purchasing departments are being completely restructured. Numerous routine tasks can be automated or outsourced to shared service centers. Purchasers themselves will become increasingly involved in strategic matters to ensure the ability to deliver. They maintain the strategic, global business relationships with suppliers and are responsible for supplier evaluation. This requires a change in thinking. In the highly competitive, globalized world, with all its complex value chains, supplier selection can be the difference between success and failure. Failure to deliver costs money. A supplier that does not comply with regulations can permanently damage a company's reputation,…
Overview
• Deepen engagement and adoption
• Retain talent and knowledge
• Improve decision-making
• Improve business outcomes
22
Atos Ariba
For more than 35 years, Atos and SAP, the world's biggest business software company, have been working together to create new business value for customers around the globe, making this one of the most longstanding partnerships in IT today. SAP Ariba support over 2,900,000 SAP end-users and have put in place over 6,200 implementations with 12,000 SAP consultants in more than 90 countries. SAP Ariba has unique engineering heritage and unrivalled global resources ensures that nobody is better placed to unlock the full power of SAP. Atos is end-to-end service provider for SAP services, including S/4 HANA transformation, SAP licenses,…
Overview
• Customized solutions, based on solid foundations and rigorous best practice
• Address core business requirements across every sector
• Increase productivity by finding and qualifying new suppliers
23
Crescense Ariba
When every decision counts, you need a partner that understands your business and is invested in your success. Crescense Ariba is that partner. Crescense, in partnership with SAP, offers solutions that are designed specifically for high-growth small to mid-sized consumer products and life sciences companies. By combining their industry knowledge with a proven deployment approach they will accelerate your implementation timeline while reducing risk and ensuring regulatory compliance. Leveraging proprietary value accelerators they rapidly deploy a fully integrated enterprise solution that allows you to quickly derive value from your technology investments and deliver results for your business. Through our all-in-one…
Overview
• All-in-One solution based on SAP best practices and complemented by proven implementation methods specifically for Life Sciences companies
• Integrated and streamlined processes across all lines of business
• Crescense and its partners make it quick and simple to bring your company live on SAP and also satisfy your long-term support needs in a cost effective manner
You may like to read: How to Select the Best Ariba Implementation Partner