Top 19 SAP Business One Consulting Partners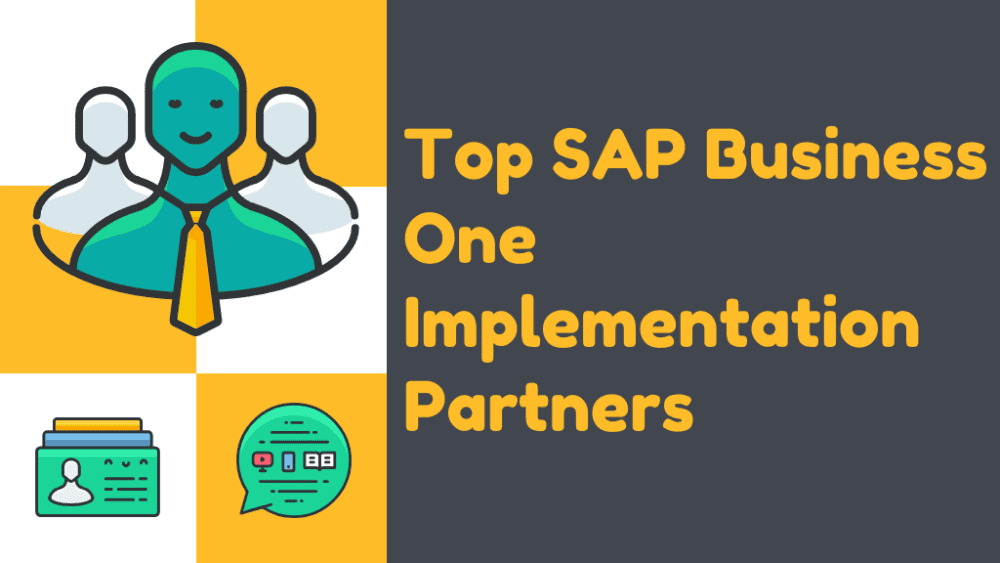 SAP Business One increase control over your small business with software designed to grow with you. SAP Business One streamline key processes, gain greater insight into your business, and make decisions based on real-time information so that you can drive profitable growth. SAP Business One capabilities include Financial Management, Sales and Customer Management, Purchasing and Inventory Control, Business Intelligence and Analytics and Reporting. SAP Business One improve margins, reduce errors, and drive more profitable decision-making with a complete set of tools for streamlined financial operations.
Example of SAP Business One Consulting Partners: Vision33, I-Business Network, Softengine, Third Wave Business System, N'Ware Technologies, LBSi, Seidor, VistaVu, Illumiti SAP Business One, Forgestik, ECS, B4 Consulting, ProjectLine Solutions, be one solutions, Sapphire Systems, Navigator, Achieve IT Solutions, Consensus International, Clients First are some of the Top SAP Business One Consulting Partners.
SAP Business One Implementation partners play a key role in helping organizations by assisting to transform and run their businesses simply in SAP platform. They can help you identify, buy, build, implement, service, support, and run the SAP solutions that best fit to the business needs.
SAP Business One Implementation partners help on implementing SAP Business One in your organization by sharing best practices, exchanging detailed documentation, helping to utilize the features included in your subscription and functional tips on how to optimize all of your business process and enable you with advanced reporting tools to benefit from the implementation.
You may like to read: How to Select the Best SAP Business One Implementation Partner
Top SAP S/4 HANA Implementation Partners
Vision33, I-Business Network, Softengine, Third Wave Business System, N'Ware Technologies, LBSi, Seidor, VistaVu, Illumiti SAP Business One, Forgestik, ECS, B4 Consulting, ProjectLine Solutions, be one solutions, Sapphire Systems, Navigator, Achieve IT Solutions, Consensus International, Clients First are some of the Top SAP Business One Consulting Partners.
You may like to read: How to Select the Best SAP Business One Implementation Partner
Top SAP Business One Consulting Partners
PAT Index™
1
Vision33
Vision33 is a Provider of SAP Business One worldwide, focused on implementing this afforable and easy-to-use ERP software system for growing businesses and subsidiaries of large enterprises. Vision33 is an SAP gold partner and a leading global reseller (VAR) for SAP Business One. Their customers glowingly describe them as 'business process implementers' that help them connect every process from inventory to accounting to control costs and scale efficiently. Vision33 also have deep industry experience to make recommendations where we see processes could be realigned to save you time, money and headaches. Vision33 lives and breathes SAP Business One. It is…
Overview
• Advanced Available to Promise (ATP)
• Delivery Schedule Management
• Interactive Analysis
• Cash Flow Forecast
2
I-Business Network
I-BN delivers integrated software solutions for CRM, accounting, and inventory, manufacturing, and distribution, e-commerce, all combined into a single solution for true enterprise resource planning for small-to-midsized companies. SAP Business One Cloud is designed for small-to-medium businesses striving for growth. The Cloud allows companies to shift time, money, and effort away from IT maintenance and towards their core business activities. SAP Business One Cloud, together with your specific business knowledge enables rapid growth and adaptation to emerging needs and opportunities in real time. All of this, without the need to increase physical server capabilities or invest in additional equipment. SAP…
Overview
• Accelerated time to value
• Straightforward cost structure
• Fast and customizable deployment
• Automatic updates and maintenance
3
Softengine
Softengine is a leader in truly flexible ERP (Enterprise Resource Planning) and CRM (Customer Relationship Management) business solutions. Through the company's innovative and targeted solutions we help you win customer loyalty and control costs by helping you gain greater control of your operations. By focusing on select vertical markets, we deliver deep domain expertise to the industries that we serve. Companies today can't afford to wait for their applications to catch up to their business. Now with solutions offered by Softengine, they don't have to. Sophisticated customizations that used to take weeks or months with traditional software can be fully…
Overview
• Increased control
• Grow profitability
• Increase competitiveness
• Adapt to change
4
Third Wave Business System
Third Wave Business Systems is headquartered in Wayne, New Jersey, and specializes in the implementation of business management systems. Conduct your organization simply by applying SAP Business One. This integrated ERP solution lets you to conduct crucial organizational practices concerning Customer Relationship Management (CRM), distribution, financials, manufacturing and sales. By implementing SAP Business One, your organization will now be equipped to automate organizational methods, unite your organizational systems and channels, heighten your inventory levels, advance sales, surge client approval, and respond quickly to client needs to cultivate your organization's profitably. "SAP Business One gives our business the flexibility to operate…
Overview
• Ensure accurate gathered requirements
• Translate requirements into system designs
• Implement those designs through automated applications
• Significant change management and learning power
5
N'Ware Technologies
To grow your business, you need to devote time to more important things than piecing together information and operational details from disparate business systems. If your sales, accounting, and operational systems are not integrated, your productivity inevitably suffers. When you must search for critical business information such as customer records or inventory levels in different locations, you can't make timely, sound decisions and meet customers' needs quickly. Maintaining a competitive edge means having clear view of all aspects of your business. It means streamlining processes and always being able to get the information you need when you need it. If…
Overview
• Streamline Your Entire Business with a Single Application
• Strengthen Customer Relationships and Loyalty
• Act on Instant and Complete Information
• Adapt to Meet Your Changing Needs
6
LBSi
The SAP® business one application provides an affordable, comprehensive solution for managing your entire business – from sales and customer relationships to financials and operations. With SAP business one, businesses can stream line operations, act on timely and complete information, and accelerate profitable growth. By integrating all critical business functions, SAP Business One supports sales, customer relationship management (crm), purchasing, inventory, operations, financials, and human resources. Business information captured in a single system is instantly accessible across the organization, eliminating duplicate data entry along with related errors and subsequent costs. Workflow-based alerts trigger auto-response when important business events occur, so…
Overview
• Opportunity and pipeline management
• Cost accounting and monitoring project costs
• Phase / Stage / Task Management
• Costing: Actual, Average, FIFO and Standard
7
Seidor
Seidor USA is your SAP Business One local partner with a global reach. With 5 offices in the US located in Houston, Detroit, Miami, New Jersey and California we are close enough to understand the market drivers in your area. Because of our global locations, if your business interests take you outside the United States they have resources to support you around the world. Not only is SAP Business One available in 43 country localizations, and can operate in 27 languages; Seidor has 56 offices in over 25 countries. They have multi-lingual team members, so they speak the language that…
Overview
• Create production orders
• Manage all information on all items and parts
• Maintain customer price lists
• Use Crystal Reports
8
VistaVu
VistaVu Solutions is one of the leading SAP ERP Cloud providers in North America. VistaVu leverages the experience of its people, and the results of its successfully proven processes to bring industry-driven, user-focused and mature business management solutions to industrial field services companies across North America. Starting from very modest beginnings, we began on the rural roads of Alberta Canada, in 1996, with a clear purpose to help small and mid-size companies find operational efficiency and managerial effectiveness through the use of technology. Those early days of working with the people of rural Alberta taught me a lot about what…
Overview
• Nerve center for your entire business
• Consolidates internal and external elements into a single living structure
• Connects all process, providing real-time insights and information
• Seamlessly integrates with your enterprise
9
Illumiti SAP Business One
Illumiti team has many years of experience working with and implementing SAP Business One. The SAP Business One ERP application integrates all core business functions across your entire company – including financials, sales, customer relationship management, inventory, and operations. Unlike many other small business solutions on the market today, SAP Business One is a single application, eliminating the need for separate installations and complex integration of multiple modules. This is ERP software made for the small business, built to move your organization past a basic accounting solution and disconnected management systems. SAP Business One automates your critical business processes to…
Overview
• Access to centralized information
• Choose favorable deployment option and platform
• Lower technology costs
• Speed time to value
10
Forgestik
With a great experience in the field of business management systems, SAP has been able to create and develop, in the middle of the 90s, SAP Business One, a solution especially designed for SMEs to help them meet their specific needs. Unlike other solutions created for small businesses, SAP Business One is an application that allows a complete management, without requiring additional installations or the integration of complex third-party modules. Unlike other ERP systems perpetuating the SAP myth, SAP Business One remains a user-friendly integrated management solution. Indeed, SAP Business One is an affordable and easy to implement solution, designed…
Overview
• Shorten the payback time
• User-friendly customization tools
• Increase your responsiveness and effectiveness
• Get a return on your investments
11
ECS
For nearly four decades, Effective Computer Solutions has been implementing and supporting ERP solutions for clients nationwide from their headquarters in Jacksonville, Florida. ECS is built on the philosophy of providing comprehensive, quality service for their customers, taking them step by step through sales, implementation and training. As an SAP Certified Gold Partner, they have a diverse client base extending throughout the United States and Canada. ECS SAP Business One application offers an affordable way to manage your entire business – from accounting and financials, purchasing, inventory, sales and customer relationships, and project management, to operations and human resources. SAP…
Overview
• Total control of your finances
• Create a loyal customer base
• Optimize buying and purchasing to increase margins
• Transparent inventory control and distribution
12
B4 Consulting
Trusted by over 50,000 companies in 150 countries, SAP Business One easily streamlines your key processes – from accounting and CRM to supply chain management and purchasing. An affordable and integrated application, SAP Business One manages your core business processes and captures all your critical business intelligence onto a single platform. Plus, it works on any mobile device, so you can stay in complete control of your operations at all times – even when you're away from the office. Optimize resources, save time and boost productivity — B4 Consulting can help you grow your business with SAP Business One. Designed…
Overview
• Focus on growing your business profitably
• Optimize cash flow for business needs
• Access the right information to make smart business decisions
• Build and maintain closer customer relationships
13
ProjectLine Solutions
ProjectLine solutions offer SAP Business One, which is an application designed specifically for small and mid-size businesses. If offers an easy-to-use, yet powerful, integrated system to support your growth. You may be using an accounting program, like QuickBooks, and Excel. Or perhaps you've outgrown your existing enterprise resource management (ERP) system. No matter where you transition from, SAP Business One offers a highly configurable solution to fully integrate all aspects of your business and help you manage it better. And with a flexible ERP, you can be confident that the system will grow with you. ProjectLine SAP Business One can…
Overview
• Capture all your business information in a single, scalable system.
• Automate and accelerate your end-to-end business processes.
• Improve decision making and customer satisfaction with real-time insight into your information.
• Supercharge application performance and analytics with in-memory technology.
14
be one solutions
be one solutions is a global SAP Partner specializing in successful global blueprints, implementation and support for SAP Business One. Their optimal global packaged solution for large enterprises and their small subsidiaries includes core SAP Business One, Manufacturing add-on, integration to mySAP/ECC using B1iF and iBolt, and country specific add-ons to cover legal and local business processes requirements. With locations in Switzerland, Germany, France, Hong-Kong, Japan, China, Brazil, the United States, Sweden and Singapore we are strategically positioned to support your global requirements. SAP Business One is designed exclusively to meet the needs of small and midsize businesses and for…
Overview
• Up-to-the-minute views of business data
• Significant built-in content
• Fully automated and integrated solution
15
Sapphire Systems
Sapphire are not only global providers of some of the world's leading software solutions, but customer service and support from the cornerstones of their success. Sapphire understand their customers' needs and their dedicated team of professionals will work with you to ensure your financial management system is a perfect fit for your business. A powerful, flexible and affordable way to manage your entire business, SAP Business One is an ERP system that integrates your key business functions to streamline processes and uncover deeper insights into your business. Available in the cloud or on-premise SAP Business One brings together finance, accounting,…
Overview
• Effectively manage the entire production process
• Ability to create accessible, accurate and timely reports
• Ability to centralize all project-related projects
• Effective management of relationships with customers
16
Navigator
Designed for all your small and midsize company's needs. Need more than accounting tools? Successfully manage and grow your business. The SAP® Business One solution offers an affordable way to manage your entire business – from accounting and financials, purchasing, inventory, sales and customer relationships, and project management, to operations and human resources. Readily scalable, add new users and functionality – all without the need for expensive IT resources. Navigator SAP Solutions delivered by Navigator provide predictable pricing, seen as an operating expense, not a capital expense. All so you can focus on your business – and not on IT.…
Overview
• A Complete and Customizable Solution
• Total Control of your Finances
• Optimize Buying and Purchasing to Increase Margins
• Transparent Inventory Control and Distribution
17
Achieve IT Solutions
With over twenty years of experience implementing and supporting ERP accounting software Achieve IT Solutions has a vested interest in making sure your experience with Business One and our Solutions is seamless. If you are a small-to-medium size business who has outgrown your current ERP application and you need software to take your business to the next level — this is it. With SAP Business One you get the tools to tackle bigger business tasks along with the user-friendly feel and ease of use that your employees deserve. SAP Business One is an affordable way to streamline processes and increase…
Overview
• Analyze the performance of your vendors
• Monitors your operations in real time
• Posting templates and recurring postings
• Integrated and automated financials management solution
18
Consensus International
Consensus International SAP Business One application offers an affordable way to manage your entire business – from sales and customer relationships to financials and operations. Designed specifically for small businesses and sold exclusively through SAP partners, it helps you streamline processes, act on timely information, and drive profitable growth. Businesses like yours have big goals. But it's easy to lose focus when a flood of day-to-day operational details, ad hoc requests for information, and nonstop competitive moves demand your full attention. It's also easy to lose the "big picture" when key pieces of information reside in different systems, applications, or…
Overview
• Proactively grow your business
• Respond quickly to customer needs
• Eliminate redundant data entry and errors
• Form closer customer relationships
19
Clients First
Clients First SAP Business One Support team offers world class support throughout the United States. At Clients First, they know all software systems have issues. Things happen. Sometimes they are software related, other times they are user related. Plus, you always have to account for general hardware errors. Sooner or later, you may find yourself in an urgent situation requiring help in order to properly move forward with the system. SAP Business One is a single, integrated solution that provides clear visibility into your entire business and complete control over every aspect of your operations. It captures all critical business…
Overview
• Captures all critical business information
• Delivers an integrated solution
• Manage your key business areas
• Integrating data in one system
You may like to read: How to Select the Best SAP Business One Implementation Partner