Top 10 Backup Software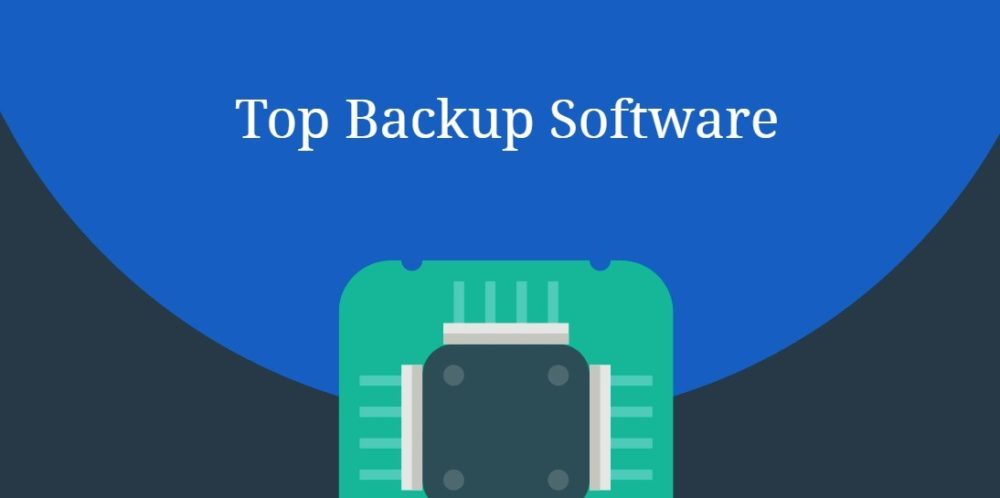 Companies have grappled with backing up of their essential data without fear of loss or interference from unauthorized persons. Storing data is one thing and having access to this data whenever needed is a different thing altogether. Loss of vital data can jeopardize the operations of business be it small data or large volumes of data. That's why it is necessary for an organization to ensure they have put in place mechanism that will protect them from such an eventuality. Software vendors have introduced new ways of securing these data by coming up with backup software.  This is a solution that ensures all the data in the organization is safely backed up to caution the company in case of system malware or crashes.
Backup software are computer programs used to perform backup; they create supplementary exact copies of files, databases or entire computers. These programs may later use the supplementary copies to restore the original contents in the event of data loss.
Top Backup Software : vCenter Server, Avamar, R-Studio, NetWorker, Microsoft System Center, Acronis, Veeam, CloudBerry, NAKIVO, 3scale are some of the Top Backup Software.
What are Backup Software?
Backup Software assists in backing up of files, folders, documents, software data, and computers/servers as a whole.  The software can be used to perform data compression, transaction mechanism, encryption and access to open files. The system is meant for local/individual computers or enterprise computers, servers or networks.  The software can be used as an organization's disaster recovery plan. Having such a program helps the organization to restore its data and servers whenever there is a failure of the hardware on the network.
Backup scheduling: Backup exercise is deemed as an easy task, but it can be daunting for an administrator who is dealing with large volumes of data. You need a system that can automatically backup your data without any human intervention. All you need to do is set up a schedule on when the data should be backed up, and the system does the rest. You will not only save time, but it also ensures all your data is safely backed up.
Verification mode: There is nothing as disastrous as learning your backup copies are corrupt when you are trying to arrest a crisis. It is essential to invest in software that automatically verifies your backup data. The system should have a checksum process that verifies the integrity of your backed up data before and after the process to ensure your data is not corrupted.
Security: Any data whether backed up or resting on your server is essential. Thus, it is necessary to have software that ensures all information is safe and secure including the backed up data. Backed up data is prone to many threats since it mostly found in one location on your network. A good system should have security implemented on the backup directories as well as the software. Access to backup data should be restricted to a single person preferably an administrator, and there should be a password to ensure there is no unauthorized access.
Data compression: Data storage requires huge disk space especially if you have a massive load of files and digital items. Look for backup software that can compress the data into smaller packages. You don't have to worry about your data as you can't lose it during the compression process.
Third-party App support: Besides offering protection to files and system data, you also need a system that can support other vital applications in your firm. Your system should be able to support integration with third-party software.
Top Backup Software
vCenter Server, Avamar, R-Studio, NetWorker, Microsoft System Center, Acronis, Veeam, CloudBerry, NAKIVO, 3scale are some of the Top Backup Software.
Top Backup Software
PAT Index™
1
vCenter Server
VMWare vCenter Server is a service that enables users to centralize and manage virtual infrastructure for businesses through a single platform. Since it's a one location platform, it gives a complete overview of things enabling users to make better decisions. Be it businesses of any size, VCenter Server has enough resources to meet the needs of seasoned businesses across the globe. It is available in nearly 20 languages spoken around the world so it basically addresses to business needs with more detail. Centralized visibility, proactive management and extensibility for VMware vSphere from a single console VMware vCenter Server provides a…
Overview
• Centralized control & visibility
• Flash Read Cache
• Management Services
• Multilingual
• Inventory Services
• VCenter APIs
• Content Library
• Capacity Optimization
• Easy Installation
• Data backup
• Database Server & Scalability options
• Plug in Extension & Data Restoration
• Simple Deployment & Proactive Optimization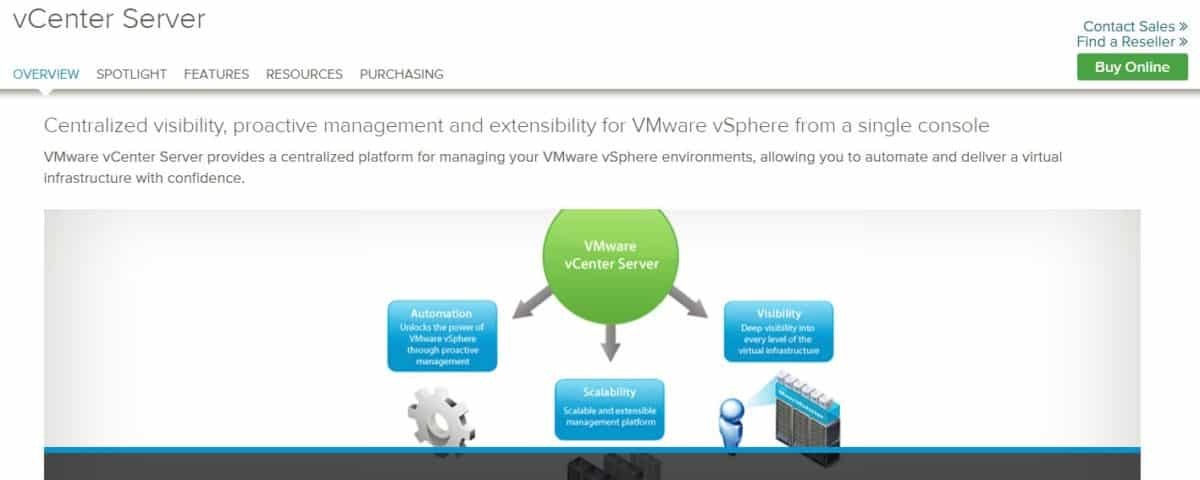 2
Avamar
Avamar is a Dell product that protects the users data and recovers it. EMC Avamar is a backup and recovery solution that features backup software, disk targets and global client-side deduplication. EMC Avamar deduplication backup and recovery software and system facilitates fast, efficient daily full backups using integrated variable-length deduplication technology. It has made it dramatically easier for businesses and individual users to backup, recover and duplicate data across different channels. Backup in Avamar is available on daily basis and it's fast and efficient. Users don't have to wait for too long in order to retrieve files which makes them…
Overview
• Bandwidth Optimization
• Multiple formats Backup
• Large Capacity Storage
• Scalability Options
• Guaranteed UP Time
• Uninterrupted Accessibility
• Training
• Quick Recovery
• De-duplication technology
• Reliable Servers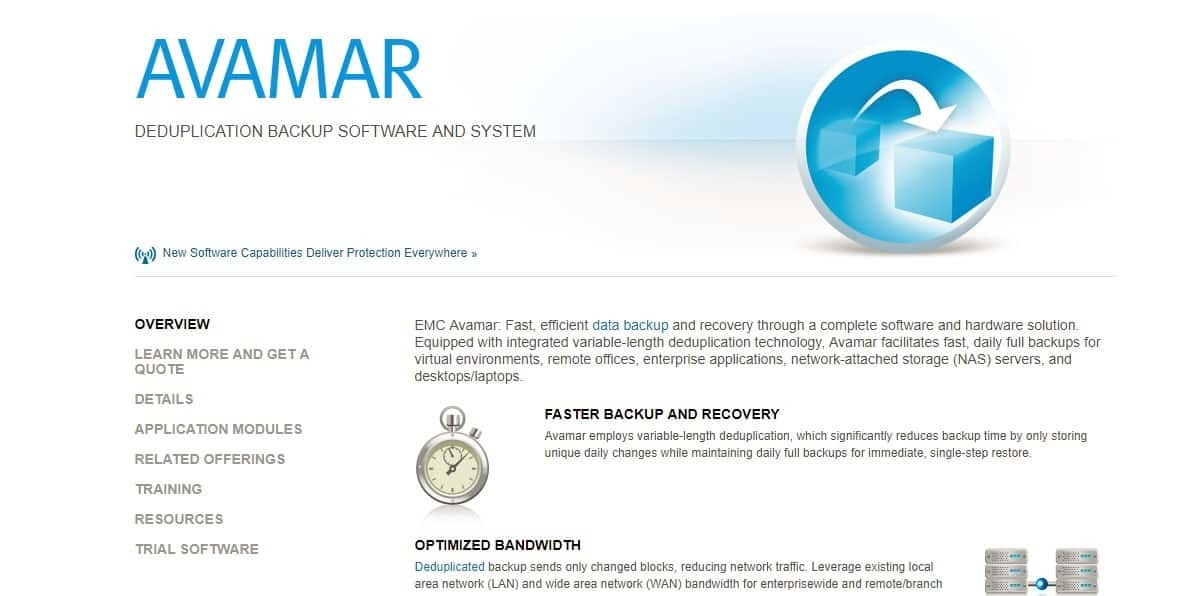 3
R-Studio
R-Studio provides users with complete data recovery software with undelete capabilities. Initially developed for data recovery experts, data specialists, IT professionals, and system administrators, R-Studio Data Recovery software is clearly built for advanced and experienced computer users. The software may be a bit confusing for the less experienced users but it also comes with a step by step wizard to help simplify the learning and implementation process. R-Studio is widely used all over the world for its capability to recover or retrieve files thought to be lost due to viruses, malicious attacks, and hardware failures or operating system crashes. The…
Overview
• Extensive and versatile file search
• Support for virtual RAIDs
• File recovery from deleted/reformatted/corrupted logical disks
• Raw File Search
• Disk Image Creation and Processing
• Text/Hexadecimal Editor
• Support for non-Windows file systems
• Search for user-defined known file types
• Data recovery over network
• Mass File Recovery
• File sorting by file extensions and date
• File preview
• Emergency CD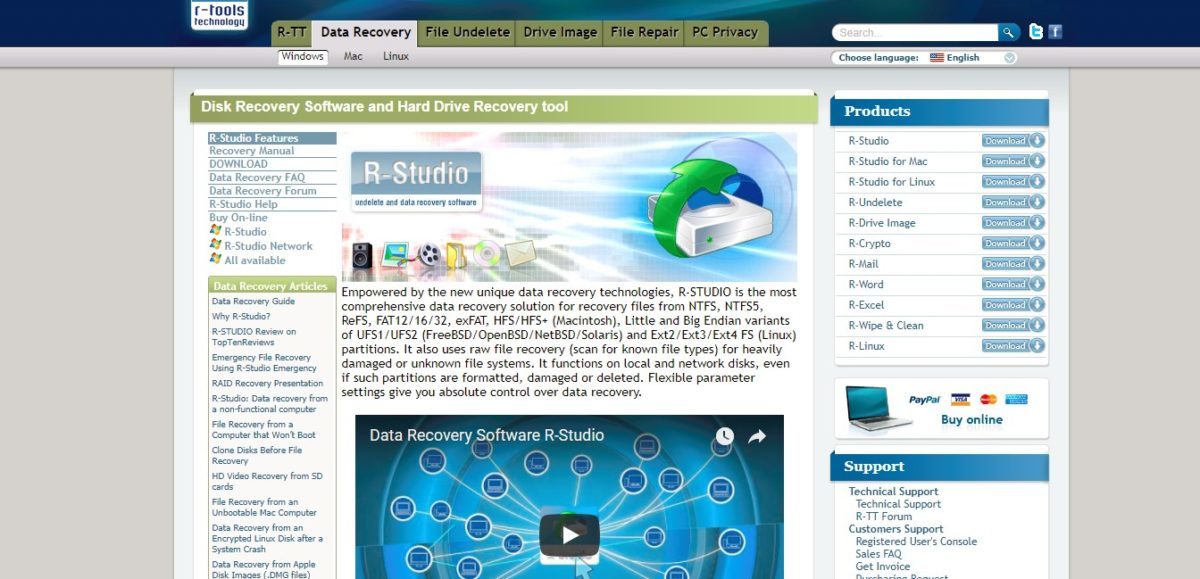 4
NetWorker
EMC NetWorker gives businesses software designed for fast and reliable data backup and recovery. The system stores all information in a centralized location and offers automation and accelerated data backup and recovery across all devices within users IT environment. EMC NetWorker integrates various features and elements to protect their data, whether on-premise or based in the cloud. Under one management page, users are able to perform and access all data recovery and backup functions, such as backup-to-disk, backup-in-Cloud, LTR to cloud, ProtectPoint backup, snapshot and replication management, and tape. While most users implement EMC NetWorker for data storage, backup and…
Overview
• Unified Management
• Reliable Recovery
• High Performance
• Leading Duplication
• Cloud-enabled
• Maximum Flexibility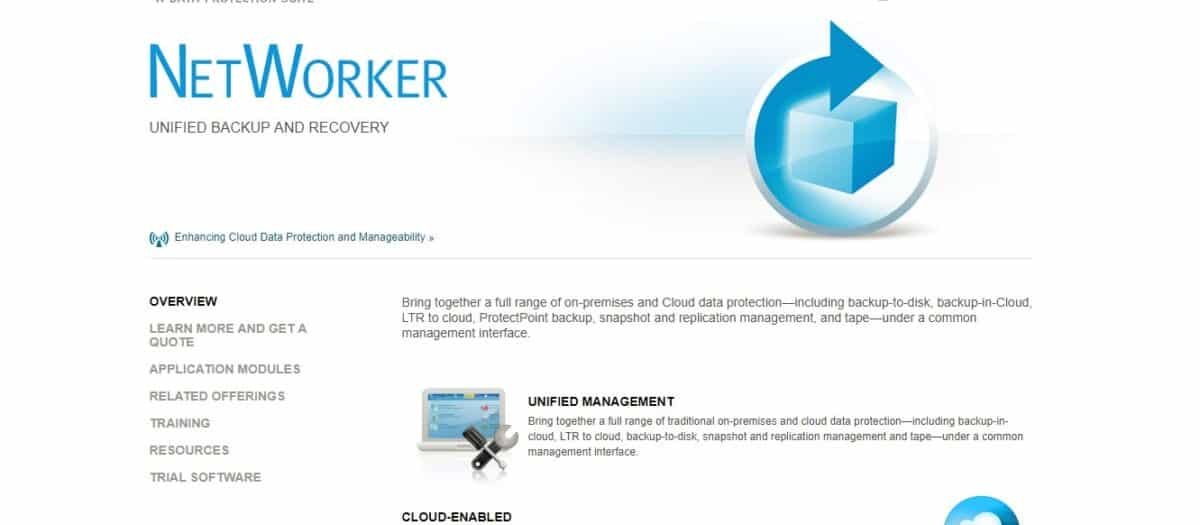 5
Microsoft System Center
Microsoft System Center delivers an integrated client-to-cloud management tool for private and public servers that are hosted in the cloud. The tool works well for private cloud hosted on internal servers, such as Windows, Solaris, and Linux. The system is also designed to let users manage Android, iOS, Symbian, and Windows Phone 7 mobile devices. Microsoft System Center is created to help businesses to fully manage their datacenter and other IT aspects of their company across various environments and platforms. By simplifying datacenter management, users are able to perform their data-related functions, from deployment, configuration, management, and monitoring of their…
Overview
• Configuration Manager
• Data Protection Manager
• Endpoint Protection
• Operations Manager
• Orchestrator
• Service Manager
• Virtual Machine Manager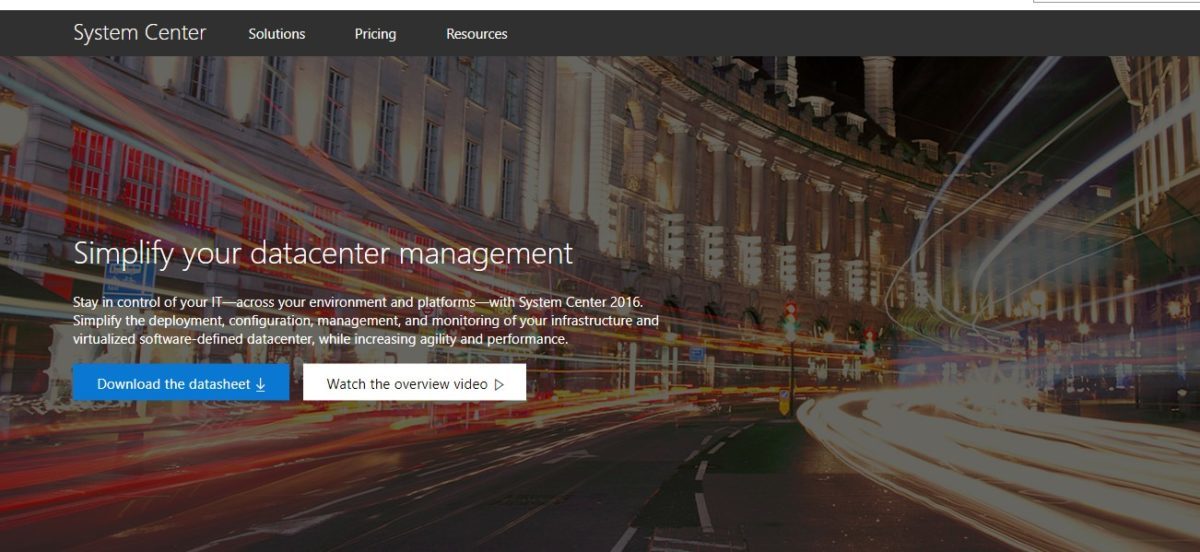 6
Acronis
Acronis Backup 12.5 is the world's easiest and fastest backup solution for all data, whether it is located on-premises, in remote systems, in private and public clouds, or on mobile devices. With enhanced backup validation and block chain-based authentication of users'; backups with Acronis Notary, Acronis Backup 12.5 is the most reliable backup solution on the market today. Acronis Backup 12.5 suite delivers a wealth of new features, including more versatile backup options, broader platform support, granular Exchange mailbox protection and even built-in ransomware protection. One key improvement is virtualisation support: Acronis Backup now works with six hypervisor platforms, and…
Overview
• Disk imaging back-up
• Virtual server protection
• SAN storage snapshots
• Acronis Universal restore
• Instant restore
• Acronis cloud storage
• Centralized web management console
• Acronis active protection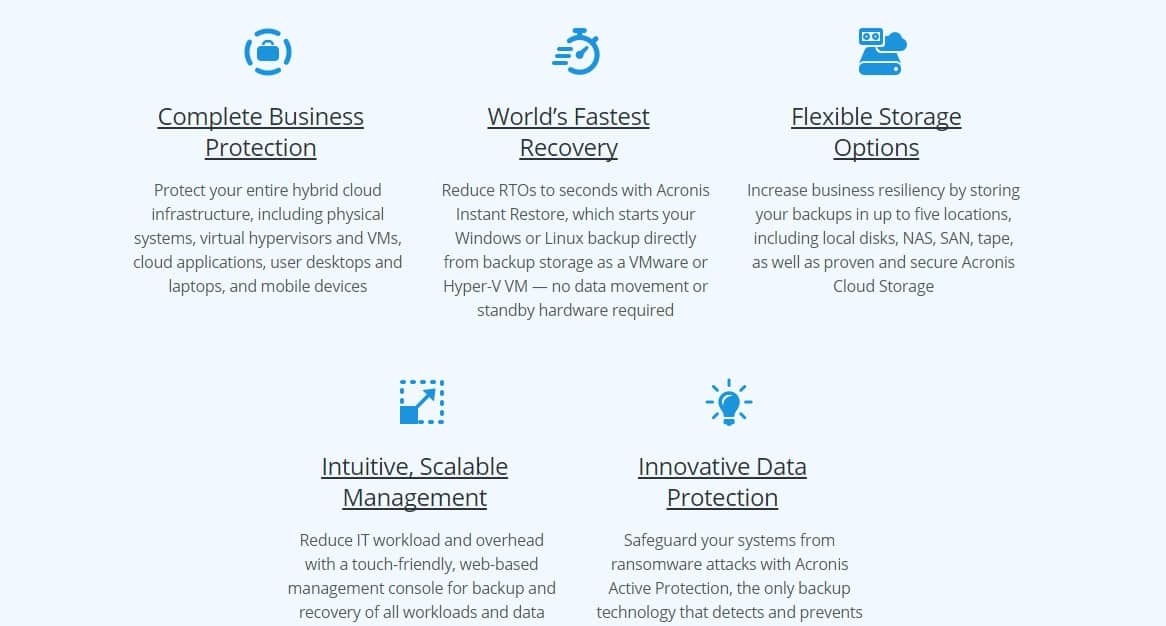 7
Veeam
Veeam is a reputed data availability and protection service for businesses and individuals that consists of three separate products (Veeam Availability Suite, Veeam Backup and Replication and Veeam ONE). The software is available 24/7 throughout the year to enable companies to improve their recovery time as well as point objectives. It offers data recovery services, loss prevention and much more to its customers. Data backup and protection is crucial to big and small businesses and Veeam takes care of it quite professionally. It reduces chances of data loss by backing up all the data at cloud based servers. Veeam works…
Overview
• Data Loss Avoidance
• Automated Disaster Recovery
• Scale out Backup Repository
• On-Demand Sandbox
• Instant File Level Recovery
• Reporting
• Monitoring
• Standalone Console
• Capacity Planning
• Forecasting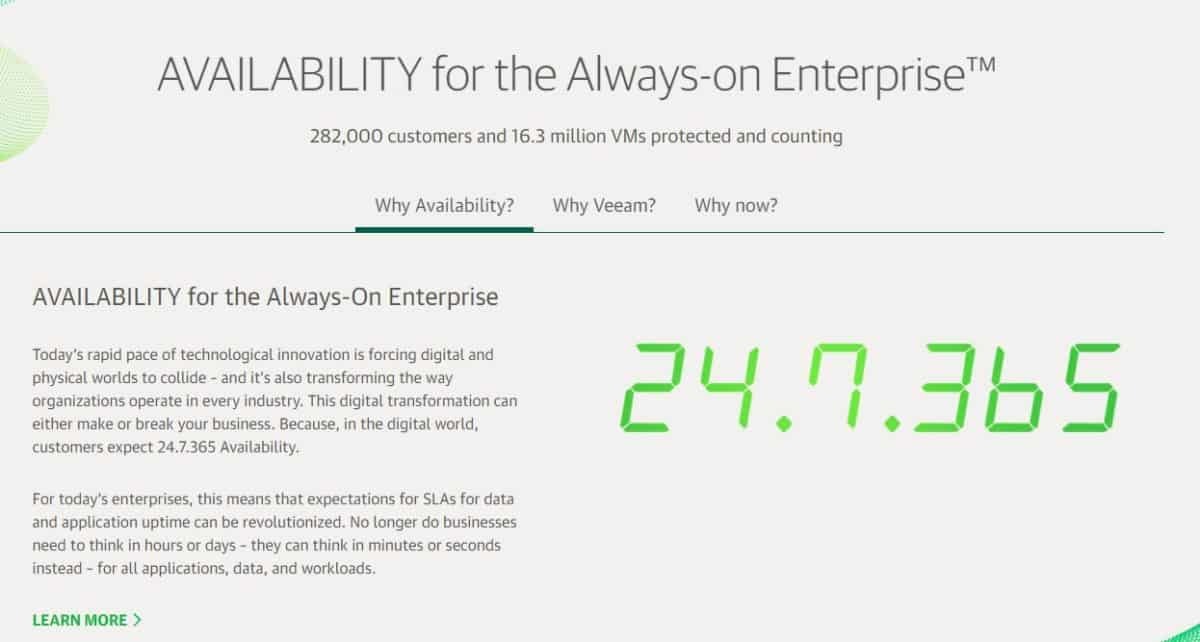 8
CloudBerry
CloudBerry is a suite of online backup solutions that manage file transfers across a range of cloud storage services, including: Amazon Web Services, VMWare, Oracle Cloud, Google Cloud, MS Azure, Cisco, and OneDrive. The vendor, CloudBerry Lab, has an established partnership with Amazon, Google, and Oracle, among others. Comprised of separate applications, the suite consists of two major products, both of which support Windows, Windows Server, macOS, and Linux, and are compatible with SQL, Oracle Database, and Exchange. The first is CloudBerry Backup which acts as a data backup control panel for corporate and personal use. It works on desktop…
Overview
• Remote management and monitoring
• White-labeling
• 256-bit AES encryption
• Image-based backup
• Encryption and Compression [PRO]
• ACL Editor
• Ransomware protection
• Disk capacity dashboard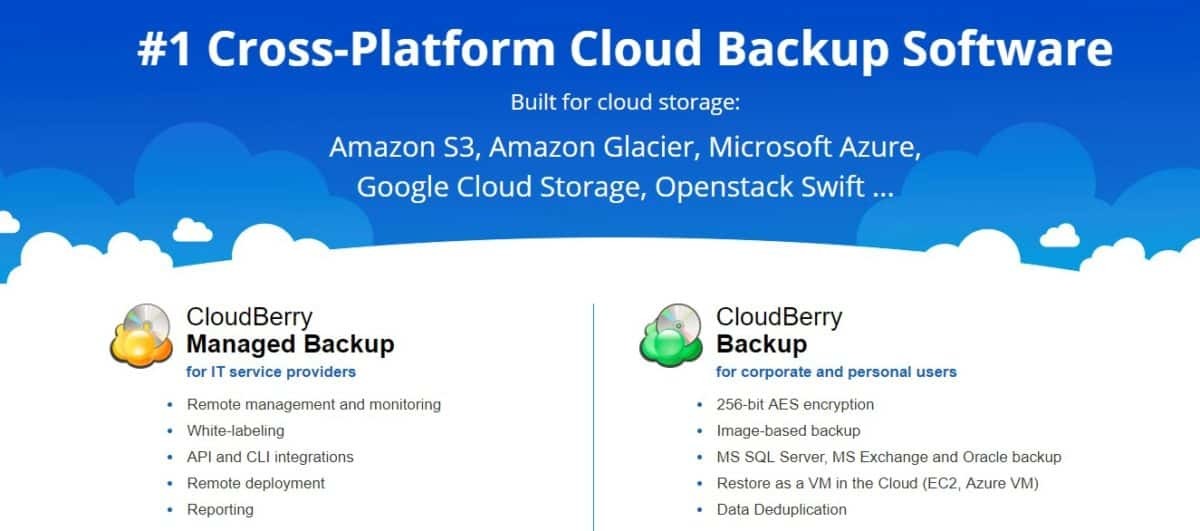 9
NAKIVO
NAKIVO is one of today's leading SaaS data management & protection services for small, medium, and large businesses. The popular VM backup, replication, and recovery solution for VMware, Hyper-V, and AWS on Windows, Linux, and NAS is currently applied by some of world's leading enterprises in different niches, including Coca Cola, FujiFilm, Calzedonia, HONDA, and many more.At the same time, NAKIVO is a loyal partner of many managed services, cloud, and hosting providers that helps them extend their services to VM Backup-as-a-Service (BaaS), Replication-as-a-Service (RaaS), and Disaster Recovery-as-a-Service (DRaaS) for VMware virtualized environments.Once installed, NAKIVO integrates seamlessly into any software…
Overview
• VMware Backup
• Hyper-V Backup
• EC2 Backup
• Backup-to-Cloud
• VMware Replication
• Hyper-V Replication
• EC2 Instance Replication
• Disaster Recovery

10
3scale
3scale is an API management platform that delivers flexible, highly scalable solutions to package, distribute, control, and monetize users' APIs, giving them the power to make the most of their API program. The users of 3scale can use it to share company data, content, or services through Web or mobile applications and provide an API to external organizations, internal teams, or both. It also helps users avoid the hassle and constant maintenance of building a solution from scratch. 3scale delivers centralized API management features through a distributed, cloud-hosted layer. The platform includes built-in features to help users build a more…
Overview
• API Traffic controls
• Deployment options
• Authentication patterns and credentials
• Access controls
• Developer portal
• Rate limits
• ActiveDocs live presentation
• Monetization tools
• Analytical insights