Syncsort Acquires William Data Systems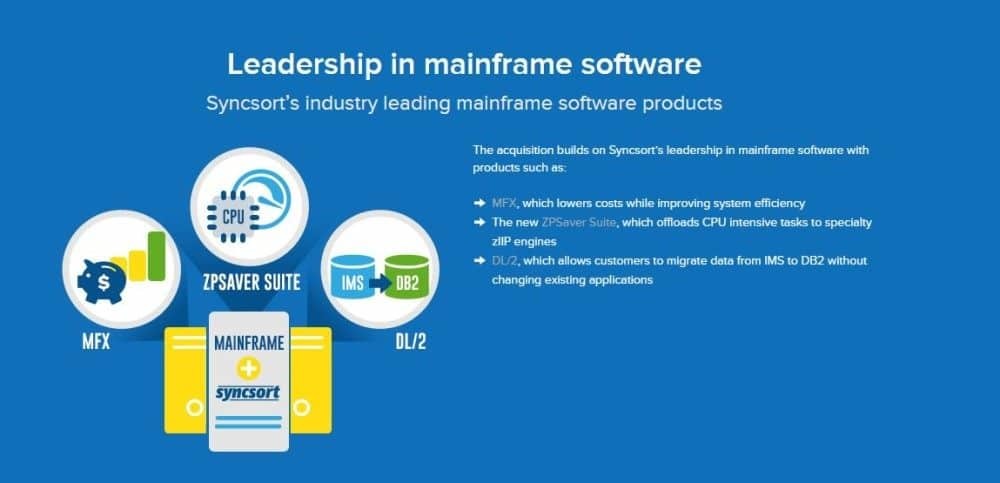 Syncsort Acquires William Data Systems : Syncsort, a global leader in Big Data and mainframe software, has completed the acquisition of UK-based William Data Systems, the maker of advanced network monitoring and security software products for the IBM z Systems z/OS mainframe platform. The mainframe is a high-volume transactional supercomputer, which makes the networking and security data collected by the William Data product suite particularly valuable to the fastest-growing Big Data and analytical platforms, such as Splunk Enterprise and Splunk Cloud.
Syncsort provides enterprise software that allows organizations to collect, integrate, sort, and distribute more data in less time, with fewer resources and lower costs. Thousands of customers in more than 85 countries, including 87 of the Fortune 100 companies, use our fast and secure software to optimize and offload data processing workloads. Powering over 50% of the world's mainframes, Syncsort software provides specialized solutions spanning "Big Iron to Big Data," including next gen analytical platforms such as Hadoop, cloud, and Splunk. For more than 40 years customers have turned to Syncsort's software and expertise to dramatically improve performance of their data processing environments, while reducing hardware and labor costs.
Syncsort has been investing heavily in acquisitions to bridge the gap between Big Iron and Big Data -- to deliver key mainframe data to cutting-edge Big Data platforms while simultaneously reducing customer costs.
"Acquisitions are a very important tool in our innovation toolkit, as a complement to the fantastic products we're building organically in our software labs," said Lonne Jaffe, CEO, Syncsort. "William Data Systems will bring us both extraordinary talent and highly differentiated intellectual property that will advance our ambitious technical strategy."
As much as 80% of the world's corporate data resides on or originates from mainframes and IBM recently announced the powerful new z13 mainframe system, featuring the world's fastest processor and new capabilities for enterprise mobility and the Internet of Things. These new features and the z13's ability to process 30,000 transactions per second, or the equivalent of 100 Cyber Mondays every day rely heavily on the advanced networking and security functionality inherent in the mainframe platform.
The William Data suite of management tools, called ZEN, deliver the required level of control, providing advanced monitoring, alerting, tracing, vulnerability tracking, encryption, and authentication capabilities for the z/OS® mainframe operating system. Through planned integration between the William Data technology and the recently launched Syncsort Ironstream product, Syncsort will soon be able to provide direct access to rich mainframe network monitoring and security data from within Splunk Enterprise and Splunk Cloud.
The acquisition builds on Syncsort's leadership in mainframe software with products such as MFX, which lowers costs while improving system efficiency; the new ZPSaver suite, which offloads CPU intensive tasks to specialty zIIP engines; and DL/2, which allows customers to migrate data from IBM IMS to DB2/z without changing existing applications.
The acquisition will also complement Syncsort's newly released Apache Hadoop-based productDMX-h 8, which provides out-of-the-box data integration to connect the mainframe with Apache Spark, Tableau, Amazon Redshift, Qlikview, and many other rapidly growing platforms.