Ryft hybrid FPGA/x86 appliance accelerates and streamlines data analytics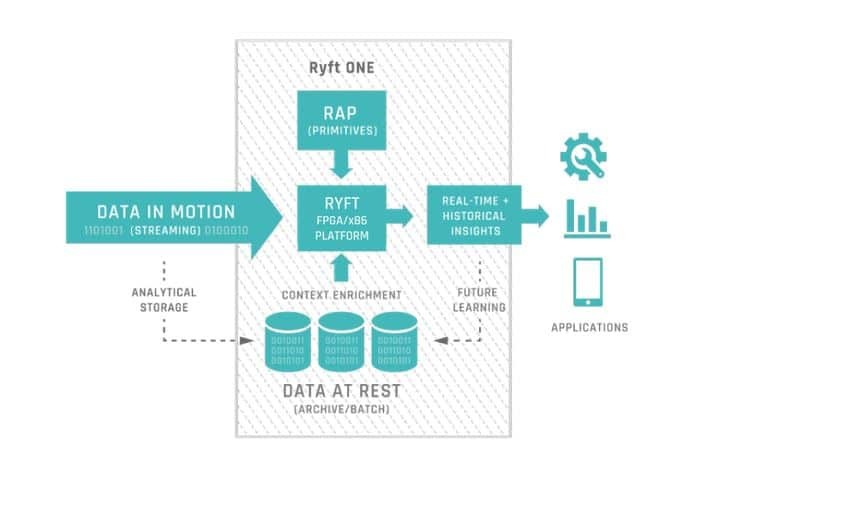 Ryft CLUSTER, is a highest-performing and efficient way to modernize data center architectures for petabyte-scale big data analytics. Building on the speed and efficiency of the Ryft ONE appliance, the new Ryft CLUSTER enables service providers to deliver the high value, performance and availability capabilities their customers need to unlock fast, relevant insights from any type of data.
Increasing competitiveness is leading service providers to search for any way to differentiate. Improving the sluggish or sometimes nonexistent performance of complex workloads such as fuzzy search and machine learning, as well as image, video, cybersecurity and IoT data analysis has become a critical step. The new Ryft CLUSTER modernizes data analytics infrastructures with a hybrid FPGA/x86 compute architecture combined with a business-centric open API to accelerate and streamline existing big data ecosystems by 100X while reducing costs by 70 percent.
With the industry's highest performance per Watt and smallest footprint, the Ryft CLUSTER:
Scales data analysis performance and storage linearly and with high availability to eliminate the reliance on inefficient and costly server farms. Speeds analytics to 200+ GB/second including on data-intensive workloads like fuzzy search without introducing any added complexity or time-consuming ETL and indexing bottlenecks. Streamlines data analytics deployments by operating either as a stand-alone cluster of Ryft ONEs or as part of an existing Apache Spark or other big data ecosystem. Simplifies administration to make managing clusters as easy as managing a single device, while also providing easy and automated multi-tenant analytics services.
"Game-changing performance, reliability and efficiency are absolutely vital to service providers that are competing to provide differentiated services to their customers," said Des Wilson, CEO of Ryft. "Ryft's hybrid FPGA/x86 compute engine delivers the highest performance on the market and the ability to easily scale to petabyte levels, dramatically reducing the time, effort and cost of performing data-intensive tasks. Being able to do more with more types of data in a smaller hardware appliance drastically reduces the footprint of the data analytics cluster, which brings significant cost savings and operational improvements at a very competitive time."
Without relying on the traditional master node structure, the simple cluster WebUI enables easy configuration of the Ryft CLUSTER while also increasing transparency into the cluster's health by:
Giving complete insight into how all Ryft ONE nodes are operating—without relying on a single node to oversee cluster health and management.Routing analysis functions automatically away from unhealthy nodes in order to maintain fast and efficient data analytics and a high availability deployment.Enabling customer applications from large web-based apps to lightweight mobile apps to execute Ryft ONE primitives via a RESTful JSON API.
Unlike traditional clusters, performance linearly scales from terabyte- to petabyte-level analytics at up to 10 GB/second per node/server, which does not deteriorate as the Ryft CLUSTER scales up in size or in analytics complexity.