Review
RedPoint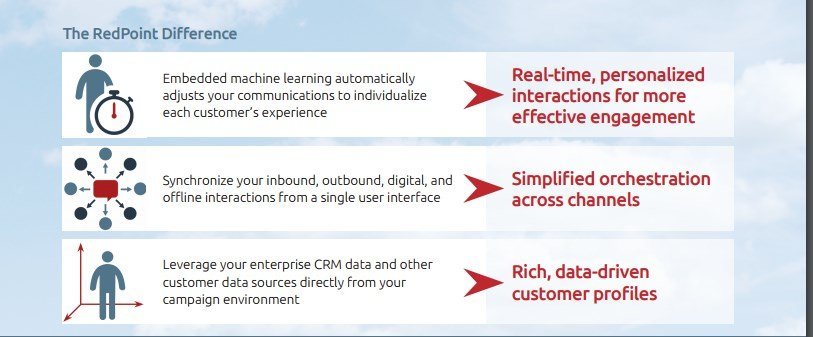 Overview
RedPoint's data-driven technology now aligns your customer's experience with these expectations, delivering your brand promise with high contextual relevance across all touchpoints
Customer Engagement Platform
• Digital Transformation
• Real-Time Interaction Management
• Cross-Channel Marketing
• Data Quality
• In-Line Analytics
• Customer Data Platform
Small (<50 employees), Medium (50 to 1000 Enterprise (>1001 employees)
What is best?
• Digital Transformation
• Real-Time Interaction Management
• Cross-Channel Marketing
• Data Quality
RedPoint's data-driven technology now aligns the users' customer's experience with these expectations, delivering users' brand promise with high contextual relevance across all touchpoints. With RedPoint, users increase customer revenue, strengthen loyalty, enhance lifetime value, and lower the cost of interaction.
RedPoint delivers world-class customer engagement and data management solutions that are consistently innovative, comprehensive and easy to use. RedPoint designs solutions that scale. Its products offer robust data management and customer engagement capabilities that are right-sized for a full range of organizations and industries.
The RedPoint Customer Engagement Hub breaks these barriers by providing an innovative and scalable way to connect data and insights with execution touchpoints – enabling a seamless customer experience across the enterprise that is hyper-personalized to an individual customer.
RedPoint provides an agile hub with an open, connected architecture enabling organizations to leverage existing investments in customer engagement systems, while easily incorporating new and emerging technologies.
RedPoint's Customer Interaction Platform enables organizations to deliver non-linear customer journeys that span all digital and traditional channels and devices. RedPoint's Customer Interaction Platform delivers hyper-personalized interactions through real time analytics, underpinned by machine learning, allowing users to relevantly engage at the cadence of their customer.
RedPoint's Customer Data Platform (CDP) operates seamlessly across hybrid data environments including simultaneous access across traditional databases and Hadoop, and processes any customer, product, device, financial, or operational data. Its CDP is certified on Hortonworks, Cloudera, MapR, and IBM Hadoop distributions, and provides native drivers to all major traditional databases.