Podium the enterprise data lake management platform in Microsoft Azure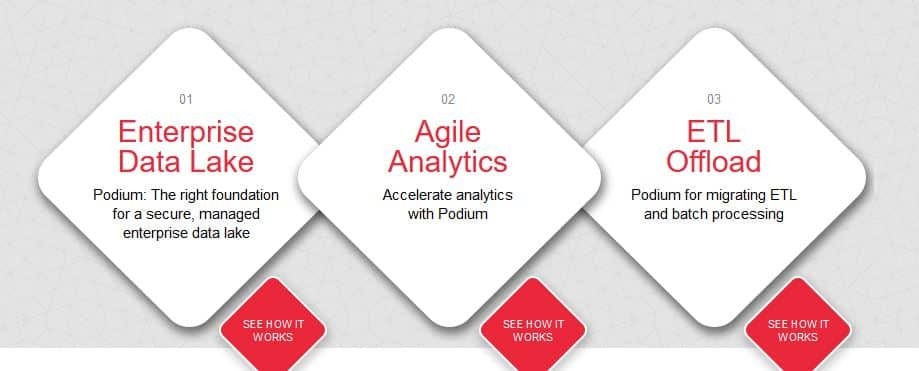 Podium Data, enterprise data lake management platform, is available on the Microsoft Azure Marketplace. Agile enterprises need fast access to quality data to drive business decisions and test-and-learn processes. Traditional methods for managing data cannot keep up with rapid growth in both the volume and variety of business data. Enterprises need a new approach that anticipates business needs, scales with demand, and ensures data protection.
Podium is a data lake management software platform that radically improves the way enterprises manage, prepare, deliver, and use business-critical information. Purpose-built to leverage the performance and economic advantages of Hadoop, Podium helps organizations deliver validated, trusted business-ready data securely to the enterprise at a fraction of the time and cost associated with traditional approaches.
"Podium makes it easier for organizations to onboard data into Microsoft Azure by eliminating the time-consuming steps of loading, validating, and preparing data," said Tiffany Wissner, Senior Director of Data Platform Marketing, Microsoft. "We share Podium Data's commitment to making Hadoop a simpler, more accessible platform for BI, analytic, and machine learning projects and welcome them to the Microsoft Azure Marketplace."
By giving organizations a simple, flexible model to rapidly deploy a managed enterprise data lake on Microsoft's cloud-computing platform, the combination of Podium Data with the Azure Marketplace eliminates complexity and speeds time to deployment in enterprise data lake projects. Data managed through Podium on Azure are always safe and secure because they are protected by the Podium's' data security and governance capabilities and Microsoft's secure cloud environment.
"In recent months, we've seen a dramatic expansion in the number of companies choosing to deploy a data lake as their first mainstream Hadoop initiative," said Paul Barth, CEO and Co-Founder, Podium Data. "We are delighted to collaborate with Microsoft to eliminate barriers in the data lake deployment process and to give organizations of all sizes more cost-effective, flexible deployment options for Hadoop-based enterprise data management solutions."
Podium Data's data lake management platform has been tested and verified for compatibility with Azure, ensuring reliability and ease of deployment and integration. Two to five year subscription licenses are available directly from Podium to provide flexibility in line with the elasticity of the Azure platform.