Review
WebSynthesis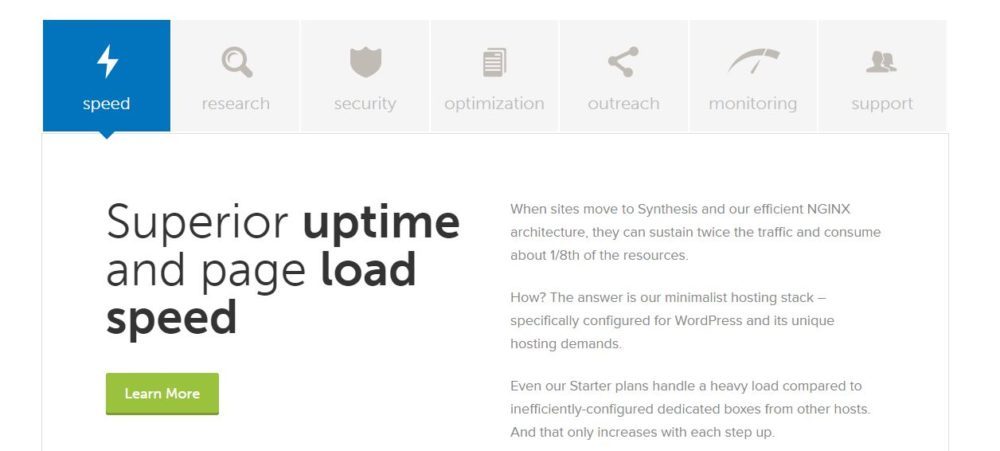 Overview
Synthesis is designed so you don't have to understand acronyms and technical gobbledygook to get world-class performance when your content attracts the attention you're after.
•Managed Performance VPS
•Secured Configurations
•Uptime Management
•Site Optimization
•On-Page Optimization
•24/7 Help Desk Support
•Standard $47.00/month
•Professional $97.00/month
•Advanced $147.00/month
•Enterprise $300.00/month
Small (<50 employees), Medium (50 to 1000 Enterprise (>1001 employees)
What is best?
•Managed Performance VPS
•Secured Configurations
•Uptime Management
•Site Optimization
•On-Page Optimization
WebSynthesis offers superfast and secure WordPress hosting plus content marketing and SEO tools. Users can sustain twice the traffic and consume about 1/8th of the resources when using Synthesis and their efficient NGINX architecture.
Its minimalist hosting stack is specifically configured for WordPress and its unique hosting demands.Identify the topics that matter to the company's target audience, and the exact language they use when discussing and searching – directly from WordPress admin panel. Perform topical keyword research to discover the foundational content that will support the entire content marketing strategy, and keep it quickly available for reference when the users need to optimize pages or expand their editorial focus.
WebSynthesis' architecture is designed to maximize security and performance, while providing flexibility for business owners to ultimately make their own real-world decisions. It follows through with proactive monitoring, patching, and constantly evolving innovation to stay one step ahead of the bad guys.
Users also get a step-by-step on-page optimization advice, plus content development guidance that builds site authority and helps user pages rank well – directly from their WordPress admin panel.
WebSynthesis helps their users identify authoritative social media users and high-ranking sites in their editorial space, see how their intended audience responds to their content, and use these data points to grow their own readership and site authority.
WebSynthesis' Site Sensor offers the standard uptime checks that users expect from a website monitoring service. For content publishers, Site Sensor also provides checks on a few things some users wouldn't expect. And lastly, WebSynthesis was created as an in-house necessity by the internet entrepreneurs, professional bloggers, and maniacal WordPress and Linux gearheads of Copyblogger Media. This means users will be able to get the support they need from a team of professionals.