Review
i4a AMS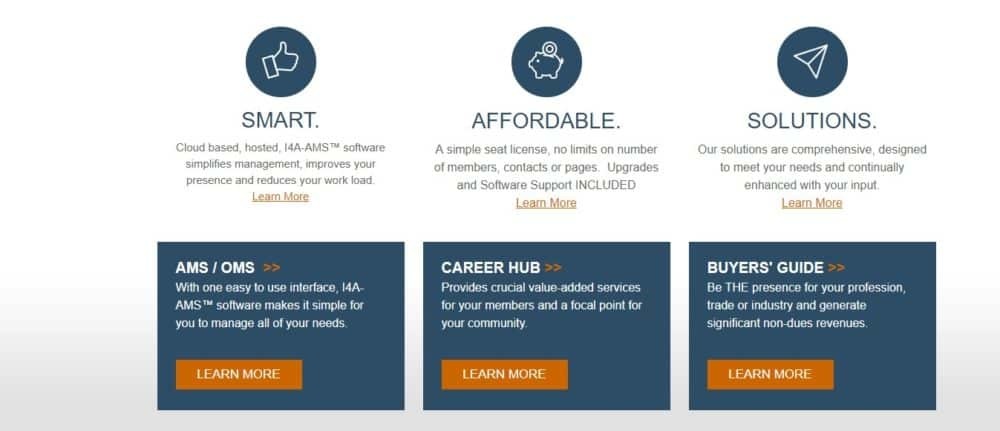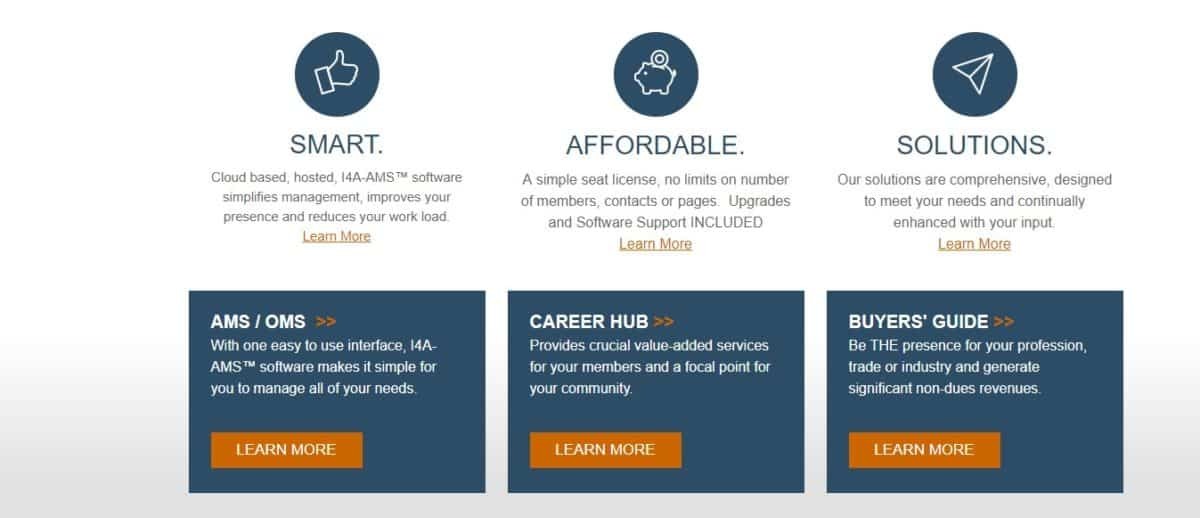 Overview
I4A association management software recognizes that your organization's staff time is valuable. If you're like most associations, your staff probably wears many hats and doesn't have a lot of extra time to spend doing data entry, pulling information for reports and other time-consuming tasks.
Membership Management Software
•Content management
•Data management
•Interface
•Image gallery
•Resource Library
•Bundle popular solution
•Database management
•Resource optimization
Small (<50 employees), Medium (50 to 1000 employees), Enterprise (>1001 employees)
What is best?
•Content management
•Data management
•Interface
•Image gallery
•Resource Library
What are the benefits?
•Simplifies management, improves your presence and reduces your work load
•Simple seat license, no limits on number of members, contacts or pages
•Bundle popular solution
•Database management
i4a AMS is a software that offers association management solutions in smart, simple and affordable, hence increasing the value of time that staff have to use entering membership data into the system.i4a stands for International 4 associations and it offers solutions which are customized to meet your needs. Key features that I4A AMS is able to do include managing content, data, meetings and e-commerce.
I4A AMS includes an interface for an iPhone, android and iPads which are integrated. Database is managed through applications, renewals, registrations, member profile editing, directories among others. I4A AMS also support group content for discussion forums, calendars and the like. The system has an image gallery, resource library and certifications management.
I4A AMS also offers bundle popular solution like Store, Forums and bunner ads. A bunner ad builder enhances advertising on your website by bringing together in a controllable manner, all the factors that would lead to successful marketing. Forums are formed through inbuilt communities like committees, discussion groups,education and the like. These forums help create a sense of relevance in membership.
I4A AMS supports email marketing with no limit to number of emails. It is cloud based,simple license, with no limit to number of members and can support upgrade.
You may like to read: Top Free & Premium Association Management Software (Membership Management Software) and How to Select the Best Membership Management Software for Your Business