Review
GetAccept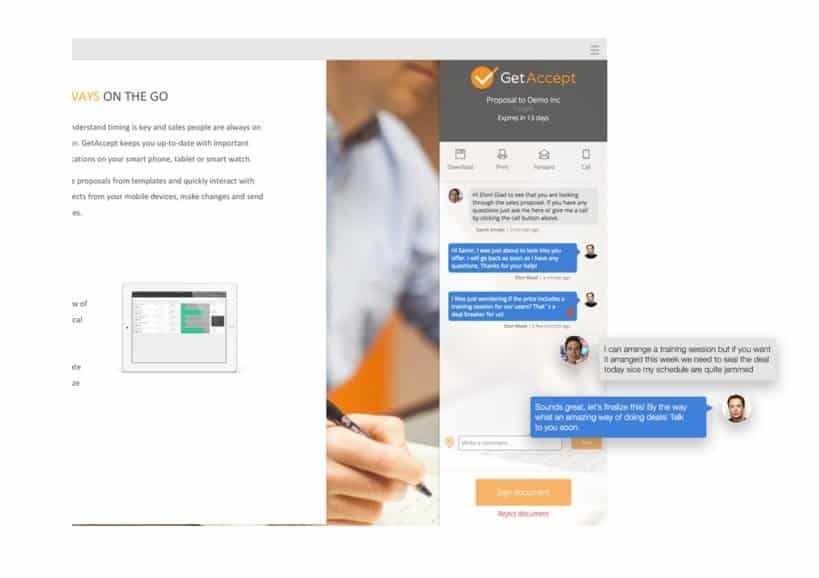 Overview
• ELECTRONIC SIGNATURE
• VIDEO INTRODUCTION
• DEAL ACCELERATOR™
• DOCUMENT ANALYTICS
• REALTIME CHAT
• INTEGRATIONS
• ARCHIVE
• REPORTS
free sign up available; $35 for pro users for a month; call (323) 870-1200 for enterprise subscription
Small (<50 employees), Medium (50 to 1000 Enterprise (>1001 employees)
Upload and send user sales documents with a single click and increase user close rate immediately with GetAccept. GetAccepts' Smart tracking gives users real-time insights and automatically takes the next step in active deals. User can also keep track of the real pipeline and maximize user performance with advanced reporting and send a personal video presentation with user document to make it stand out from competitors.
With GetAccepts' unique Deal Accelerator user sales proposals will be promoted to the decision makers to speed up the sales process. Smart document tracking further allows users to see when a document or sales proposal has been opened & the part that has received the most attention. Users can send and receive messages directly within the document; create new versions to shorten the e-sign process and use auto-chat using integrated chatbot. Users will also be able to store contracts and important documents in one place and import signed pdf documents and set lifetime and renewal dates.
GetAccept keeps users up-to-date through important push notifications to users' smart phone, tablet or smart watch - wherever users are. So users can interact with prospects quickly from mobile devices, like connecting a call, sending a text with a reminder if the users don´t open the sales document or answer questions using Live-Chat.
GetAccept also integrates with major marketing automation and CRM systems to leverage full power. GetAccept also has a Dealboard which gives users an overview of the sales document pipeline and helps users to focus on the important deals to get them e-signed. Activate the unique Deal Accelerator™ to increase user sales using smart intelligence; send reminders; trigger banner ads, and initiate external marketing automation workflows.